This is already being compared to the infamous Whorealdo and the Al Capone vault.
Let's try to start from the beginning:
Clinton ally offers $5M reward in exchange for Trump tax returns

Hillary Clinton ally David Brock is once again offering a reward to anyone who releases President Trump's tax returns.
Following the White House's release of Trump's tax information from 2005 on Tuesday evening ahead of a report from MSNBC, Brock tweeted that he would give $5 million to anyone who would provide Trump's "complete, legally obtained tax returns."
NY Times Reporter Tells Deep State to Leak Trump Tax Returns – It Took Them ONE WEEK to Leak Them to Maddow

Last week New York Times reporter Nicholas Kristof urged Deep State employees in the IRS to leak President Donald Trump's tax returns.
Responding to a remark by a far left Vox editor that "the IRS never leaks," Nicholas Kristof tweeted, "But, if you're in the IRS and have a certain president's tax return that you'd like to leak…"
Tonight Rachel Maddow is going to release President Donald Trump's tax returns on the air.
Deep State leaked the documents to Maddow.
It took them one week to leak the tax returns to the liberal press.
Rachel Maddow Goes for Ratings Hit by Releasing Trump Taxes… Massively BACKFIRES Instead

It was hyped for hours by the entire liberal fake media complex… MSNBC's Rachel Maddow had obtained a leaked copy of Donald J. Trump's tax returns — and would reveal them live on the air Tuesday night. This was it! At last this would be the end for Trump, Democrats buzzed with anticipation like kids on Christmas morning.
But meanwhile the White House had left Maddow looking like a blabbering fool by releasing President Trump's 2005 tax information before she could leak it.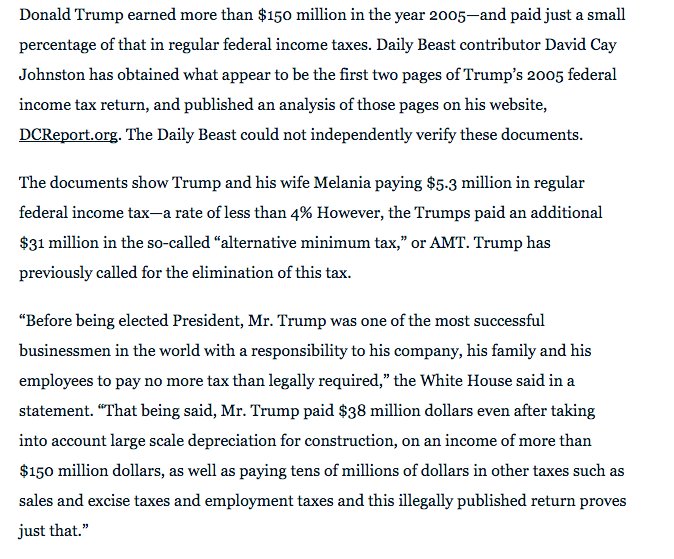 (The fact he paid income tax at a rate of 4% was blared on the news this morning as: 'He paid a lower rate than half of America.The fact remains half of America DON'T PAY TAXES! They either don't make enough or they don't work, so they just push out kids to collect their EITC.)

David Cay Johnston Is The Reporter Who Received Donald Trump's Tax Returns
"I was in Palm Beach on the sand looking at Mar-a-Lago, reporting on my next book which is about Trump, when one of my eight grown children informed me of what had come in the mail to my home in Rochester," Johnston told The Daily Caller in an email Wednesday.
THERE IS STRONG SPECULATION THAT THE TRUMP WHITE HOUSE MAILED HIM THE 1040 FORMS TO PRE-EMPT ANY PHONY EVIDENCE
Rachel Maddow's career committed suicide live on national TV tonight
Big Trump tax returns "Scoop" flopped, bigly.

TAKE A GOOD LOOK AT THAT FACE!
Rachel Maddow has a history of claiming big scoops which then flop.
There was the debunked 2012 big scoop about supposed GOP wrongdoing in Michigan. And the 2014 big scoop that the Koch Brothers were behind Florida groups pushing drug testing for welfare recipients, which was not true. We covered the Florida non-scoop big scoop, Rachel Maddow's come undone with Koch Derangement Syndrome
THE MOMENT THEY ALL WAITED FOR:

White House Reporter Tweets on Trump's Tax Return and Beclowns Herself; Lacks Basic Economics Skills

The forms showed that the President made $138 million in 2005 and paid $38 million in taxes that year.
Apparently some in the White House Press Corps are not familiar with taxes or economics. When the forms were released, White House Correspondent and Washington Bureau Chief for American Urban Radio Networks, April Ryan, tweeted:So in 2005 @POTUS was not a Billionaire. He made in 2005 over 100 million dollars.

IF THIS RACIST WHORE WAS WHITE SHE'D BE WORKING AT SEARS
The fact that the President reported over $100 million in one tax year in the 2000's has no bearing on his net worth. As a matter of fact, there is no information in a tax form 1040 that give you any indication of an individual's net worth. How could she possibly make this assertion with the information provided?
Also, Ms. Ryan somewhat contradicts herself by noting that the President made over $100 million in 2005. On the one hand she surmises that he's less than a billionaire but on the other hand she claims he's gaudy rich making more than $100 million. Which one is it?
AS YOU COULD EXPECT, BUTCH STEPPING ON HER OWN PENIS HAD THE MEME FACTORY WORKING OVERTIME.

There are times the president is truly blessed by the enemies he has. Their blind hatred obstructs their ability to see they are being totally played.