There is a rally today of people of pallor who are opposed to Social Justice reactionaries trying to erase our past history by removing "racist" statues of Confederate generals. The media refers to them as FAR RIGHT…FAR RIGHT…FAR RIGHT.
Far-right protesters gather at University of Virginia
Now gathering around statue of Thomas Jefferson. Chanting 'white lives matter'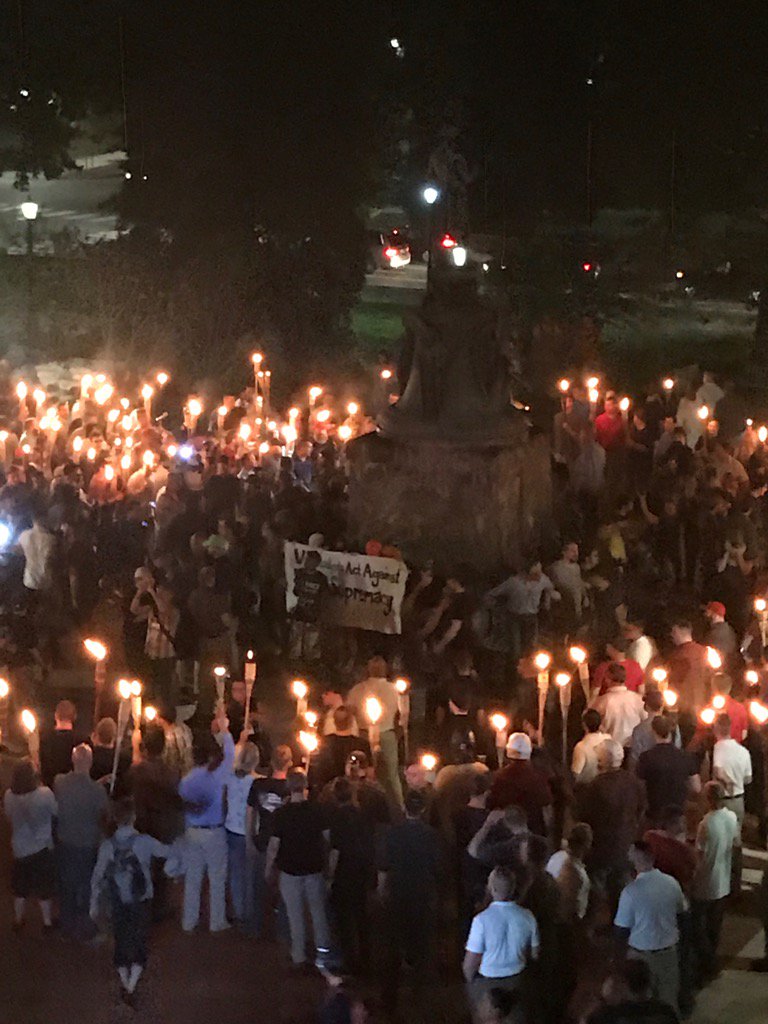 University of Virginia police dispersed a gathering of far-right protesters on the Charlottesville, Va. campus Friday night ahead of a planned demonstration by white nationalists, white supremacists and alt-right groups on Saturday.
Police arriving on the scene declared the protest on Friday an "unlawful assembly" and told demonstrators to disperse, video footage of the gathering shows.
The protest planned for Saturday has ignited intense opposition in Charlottesville, and large counter-demonstrations are expected to materialize in response.
Even on Friday, a group of protesters turned out in opposition to the far-right demonstration, chanting "black lives matter."
http://thehill.com/blogs/ballot-box/346285-far-right-protesters-gather-at-university-of-virginia-ahead-of-saturday
Virginia newspaper uses Trump's 'fire and fury' comment to describe white nationalist rally

Wielding torches and shouting phrases like "white lives matter" and "you will not replace us," the protestors gathered in an apparent lead-up to Saturday's planned demonstration against the removal of a statue of Confederate Gen. Robert E. Lee.
http://thehill.com/blogs/blog-briefing-room/news/346296-virginia-newspaper-uses-trumps-fire-and-fury-comment-to
Stay away from Charlottesville rally, urges Va. governor

IT SEEMS SURREAL THAT THE MOST VICIOUS PUNK IN POLITICS WOULD LABEL ANYBODY AS AN "EXTREMIST"


RICHMOND, Va. — Virginia Governor Terry McAuliffe urged Virginians to stay away in a statement released hours before a planned "Unite the Right" rally that could bring thousands of white nationalists, neo-Confederates, alt-right activists, and counter protesters to Charlottesville.
"In advance of [Saturday's] rally there have been communications from extremist groups, many of which are located outside of Virginia, who may seek to commit acts of violence against rally participants or law enforcement officials.
Many of the individuals coming to Charlottesville are doing so in order to express viewpoints many people, including me, find abhorrent.
The city became an ideal protest site for white nationalists.

"This entire community is a very far left community that has absorbed these cultural Marxist principles advocated in college towns across the country, about blaming white people for everything," said Jason Kessler, who organized the "Unite the Right" rally.
Kessler, a Charlottesville resident, blames what he calls "the anti-white hatred that's coming out of the city."

Charlottesville, which has a population of 47,000, had 80 percemt of its voters choose Hillary Clinton last year.
The city has not been known as a hotspot for white nationalism. There aren't historical precedents to the current white nationalist gatherings in Charlottesville, local historian Rick Britton said in an email
'Stay away' from Charlottesville rally urges Va. governor
APPARENTLY WE'RE ALL 'FAR RIGHT' OR ALT-RIGHT EXTREMISTS WHO NEED TO KEEP OUR MOUTHS SHUT AND TAKE ALL THE RACISTS GARBAGE THE LEFT THROWS AT US.