Yesterday, President Trump (I STILL love typing that!) held a joint press conference Monday with Finnish President Sauli Niinisto. Like Pavlovian dogs, whenever the press gets a chance to harass (Arkansas is the only state where "harass" is two words) the president, they can't resist. They jumped on him about issuing a pardon to patriot Sheriff Joe Arpaio. There is not another man in Washington who would have responded the way Trump did. He proceeded to rip them a new one about all the sleazebags, terrorists and felons that were pardoned by Obama and Clinton with nary a peep from these howling jackals.
"Let Me Tell You Who Obama Pardoned" Trump Destroys Reporter Over Joe Arpaio Pardon
Trump on whether Russia is a threat: "I consider many countries as a security threat"
Trump addresses Houston flooding: The people of Texas have really persevered
I THINK THE MEDIA ARE SO FULL OF THEMSELVES, THEY DON'T REALIZE THE FUN HE HAS PISSING THEM OFF.
Donald Trump calls Chelsea Manning 'he' while comparing her to Joe Arpaio. Ms Manning has undergone a very public transition from man to woman.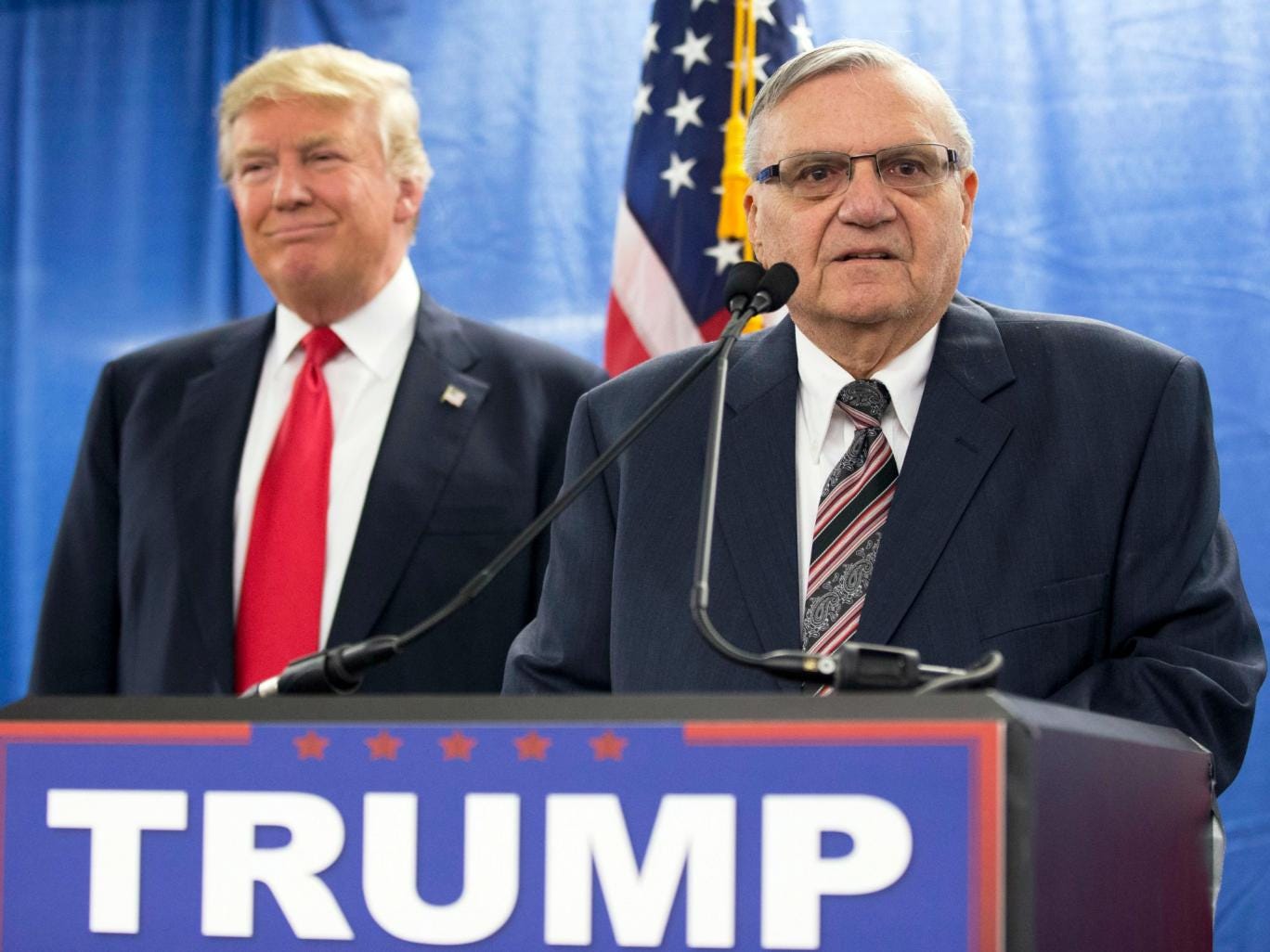 Ms Manning, who was convicted on criminal charges for leaking hundreds of thousands of classified documents, has undergone a public transition in recent years to become a transgender woman. She saw her sentence commuted earlier this year by former President Barack Obama.
In addition to Ms Manning, Mr Trump referenced Marc Rich — an investor who received a pardon from former President Bill Clinton on his last day in office — and Oscar Lopez Rivera — a Puerto Rican activist and militant whose sentence was commuted by Mr Obama.
http://www.independent.co.uk/news/world/americas/us-politics/trump-chelsea-manning-he-misgendering-press-conference-joe-arpaio-pardon-a7917411.html
CRUZ HITS BACK
After MSNBC Host Broadsides Ted Cruz With 'Gotcha' Question About Hurricane Sandy, He Drops the Thunder
"But a lot of people are pointing out that you voted against aid for Sandy after that catastrophic storm up in the Northeast, that package back in 2012. They're pointing at you and they're pointing at you and saying, 'You're asking for money now when you weren't willing to help the people in the Northeast.' What do you have to say to them?" she asked.
"Well, look, there's time for political sniping later," Ted Cruz said before Tur cut him off. "I think our focus needs to be on this crisis and this disaster….  The problem with that particular bill is it became a $50 billion bill that was filled with unrelated pork. Two-thirds of that bill had nothing to do with Sandy. And what I said then, and still believe now, is that it's not right for politicians to exploit a disaster and people are hurting to pay for their own political wish list."
http://ijr.com/the-declaration/2017/08/959419-msnbc-host-broadsides-ted-cruz-gotcha-question-hurricane-sandy-drops-thunder/
Joy Villa Given 48 Hours to Delete Her Incredible MAGA Song From YouTube

THIS IS PART OF THE ONGOING CRUSADE BY MAJOR MEDIA TO SHUT DOWN CONSERVATIVES. IF YOU CAN DOWNLOAD AND POST THIS TO KEEP AFTER IT GOES AWAY, YOU SHOULD DO SO.
http://www.thegatewaypundit.com/2017/08/joy-villa-given-48-hours-delete-incredible-maga-song-youtube/
Joel Osteen's Lakewood Church Closes Doors to Displaced Harvey Victims


HIS REASONS ARE HIS OWN. I SUSPECT HE REMEMBERS WHAT HAPPENED WHEN THEY OPENED THE SUPERDOME IN NOLA TO DISPLACED PEOPLE. THERE WERE RAPES, MURDERS AND THEY LEFT IT IN SQUALOR WHEN THEY FINALLY LEFT. MAYBE HE DIDN'T WANT THAT HAPPENING TO HIS SANCTUARY. JUST A GUESS.
[CtH: Or he's just showing his true "money first" colors.  IMO, this man's "prosperity theology" preaching has nothing to do with what Jesus Christ taught. http://www.thebiblicalworldview.org/is-joel-osteen-a-false-prophet/%5D
Joel Osteen is facing a public relations nightmare as his 17,000-seat facility, Lakewood Church, is keeping doors closed during the overwhelming crisis caused by Hurricane Harvey.
http://www.breitbart.com/texas/2017/08/28/joel-osteens-lakewood-church-closes-doors-displaced-harvey-victims/
MAYBE HE HAD A SIGN FROM GOD TO SHUN THE NON-BELIEVERS
New Security Footage Shows Looters Robbing Houston Store Amid Historic Flooding

As The Gateway Pundit reported Sunday, an eyewitness named Isabel Torres uploaded a video to Facebook which shows looters making away with televisions.

SCAVENGERS LIVE OFF THE CARRION
Looting Begins In Houston
Cajun Navy members met with gunfire by apparent looters, group says.
Members of the Louisiana Cajun Navy, a group of Louisianians helping Tropical Storm Harvey victims in Texas, were shot at Monday by apparent looters, the group said on Facebook.
The Cajun Navy has become widely known across the state for its response efforts during natural disasters and is made up of different groups. The group of first responders previously provided assistance to Louisianians during last year's historic August floods.
One group of rescuers are in Texas already and more are expected to be on the way. Those who have arrived have brought their own boats to aid in the rescue efforts.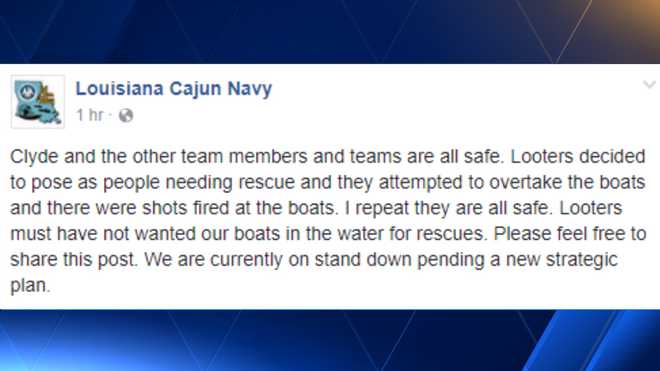 Good Samaritan Group Member During Hurricane Rescue: 'We've Been Shot At'
THERE WAS WORD OF SOME CAJUNS WHOSE MOTOR DIED WHILE THEY WERE RESCUING STRANDED PEOPLE. AS THEY TOOK SHELTER, SOMEBODY (GUESS) TRIED TO STEAL THEIR BOAT.


http://www.wdsu.com/article/cajun-navy-members-met-with-gunfire-by-apparent-looters-in-texas-group-says/12109436
Houston Dem Mayor Told Citizens to "Think Twice Before Trying to Leave Houston" — Now They're Dying


SHADES OF RAY NAGIN, THE FORMER MAYOR OF NEW ORLEANS, NOW A CONVICTED CRIMINAL, WHO DREAMED OF TURNING THE CRESCENT CITY INTO A "CHOCOLATE CITY." HE LET HUNDREDS OF BUSES SIT IDLE WHILE PEOPLE WERE TRYING TO GET AWAY FROM KATRINA. THEN HE BLAMED GEORGE W. BUSH. THERE'S A REASON WHY EVERY BIG CITY TOILET IN THE COUNTRY IS RUN BY DEMOCRATS.
The Houston mayor told citizens to "think twice before trying to leave Houston" before Hurricane Harvey hit.


Now Houston is flooded, the city is expecting more rain, looters are ransacking stores, and people are dying. And it's only going to get worse.
On top of that, Mayor Turner is not taking the governor's calls:
http://www.thegatewaypundit.com/2017/08/horror-houston-mayor-told-citizens-think-twice-trying-leave-houston-now-theyre-dying/
LIBERAL POLITICIANS ARE GREAT AT CREATING DISASTERS.  DEALING WITH THEM, NOT SO MUCH.
A Virgin Mary Statue Was the Only Thing Standing After Hurricane Harvey
THIS WAS TOO GOOD TO HIDE IN THE REPLY SECTION:


A family in Texas lost their home to a fire during Hurricane Harvey, but they're finding comfort in the only thing left standing: A statue of the Virgin Mary. The Rojas family of Robstown, Texas, had boarded up their home and left town ahead of the storm, but an electrical fire broke out and quickly spread in the winds of the storm, destroying their home as well as two others.
https://townhall.com/tipsheet/christinerousselle/2017/08/28/wow-virgin-mary-hurricane-harvey-n2374297
Message From Hurricane Harvey: Americans Helping Each Other


For once, cable news is not dominated by talking heads shouting at each other, but by images of volunteers, black and white, arriving in flat-bottomed boats to rescue neighbors from flooded buildings. Journalists are helping to direct emergency crews to save stranded drivers rather than encouraging enraged mobs to riot against the police.
http://www.breitbart.com/big-government/2017/08/28/hurricane-harvey-message-houston-americans-helping/
Houston vs. Berkeley
I FELT COMPELLED TO INCLUDE THIS FROM DIANNY AT PATRIOT RETORT


Yet the news media has spent the last two weeks trying to convince us that those violent, disgusting thugs are "standing up to hate" and "preserving the fabric of America."
It's hard to watch those videos and not think, "What the hell is wrong with people?"
The Antifa cretins marched through Berkeley chanting, "No Trump, no wall, no USA at all."
How someone could watch video of these animals and believe they are "anti-hate" or "peaceful" is anybody's guess.
But they are not America.
This weekend in Houston, we witnessed the true spirit of America.
The guy with the Confederate flag on his boat is saving everyone. Blacks, whites. Everyone. #Meyerland #Harvey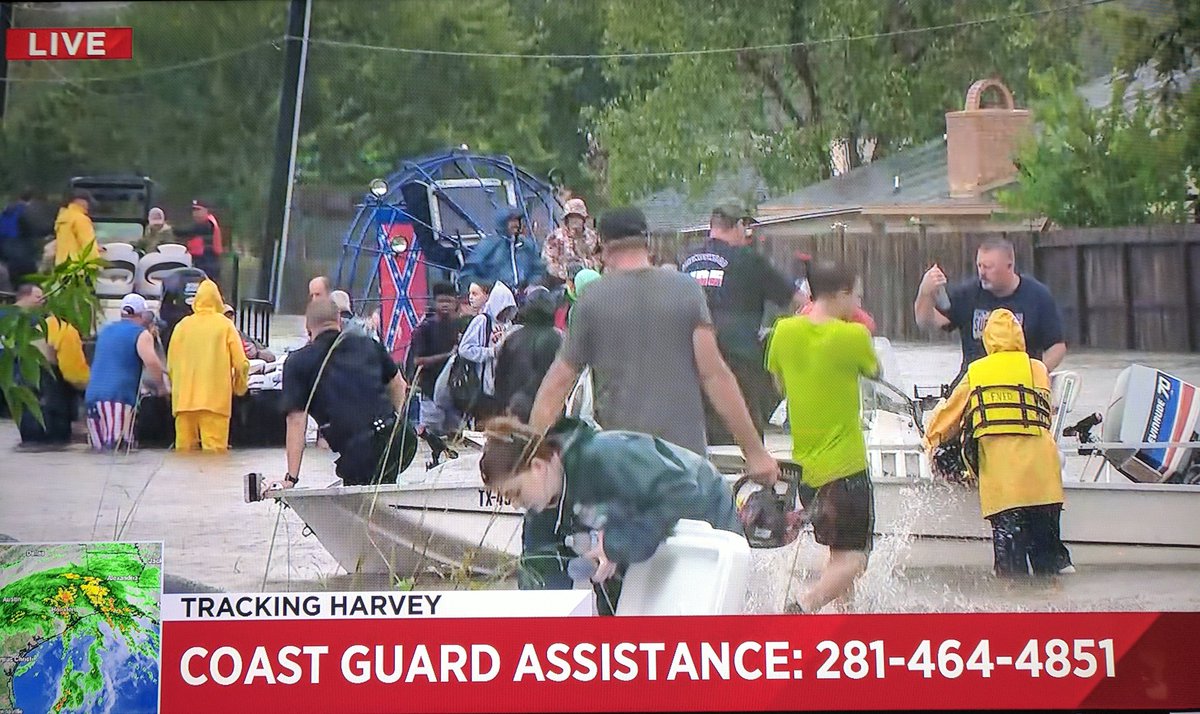 I know it's difficult to watch the violence Antifa is bringing to our streets and not grow discouraged at the sight of such madness.
But they are not America.
And they don't want to be.
After all, they're the ones chanting "No USA at all."
But the American spirit is greater than this.
And there are more of us than there are of them.
We are America — where neighbors help neighbors.
And strangers drive in from great distances to come to the aid of others.
This is the America Antifa despises.
This is the America Antifa seeks to eradicate.
But they won't win.
There is something more powerful than the evil of Antifa — and that's the true spirit of America.
And the true spirit of America transcends race or national origin.
http://patriotretort.com/houston-vs-berkeley/