There comes a time when you have to say enough is enough. My outrage meter wore out a long time ago. Things happen at a breakneck pace sometimes but in the end nothing changes. One party mutilates the rule of law with impunity because they know they can.
People are called before congressional hearings where there is much theatrics for the benefit of the cameras but nothing ever comes of it because of the moral cowardice of those sworn to represent the hardworking Americans who respect and obey the law. No more.
Until such time as I have the will to keep up with all the hysteria I intend to post things that won't make you angry or frustrated, like finding out how much damage Obama inflicted on this country for the sake of his own ego. There will be things you can actually feel good about for once.
Mary takes action when sheep steals baby Jesus in best Christmas pageant ever!

IS THERE ANYTHING MORE PRECIOUS THAN THE INNOCENCE OF CHILDHOOD?
A preschool donnybrook broke out during the annual Christmas pageant at the First Baptist Church in White Pine, Tennessee.
Teegan Benson, playing the part of a two-year old sheep, went off script and decided to snatch the Little Lord Jesus asleep on the hay.
"Our church family is small and close-knit and everyone loves each other," she said. "The video gave us a chance to share the true meaning of Christmas – the birth of Jesus – the savior we know and love."
It was indeed – the best Christmas pageant ever!
http://www.foxnews.com/opinion/2017/12/15/mary-takes-action-when-sheep-steels-baby-jesus-in-best-christmas-pageant-ever.html
Chick-Fil-A Feeding Stranded Atlanta Passengers ON A SUNDAY
After Atlanta's Hartsfield-Jackson International Airport experienced a major blackout Sunday, Chick-fil-A stepped up to feed thousands of stranded passengers despite being closed on Sundays.
Atlanta's Mayor Kasim Reed tweeted a status update Sunday night, and thanked Chick-fil-A for providing over 2,000 meals to the weary travelers.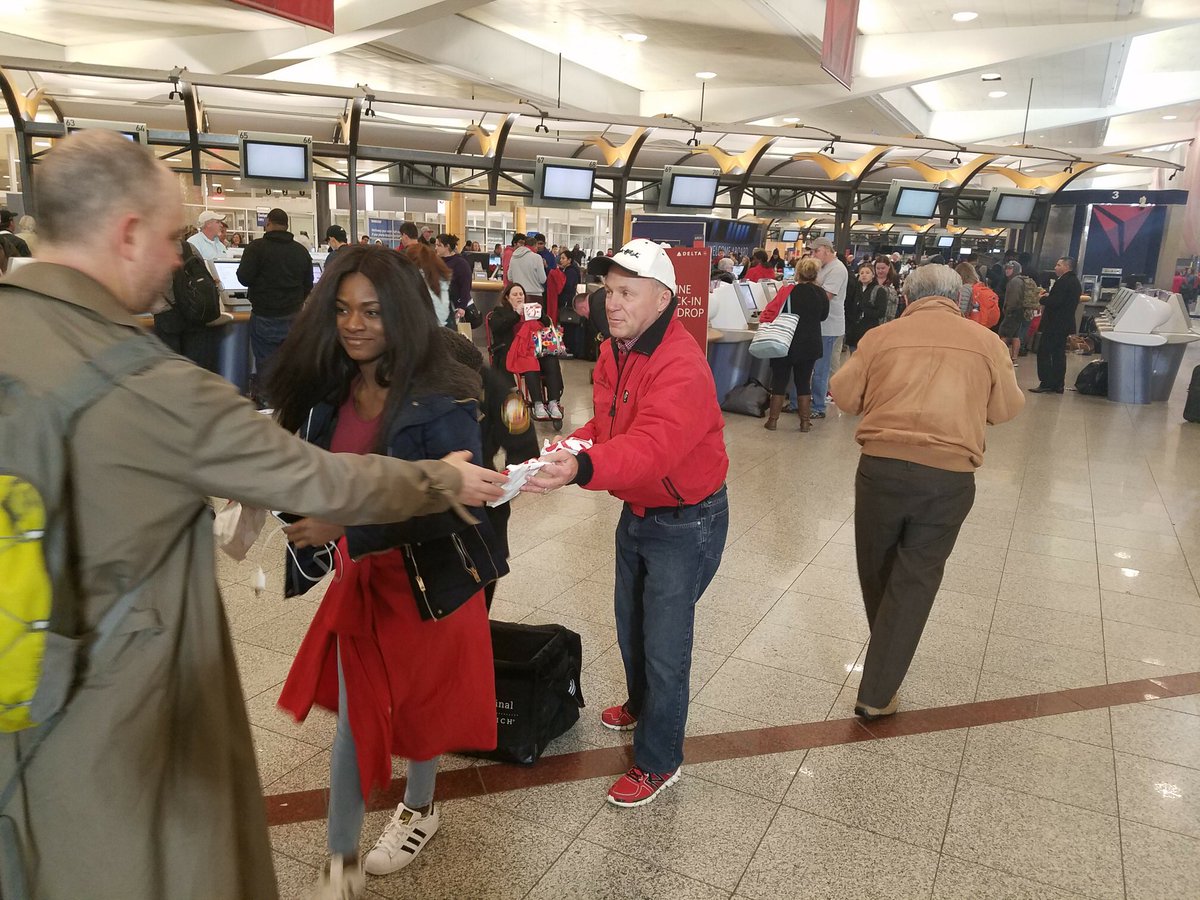 http://dailycaller.com/2017/12/18/chick-fil-a-feeding-stranded-atlanta-passengers-on-a-sunday/
Branded 'hate chicken' by the left, Chick-fil-A feeds Atlanta's stranded travelers

Seems the restaurant chain, whose outlets are ordinarily closed on Sunday due to the Baptist owner's wish to honor the Lord's Day, went ahead and opened up in order to feed the hungry multitudes. As per Judeo-Christian practice described in the Bible, actually.
Jesus said that if your ox falls into a well on the Sabbath, you get the beast out, regardless of the day of week. (Someone had been criticizing him for performing miracles on the Sabbath.) For Chick-fil-A, the airport emergency at Atlanta fits right into that category.
Now the airline travelers experiencing Atlanta for the first time will recall not just the airport stranding alone, but the kindness shown by Chick-fil-A, the restaurant chain that lives by its values and cares about others, asking nothing in return. These are the values that are so abhorred by the left.
http://www.americanthinker.com/blog/2017/12/branded_hate_chicken_by_the_left_chickfila_feeds_atlantas_stranded_travelers.html#ixzz51j0DhIwL
Diner customer leaves $2,000 tip on $17 bill

A secret Santa left a $2,000 tip at a diner in Scottsdale, Arizona.


The server said the customer quietly enjoyed his breakfast order. Then, he added the massive tip to his $17 tab.  The anonymous diner had one request. He wrote on the receipt: "Please split with the whole staff. Merry Christmas!"  Everyone working at the time got $200. The server received $400.
http://abc7.com/food/diner-customer-leaves-$2000-tip-on-$17-bill/2774339/
Secret Santa spreads holiday cheer to those affected by Hurricane Harvey
Four months after Hurricane Harvey flooded Beaumont, Texas, Joann and hundreds like her are still virtually homeless for the holidays. Joann said she lost everything, and couldn't even afford to buy her grandkids Christmas presents — until now.
That's why the man in red made Beaumont his first stop this year. A Secret Santa gave her $300 — not much in the scheme of things, but plenty to restore some hope.
That's what this anonymous businessman does every year with his own money. He travels the country giving out about $100,000 worth of $100 bills to random strangers.
But this year was a little different. This year he had a secondary motive — to call attention to the Beaumont Police Department for their extraordinary sacrifice.
Half the officers in the department had their homes damaged. And yet, like Boaz, virtually all of them showed up for work the next day. Boaz didn't have the shirt on his back, but said he "felt like I needed to" help those in need after the hurricane.
Secret Santa spreads holiday cheer to those affected by Hurricane Harvey
Commuters help people out of derailed train, comfort victims


THERE ARE THOSE WHO FEIGN COMPASSION AND THOSE WHO GET OFF THEIR ASSES AND JUST DO IT.
[CtH: For example, those who #Compassion and those who are too busy with their left and right hands to have time to twitter boast.]
Dr. Nathan Selden, a neurosurgeon at the Oregon Health & Science University in Portland, Oregon, was driving to Seattle with his son and stopped to help. He went to a medical triage tent to help tend to victims.
The most severely wounded had already been taken to hospitals by the time he arrived, Selden said. The victims he assessed had injuries such as sprains, open wounds, skull and pelvis fractures.
He called it a miracle that an infant from the train appeared completely unharmed.
While the doctor worked, others – including Selden's son, a college freshman – helped carry in supplies from firetrucks and other tasks. He applauded the first responders as skilled, dedicated and compassionate.
https://www.washingtontimes.com/news/2017/dec/18/commuters-help-people-out-of-derailed-train-comfor/
'A Christmas Story Live' Delivers Lump of Coal to Fox in Early TV Ratings

I DIDN'T WASTE MY TIME. MOST REMAKES ARE LIKE PAINTING A PORTRAIT OF THE MONA LISA WITH A CAN OF SPRAY PAINT. THE ONLY SEQUEL AS GOOD AS THE ORIGINAL WAS GODFATHER II.
[CtH: I cannot offhand think of any remake that didn't pretty much meet Pete's description.  I never watched any of the Godfather movies, but in the sequels category, I think Terminator 2 was the best one in the series.]
Bah humbug: Fox's "A Christmas Story Live!" just got blindsided by NBC's "Sunday Night Football" in early TV ratings. Oh, and every other broadcast TV show beat it as well.
The latest live television musical managed a 2.8 overnight rating/5 share in the 56 metered-markets monitored by Nielsen. Compare that with NBC's "Sunday Night Football," which posted a massive 12.3/21 last night. To be fair, that latter live telecast had the Dallas Cowboys.
https://www.thewrap.com/a-christmas-story-live-early-ratings/
KLEENEX ALERT…THIS ONE WILL GET YOU.
I THOUGHT I'D LEAVE YOU WITH THIS VIDEO OF A CHILD GETTING A WONDERFUL GIFT.