But I guess I have to comment on that pathetic spectacle that took place Saturday. Didn't watch, didn't care. But there has been plenty on my Facebook feed and and I couldn't let it pass without making a few comments. Like a lot of people I've just about had all I can stand of that smarmy little foul-mouthed punk David "Publicity" Hogg. I saw a comment on FB from someone with a student that goes to school at Parkland who said he's been a student there for two years. If he graduated from Redondo Shores in 2015 that would make him about 20 years old and still attending classes, presumably doing post-high school graduate studies.


This clown is far too polished to not be a liberal shill who's been thoroughly coached on what to say and brings his own profanities to his Hitler Jungen-inspired speeches. The irony is that he's taking on the role of a little dictator to these pawns while being financed by a genuine Nazi, George Soros. I read that Soros paid these kids $300 each to go to that march. How else do you get kids to give up a weekend? Do you think the dupes or their parents paid for the transportation, lodging, meals, and the t-shirts they all wore? Those "homemade" signs they all waved were professionally made if you look closely. And you can, because they left the area littered with them, along with tons of trash. That's what liberals do. Carp about the environment while they destroy it.
All the usual Hollywood types contributed money to this jamboree and a couple even showed up… with heavily armed security, of course. George Looney and his trophy wife showed up to preen in front of the cameras, along with Paul McCartney, who claimed he was there to honor the memory of his close friend John Lennon "who was killed by gun violence on a spot right around here." No, Paul, Lennon was killed by a mentally disturbed fan. It wasn't the gun's fault.
When you get down to it, it was a shameless display orchestrated by people who would sell these kids out in a heartbeat when they were no longer useful.
March for Our Lives D.C. Unfolds as Anti-Trump, Anti-Gun, Get-Out-the-Liberal-Vote Rally
The groups involved in organizing, promoting, and funding the March for Life include the anti-gun Giffords – an organization started by former Rep. Gabrielle Giffords (D-AZ) – Moms Demand Action for Gun Sense in America, Move On, the Women's March, and Planned Parenthood.
ONE SIGN SCREAMED: "THERE'S NO SUCH THING AS A GOOD GUY WITH A GUN!"
Except maybe these guys:


http://www.breitbart.com/big-government/2018/03/24/march-for-our-lives-d-c-unfolds-as-anti-trump-anti-gun-get-out-the-liberal-vote-rally/
Who Runs March For Our Lives?
It's a strange political fact, but nearly every major anti-gun group has been a front group. The NRA is maligned 24/7 and yet it's completely obvious whom it represents.
March for Our Lives is on every cable channel, but who runs it? The photogenic teen fronts are out front. But it's obvious to everyone that a bunch of teens don't have the resources and skills to coordinate a nationwide movement. Instead, it's the experienced activists who are actually running things.
The March for Our Lives Fund is incorporated as a 501(c)(4). Donations to 501(c)(4) groups are not tax- deductible. And they don't have to disclose donors. That's why they're a great dark money conduit.
https://freedomoutpost.com/runs-march-lives/
March for Our Lives Protesters Trash Streets of D.C. After Gun Control March

The signs that the self-described socially conscious protesters held up high during the march, along with countless other items of trash, were littered on the streets of D.C. like old rags.

http://www.breitbart.com/big-government/2018/03/24/march-for-our-lives-protesters-trash-streets-of-d-c-after-gun-control-march/
Time Magazine Features Parkland Students Pushing for Gun Control, Leaves Out a Few Details

Time's piece looks at the students' organization of the march, framing it as something they did on their own. The piece doesn't mention the fact, reported by Buzzfeed, that major leftist groups and public relations organizations have been backing the kids planning the march. Everytown, Move On, Women's March LA, and Planned Parenthood are among these groups.
https://townhall.com/tipsheet/laurettabrown/2018/03/22/time-magazine-cover-features-parkland-students-pushing-for-gun-control-n2463611
Watch: Gun Control Activist Gives Perfect Reason Not To Give Into Their Demands

Marjory Stoneman Douglas High School student Delaney Tarr expressed no interest in working with the other side of the political aisle on the issue of gun control and urged participants to sign their gun control petition.
https://www.dailywire.com/news/28654/watch-gun-control-activist-gives-perfect-reason-ryan-saavedra
Media Incorrectly Parrots "March For Our Lives" Organizers' Crowd Estimate
They're off by about 600,000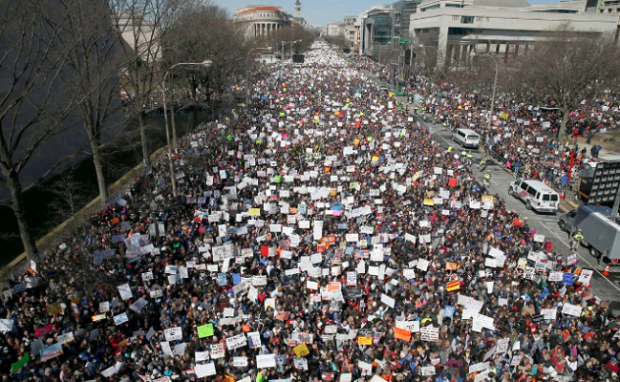 After anticipating a crowd of 500k, March for Our Lives organizers reported attendance estimated at between 800,000 and 850,000 thousand. The media gobbled this up and headlines splashed with variations on "Largest crowd EVAH" flooded the internet.
The problem? The real estimate, provided by an independent company, is 200,000, give or take two or three thousand.
https://legalinsurrection.com/2018/03/media-incorrectly-parrots-march-for-our-lives-organizers-crowd-estimate/
Anti-Gun Liberals Devolve Into A Cacophony Of Nonsense As They Can't Explain What An Assault Rifle Is
THEY SAY WHAT THEY'RE TOLD TO SAY…THEY HAVE NO CLUE
Kirk asks the question again, and no one can answer. The woman leaves, while another man replies it's an AR-15, though he doesn't know what "AR" stands for; it does not, as some progressives think, stand for "assault rifle."

https://townhall.com/tipsheet/mattvespa/2018/03/25/watch-antigun-liberals-devolve-into-a-cacophony-of-nonsense-as-they-cant-explain-what-an-assault-rifle-is-n2464464
AS YOU CAN IMAGINE,THE MEMES ARE FLYING HOT AND HEAVY

LIBERAL MOTHER OF THE YEAR WITH HER LITTLE COMMIE
AMEN, BROTHER