Didn't post yesterday because it was Friday 13th. Not that I'm superstitious, but why take chances.
Amnesty Advocates Mourn Ryan's Exit
Ali Noorani is the director of the National Immigration Forum, a Washington, D.C.- based group which promotes cheap-labor immigration for cheap-labor employers, including the dairy industry in Ryan's home state of Wisconsin.Noorani tweeted: "Thank you @SpeakerRyan for always hearing us out on immigration. Let's get some good legislation passed before your next step!"

http://www.breitbart.com/immigration/2018/04/11/amnesty-advocates-mourn-paul-ryan-exit/
Paul Ryan to Push DACA Amnesty for Millions of Illegal Aliens Before Leaving Congress
PAUL RYAN…PERSONAL PROPERTY OF THE KOCH BROTHERS
House Speaker Paul Ryan will push his open borders agenda during his last months in Congress, telling the media that he is interested in passing an amnesty for millions of illegal aliens who are enrolled and eligible for the President Obama-created Deferred Action for Childhood Arrivals (DACA) program.
http://www.breitbart.com/big-government/2018/04/13/paul-ryan-to-push-daca-amnesty-for-millions-of-illegal-aliens-before-leaving-congress/
Kevin McCarthy, Steve Scalise Top The List To Replace Paul Ryan

McCARTHY IS THE MAJORITY WHIP. HE'S PART OF THE SWAMP AND AS BIG A RINO AS RYAN.
House Majority Leader Kevin McCarthy of Calif., appears to be the odds-on favorite to replace House Speaker Paul Ryan, who said he would hold onto his title until he retires in January.
The other most likely candidate, Majority Whip Steve Scalise, R-La., has said he's interested but only if McCarthy declines.
https://www.washingtonexaminer.com/news/congress/kevin-mccarthy-steve-scalise-top-the-list-to-replace-paul-ryan
Dem Lawmaker Calls On Trump To Resign: "It Will Get Worse"

IN THEIR DREAMS
Betsy DeVos Tells Striking Teachers to Stop Being so Selfish

Teachers in Oklahoma have not showed up to class in nine days. Republican Gov. Mary Fallin approved pay raises in the tune of $6,100, but educators say it does not meet their demands. They also weren't too happy that she likened their protest to "a teenager wanting a better car." The teachers are on the march in defiance of school funding cuts and in support of pay raises of $10,000 over the next three years.
THIS MAY BE PART OF THE FUNDING PROBLEM:

https://townhall.com/tipsheet/cortneyobrien/2018/04/12/betsy-devos-criticizes-striking-teachers-n2469945
Comey Admits He Hid That Dems Funded Steele Dossier From Trump – 'Wasn't Necessary For My Goal'

"Did you tell him the Steele dossier had been financed by his political opponents?" Stephanopoulos asked the former FBI director in an interview set to air on Sunday night.
"No, I don't even think I used the words 'Steele Dossier,'" Comey responded. "I just talked about additional material."

http://dailycaller.com/2018/04/13/comey-hid-dossier-funded-by-dnc-from-trump/
Pelosi suffers face spasms, says wrong words during brief appearance
Nancy Pelosi only spoke for a few minutes to reporters on Wednesday, but she still wasn't able to avoid suffering face spasms, brain freezes and repeatedly using the wrong words.

SHE NEEDS PROFESSIONAL HELP BUT HER FAMILY WANTS THE MONEY SHE CAN SCOOP UP.
http://www.theamericanmirror.com/video-pelosi-suffers-face-spasms-says-wrong-words-during-brief-appearance/
New Yorker' Calls Chick-Fil-A 'Creepy,' 'Pervasive' for Being Christian

Angered, no doubt, by the "ersatz homespun ambiance of a megachurch," Piepenbring accused the restaurant of having an ulterior motive: proselytism and "glorifying God." Rather than just understanding that the free market exists and that there is in fact a niche for enthusiastic Christians who want to sell chicken sandwiches, the writer took the same, stale path that the rest of the media has been parroting since 2012: Chick-Fil-A is "anti-LGBTQ" and full of "bigotry."
https://www.newsbusters.org/blogs/culture/corinne-weaver/2018/04/13/new-yorker-calls-chick-fil-creepy-pervasive-being-christian
Senator who called for Trump's assassination demands slave reparations…counts herself among the beneficiaries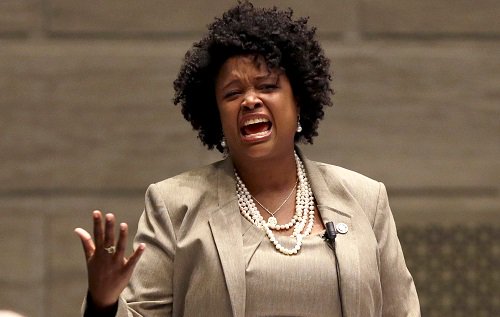 When you get down to the nitty-gritty of the progressive left's "critical race theory," which now drives race relations in the United States, reparations is the coveted goal to resolve all grievances.
Cue Missouri state Sen. Maria Chappelle-Nadal, the Trump-hating Democrat, who is calling for reparations for former slaves, according to The Kansas City Star.
Well, considering there are no former slaves alive today, the default payees would be current relations to the slaves — which conveniently includes the senator, according to her testimony.
https://www.bizpacreview.com/2018/04/13/senator-who-called-for-trumps-assassination-demands-slave-reparations-counts-herself-among-the-beneficiaries-623436
Maxine Waters Gets Schooled On Separation Of Powers By OMB Director, Cuts Him Off With "Reclaiming My Time"