They did it again. Trump was asked if he would accept it if Hillary won the election. He said 'stay tuned' and that was on the front page of both the Chicago Tribune and the Wall street Journal. (I deliver both.) Hillary lied her ass off when she couldn't duck and dodge. Many polls felt Trump won the debate. There is no consolation prize. He still loses.
That immoral tramp Madonna offered Hillary voters what Monica Lewinsky gained notoriety for. There's even a video, but this is a PG blog so I refuse to post it.
Flashback: Gore Refuses to Concede Election, Demands Recount "To Ensure All the Votes Are Counted"
IT'S DIFFERENT WHEN THEY DO IT

WHEN RICHARD NIXON LOST TO JOHN KENNEDY IN 1960 THANKS TO CROOK COUNTY AND THE LATE RICHARD DALEY, HE DID NOT ASK FOR A RECOUNT BECAUSE HE DID NOT WANT TO PUT THE COUNTRY THROUGH THAT KIND OF TRAUMA. DEMOCRATS HAVE NO SUCH PRINCIPLES.
Soros-Connected Company Provides Voting Machines In 16 States
Smartmatic, a U.K.-based voting technology company with deep ties to George Soros, has control over voting machines in 16 states including battleground zones like Arizona, Colorado, Florida, Michigan, Nevada, Pennsylvania and Virginia. Other jurisdictions affected are California, District of Columbia, Illinois, Louisiana, Missouri, New Jersey, Oregon, Washington and Wisconsin.
Its website includes a flow-chart that describes how the company has contributed to elections in the U.S. from 2006-2015 with "57,000 voting and counting machines deployed" and "35 million voters assisted."


Trump on accepting election outcome: "I'll keep you in suspense"

THIS IS THE QUOTE BEING TOUTED AS THE FINAL NAIL IN HIS POLITICAL COFFIN; TRUTH IS HE NEVER HAD A CHANCE.
Clinton on remarks about open borders

The long-suffering Chris Wallace in final presidential debate

Trump blames Clinton, Obama for violence at Chicago rallies

Clinton shares her vision of the Supreme Court's future

Trump on Roe v. Wade

Third Presidential Debate | Best Lines from Trump, Clinton

CNN focus group

Reporters at Vegas Debate Caught Cheering for Hillary
Reporters covering the presidential debate in Las Vegas Wednesday night between Republican nominee Donald Trump and Democratic nominee Hillary Clinton were cheering Clinton and groaning at Trump during the debate according to a report by Fox News' Jesse Watters posted to Twitter.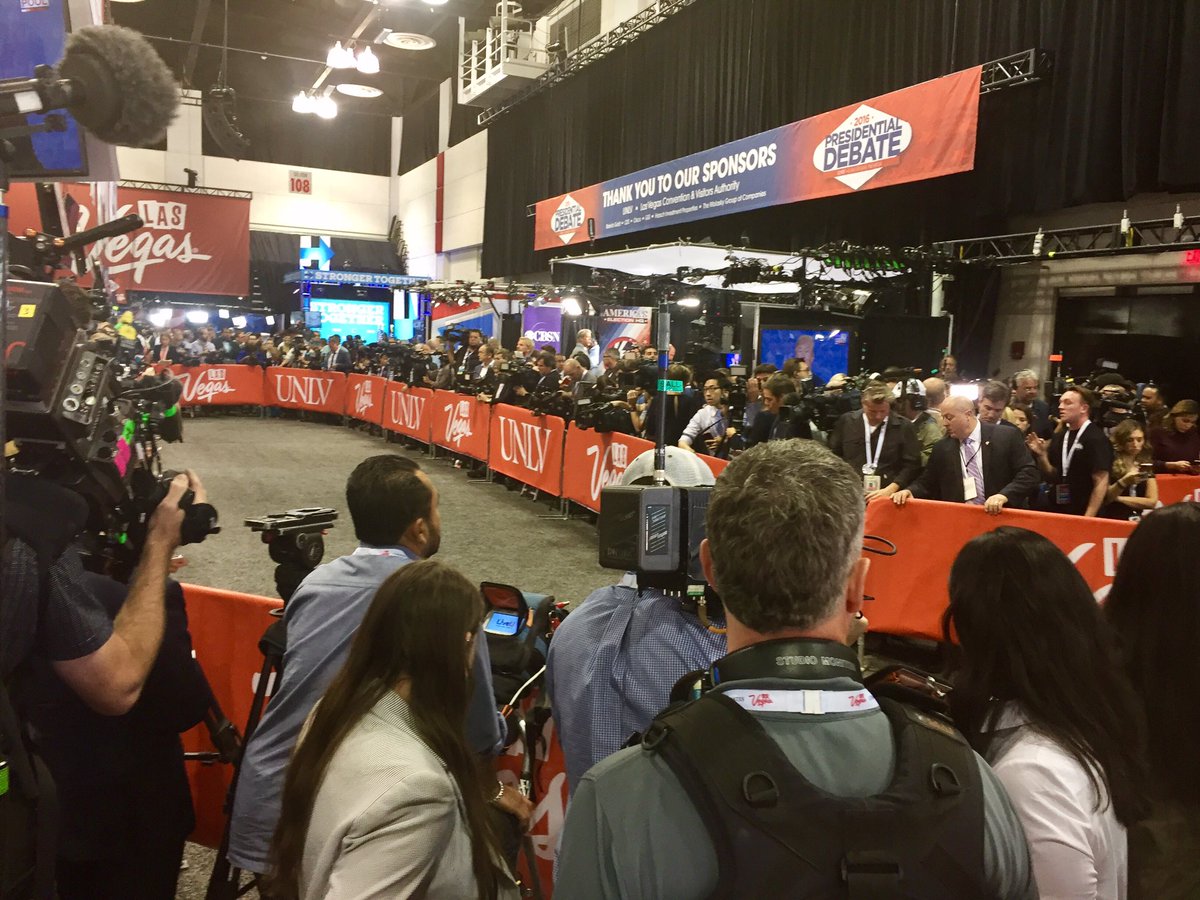 'ADDRESS THAT' — Chris Wallace GRILLS Hillary On Clinton Foundation Corruption

"Well, everything I did as secretary of state was in furtherance of our country's interests and our values," Clinton responded. "The State Department said that."
Clinton then listed what she described as all the "good" the Foundation does across the world before Wallace interrupted her.
"Secretary, respectfully, this is an open discussion," Wallace noted. "A specific question went to pay for play. Do you want to address that?"
She did not.
Hillary Clinton Bizarrely Claims Landmark Heller Decision Was About Toddlers' Access to Guns

Hillary Clinton claimed during Wednesday's presidential debate that the Supreme Court decision in District of Columbia v. Heller, which dealt with the city's total ban on handgun ownership, was about keeping toddlers from accessing guns.
In October 2015, Clinton told a group of donors that the Supreme Court was "wrong" on the Second Amendment, leaked audio first reported by the Washington Free Beacon shows. When asked about that audio, she said she explained her opposition was due to a desire to protect children.
Trump: Hillary Should Give Back Clinton Foundation Money to Islamic Governments

THE CLINTONS GIVE MONEY BACK? YOU'RE KIDDING,RIGHT?
"It's a criminal enterprise," Trump said. "Saudi Arabia has given $25 million. Qatar, all of these countries.
"You talk about women and women's rights? These are people that push gays off business, off buildings. These are people that kill women and treat women horribly and yet you take their money."

Crowd Chants 'Lock Her Up' While CNN Discusses Hillary's Electoral Map Lead

Mark Cuban on Final Presidential Debate – 10/19/16 – Fox News

Liberals Whine That Wallace Didn't Mention Global Warming In Debate

"It's really disgraceful," Paul Krugman tweeted, adding in another tweet: "Debate moderators have completely failed on the most important issue
"You're Like a Thief " Donna Brazile Snaps at Megyn Kelly When Asked About WikiLeaks

DONNA "WE AIN'T GONNA LET THE WHITE BOYS WIN" BRAZEER RUNS INTO A BLONDE BUZZSAW. THIS IS FUN.
REPORTERS Gang Up on DANNEY WILLIAMS at Presser: "You See How This Is Damaging the Clintons!"
Bill Clinton's Illegitimate Son Danney Williams Spoke Tonight to Reporters
Danney asked President Clinton to submit a sample of his DNA for a paternity test.
THE PRESS WOULD BE EQUALLY OUTRAGED IF THIS WERE TRUMP… RIGHT? RIGHT?

Danney says, "Most of Arkansas knows, I go anywhere and people say, 'There's Bill Clinton's son. He Looks just like him!'"
Danney said he has known about his father since he was 9 years old.

"Isn't it funny how Libs say that #BlackLivesMatter all the time..Until @danney_williams comes on the scene looking 4 answers? SHAMEFUL." — Deplorable Avg. Joe (@AverageJo44) October 20, 2016
DNC Schemes to Bully Women at Trump Rally

Donald Trump Campaign Runs Powerful 'Angel Mom' Ad

The Texas mother's son Joshua was killed in 2010 by an illegal alien. In the ad, Wilkerson describes the horrible way her son was beaten and murdered by an illegal alien:
"The man who murdered Joshua is an illegal alien and should not have been here. The killer hit him in the head with a closet rod so hard it broke into four pieces and then he took him to a field and doused him with gasoline and set him on fire. It was the hardest day of my life."

HEY DONALD… YOU'RE A LITTLE LATE. THESE ADS SHOULD HAVE AIRED MONTHS AGO.
IN HONOR OF THE BEARS-PACKERS GAME TONIGHT