LIBERALS: REDEFINING BUTTHURT SINCE 2016
We've all seen it. The pattern is familiar. The Republicans get control of the House or the Senate after playing the role of scapegoat and being bullied by the Democrats, and the first thing they do is give up their advantage to show the media they're not really bad guys. It's so frustrating to expect them to do what they say they're going to do, then wimp out.
Folks, it looks like there's a new sheriff in town. All the big muckety-mucks in broadcasting met with president-elect Trump (I still love typing that) and thought it was going to be the same old backslapping party they're so used to. They thought wrong.
TRUMP TOWER LOBBY CAM Captures Media Hacks Exiting Trump's Boardroom Thrashing
Just when you thought you could NOT Love Donald Trump anymore than you already do…
Donald Trump invited top liberal media hacks to Trump Tower for a special meeting.
They thought they were going to discuss media access and enjoy lunch.
Boy were they wrong!

It was a "f*cking firing squad."
Trump brought them into a boardroom and then unloaded.

ORCA'S GALPAL, GAYLE KING


WOLF BLITZED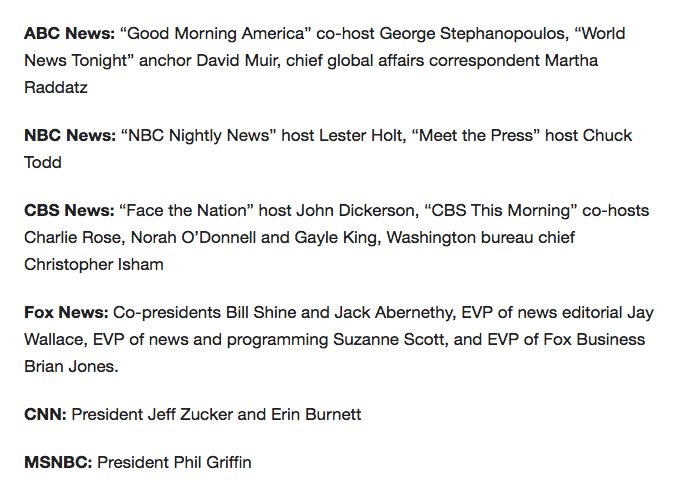 Look at these smiling hacks before the meeting!
They thought they were getting a free lunch.
Trump started with [CNN chief] Jeff Zucker and said 'I hate your network, everyone at CNN is a liar and you should be ashamed,' " the source said.
Trump kept saying, 'We're in a room of liars, the deceitful dishonest media who got it all wrong.' He addressed everyone in the room calling the media dishonest, deceitful liars. He called out Jeff Zucker by name and said everyone at CNN was a liar, and CNN was [a] network of liars," the source said.
"Trump didn't say [NBC reporter] Katy Tur by name, but talked about an NBC female correspondent who got it wrong, then he referred to a horrible network correspondent who cried when Hillary lost who hosted a debate – which was Martha Raddatz who was also in the room."
The stunned reporters tried to get a word in edgewise to discuss access to a Trump Administration.

"[CBS Good Morning co-host Gayle] King did not stand up, but asked some question, 'How do you propose we the media work with you?' Chuck Todd asked some pretty pointed questions. David Muir asked 'How are you going to cope living in DC while your family is in NYC? It was a horrible meeting."
Trump spokeswoman Kellyanne Conway told reporters the gathering went well.
The hour-long session included top execs from network and cable news channels. Among the attendees were NBC's Deborah Turness, Lester Holt and Chuck Todd, ABC's James Goldston, George Stephanopoulos, David Muir, and Martha Raddatz. Also, CBS' Norah O'Donnell John Dickerson, Charlie Rose, Christopher Isham and King, Fox News' Bill Shine, Jack Abernethy, Jay Wallace, Suzanne Scott, MSNBC's Phil Griffin and CNN's Jeff Zucker and Erin Burnett.
CONSPICUOUSLY ABSENT (PROBABLY WASN'T INVITED) WAS TINGLES MATTHEWS. THERE'S PROBABLY A REASON.
Matthews: 'Dog-Train Trump—If He Poops in Hall, His Nose Goes in It'
Imagine if just after the 2008 election, a conservative pundit had said this of President-elect Obama: "how do you dog-train Obama? I mean it tough. Dog train. If he poops in the hall, you make his nose go in it." Western civilization as we know it might have ended right there.
But on this evening's Hardball, that's precisely what Chris Matthews said—except about Donald Trump, of course. His point seemed to be that Trump must be brought to heel should he have the audacity to follow through on his promises to build the wall and end Obamacare.

Kellyanne Conway: 'Election Results Very Hard to Swallow' for MSM
On With All Due Respect, John Heilemann was aggressively questioning Kellayanne Conway, arguing that conflicts of interests would arise when the Trump administration makes decisions that could affect Trump business interests at home or abroad.
Conway eventually had enough. She shot back: "Look, John, I know the election results are very tough to swallow, particularly for those of you who just couldn't see it coming, couldn't even conceive of the possibility that the other candidate may actually win, that you don't understand America." Ouch.