Did I miss something? Did we win anything last November? You wouldn't know it by the mugging republicans took at the hands of their pals the democrats during the budget fiasco that was just passed. Democrats get their way nearly all the time no matter who has the majority. They have discovered, much to their delight, that there is virtually nothing the GOP is willing to fight for. They have been terrified of the specter of a government shutdown since the former president, Ben T. Penis, got Newt Gingrich to back down over a staged government shutdown that was pre-arranged to lay the blame on republicans. They know that the press will blame them 100%, all of the time.
The republican elite have proven time and again they care less about working with President Trump than about keeping their status among the DC party crowd. It leaves conservatives all across the country asking themselves: "What have we won?"
HOUSE LEADERSHIP LAUNCHED A COUP AGAINST AMERICAN VOTERS THIS WEEK
Paul Ryan and House Republicans included strict language in their trillion dollar budget that prevents any and all funding of President Trump's border wall.
Paul Ryan's new budget bill will fund:
** Planned Parenthood
** Central American illegal immigrant centers
** Domestic spending will increase
** No cuts in funding to EPA despite Trump's promises
** Continue payment on Obamacare subsidies
** No funding cuts to sanctuary cities
But the House budget includes language that FORBIDS the President of the United States of building a border wall with Mexico.
Paul Ryan's bill is so bad Democrats are fundraising off of the plan in celebration.


Frustrated conservatives ready to start winning under Trump
The spending deal struck over the weekend to avoid a partial government shutdown is just the latest failure of GOP-controlled Washington to deliver for conservative activists. To them, that bill is part of a larger pattern of putting off fights with the Democrats for another day only for tomorrow to never come — a trend they were already experiencing with run-of-the-mill Republicans, but one they hoped would end under Trump.


http://www.washingtonexaminer.com/conservatives-fume-over-complete-spending-concession-to-democrats/article/2621824
Conservatives Fume Over Complete Concession To Democrats On Budget Deal


How do we win Congress and Presidency and still get this as a result?
Conservatives are blasting the five-month, fiscal 2017 spending deal written by Republicans and Democrats as nothing short of a "cave in" by the GOP despite its control of both the House, Senate and White House.
The Gentlemen Losers Strike Again

And this spending bill is the same kind of crapola Congress sent to Obama year after year.
Nancy Pelosi and Chuck Schumer are getting everything they wanted.
Meanwhile the Gentlemen Losers — Paul Ryan and Mitch McConnell — get one more opportunity to prove that they really are nice guys who want to work with the Democrats.
Good grief. It's infuriating.
But this pile of crap is just more of the same.
And isn't this exactly why Americans voted for Donald Trump?
We're sick and tired of this nonsense.
Speaker Paul Ryan Defends Pile of Crap Budget Plan that Excludes Funding for Trump Wall
Ryan defended his 1,665 pages long budget that includes an average of approximately 210 words per page — —or about twice as long as the stimulus law (the "American Recovery and Reinvestment Act") that President Barack Obama signed less than a month after his inauguration in 2009.
Ryan and GOP leaders inserted language that specifically restricts any and all funding of the Trump border wall.

We didn't elect Donald Trump just to have Paul Ryan put on Nancy Pelosi's skirt and pearls and deliver for the Democrats.
http://patriotretort.com/gentlemen-losers-strike/
PAUL RYAN UNLEASHED: New House Budget RESTRICTS ANY AND ALL FUNDING of Trump Border Wall
Chuck Schumer: Trump 'Did Not Play Much of a Role' in Budget Negotiations

"Our Republican colleagues I give them a lot of credit — Mitch McConnell — we worked very well together — Leader Pelosi, Speaker Ryan as well," Schumer said, adding the names of the Democrats and Republicans in both chambers responsible for leading on appropriations.
"We all worked as a team," Schumer said. "And we came up with a very good solution for the people here.
"But it shows we Democrats want to work with our Republican colleagues," Schumer said. "And when they work with us, it's great."
http://www.breitbart.com/big-government/2017/05/02/chuck-schumer-trump-not-much-role-budget-negotiations/
White House Pushes Budget Deal As A Win For Republicans After Democrats Get Under Trump's Skin

Congressional leaders reached an agreement Sunday night on a budget that would keep the government open through September and avoid a looming shutdown. Because the bill includes funding for Planned Parenthood, money to help Puerto Rico with a projected shortfall in Medicaid and restricts the allotted $1.5 billion for border security from going to the new wall, Democrats began touting it as a win.
Clearly, it frustrated President Trump.
http://dailycaller.com/2017/05/02/white-house-pushes-budget-deal-as-a-win-for-republicans-after-democrats-get-under-trumps-skin/#ixzz4g1PRquOT
Democrats confident they can block Trump's agenda after spending bill win

Democrats think they have set the stage to block President Trump's legislative priorities for years to come by winning major concessions in a spending bill to keep the government open.
House Minority Leader Nancy Pelosi (D-Calif.) and Senate Minority Leader Charles E. Schumer (D-N.Y.) secured nearly $5 billion in new domestic spending by exploiting disagreements between Trump and GOP lawmakers over spending priorities.
https://www.washingtonpost.com/powerpost/after-their-spending-bill-win-democrats-confident-they-can-block-trumps-agenda/2017/05/01/5be2915e-2e97-11e7-9534-00e4656c22aa_story.html?utm_term=.5d30279423de
Limbaugh grills Pence on budget: 'What is the point of voting Republican?'
Host to VP: 'We've been told this for 15 years, we'll get 'em next time'
Radio host Rush Limbaugh received a call from Vice President Mike Pence on Tuesday, and he wasn't shy about voicing his displeasure over the 2017 budget deal.
"The Rush Limbaugh Show" rarely has guests, but a $1.2 trillion federal spending deal made between Republicans and Democrats to avoid a government shutdown prompted an interview with Mr. Pence.
The theme of the exchange boiled down to one question: "If this is what happens, Mr. Vice President, why vote Republican?"
"What is the point of voting Republican if the Democrats are gonna continue to win practically 95 percent of their objectives, such as in this last budget deal?" the conservative host asked.
Limbaugh to Pence: What Is the Point of Voting Republican If the Dems Are Going to Continue to Win?

http://www.washingtontimes.com/news/2017/may/2/rush-limbaugh-grills-mike-pence-on-budget-what-is-/
There is a last ditch effort to pass a new health care bill coming. It stands not a snowball's chance in hell of passing. The entire fiasco was orchestrated by Paul Ryan to ensure enough poison pills in it for conservatives to vote against it. The democrats know Obamacare will never go away. No government program ever does. They just suck up more and more money. As professional spenders, the liberals know once you give people something free (or at least free to THEM), it can never be taken away without a rebellion. It would not be a bit surprising if Trump decided since his own party won't deal with him he may go to the democrats to negotiate. After all, they're still the real power in Washington.
Obamacare Repeal Stalled by Moderate Republican Opposition

Congressman Billy Long (R-MS), a strong House leadership ally, said that he would not support the bill over concerns that the bill "strips away any guarantee that pre-existing conditions would be covered and affordable." Long said in an interview on Monday, "They got 40 Freedom Caucus votes," asking, "Why do they need me?"
Fred Upton, the former Energy and Commerce Committee chairman, said Tuesday he will not vote for the Obamacare repeal bill. He said, "I've supported the practice of not allowing pre-existing illnesses to be discriminated against from the very get-go." Upton told WHTC this morning. "This amendment torpedos that, and I told leadership I cannot support this bill with this provision in it."
http://www.breitbart.com/big-government/2017/05/02/obamacare-repeal-stalled-by-moderate-republican-opposition/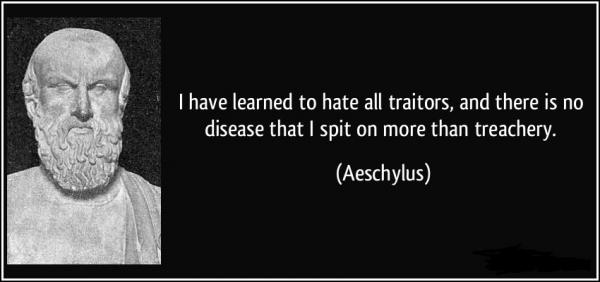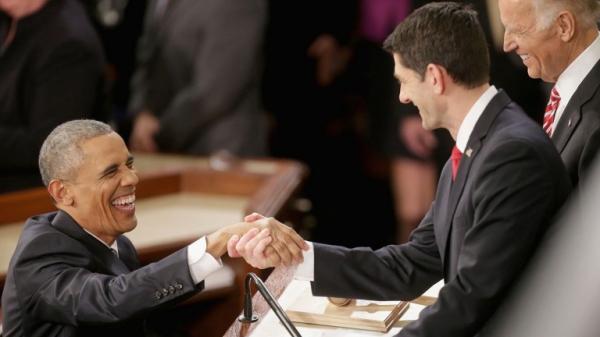 Nancy Pelosi has her arm up Paul "The Puppet" Ryan's ass and controls all his moves