December 7, 1941: More than 2,300 American servicemen were murdered in a sneak attack by the Empire of Japan. It drew us directly into a war that had been raging in Europe for more than two years. It changed the course of history and ended a madman's dream of world domination.
Fast forward 76 years. The USS Arizona still rests in the harbor, along with those joined for eternity. I've never been there, but know people who have. You cannot come away from there unmoved if you have a soul. Our WWII veterans are almost all gone now, passing into glory at a rapid rate. After suffering eight years of humiliation at the hands of a man who presided over a country he hated, these few once again have a president who sees them as the legends they are.
World War II Veteran Interrupts Trump's Pearl Harbor Speech to Sing 'Remember Pearl Harbor'
During his speech, one of the World War II veterans, Michael "Mickey" Ganitch, interrupted and started singing the song "Remember Pearl Harbor."
Before President Trump signed a formal proclamation on the 76th anniversary of the Pearl Harbor attack, one veteran of the Japanese attack broke out in song. Trump said that, following the attack, a "battle cry could be heard by American friends and foes alike: Remember Pearl Harbor."
The veteran standing closest to him smiled and began singing the lyrics to the Sammy Kaye song. "Let's remember Pearl Harbor as we go to meet the foe. Let's remember Pearl Harbor, as we did the Alamo," he sang. "We will always remember how they died for liberty. Let's remember Pearl Harbor, and go on to victory."
The following veterans attended Trump's ceremony, where the president signed a proclamation for Pearl Harbor Day:
Michael Ganitch, chief quartermaster, United States Navy, USS Pennsylvania
Jack Holder, Flight Engineer, United States Navy, PBY Ford Island
Alexander Horanzy, Private, United States Army, Schofield Barracks
Lawrence Parry, Private, United States Army, Fort Armstrong
Robert Fernandez, Seaman First Class, United States Navy, USS Curtiss
George Blake, Staff Sergeant, Coastal Artillery Battery
THEY ARE A PRECIOUS TREASURE THAT CAN NEVER BE REPLACED.
http://www.breitbart.com/big-government/2017/12/07/world-war-ii-veteran-interrupts-trumps-pearl-harbor-speech-sing-remember-pearl-harbor/
Today we honor Pearl Harbor Heroes. Thank you to all military for your courage and sacrifice!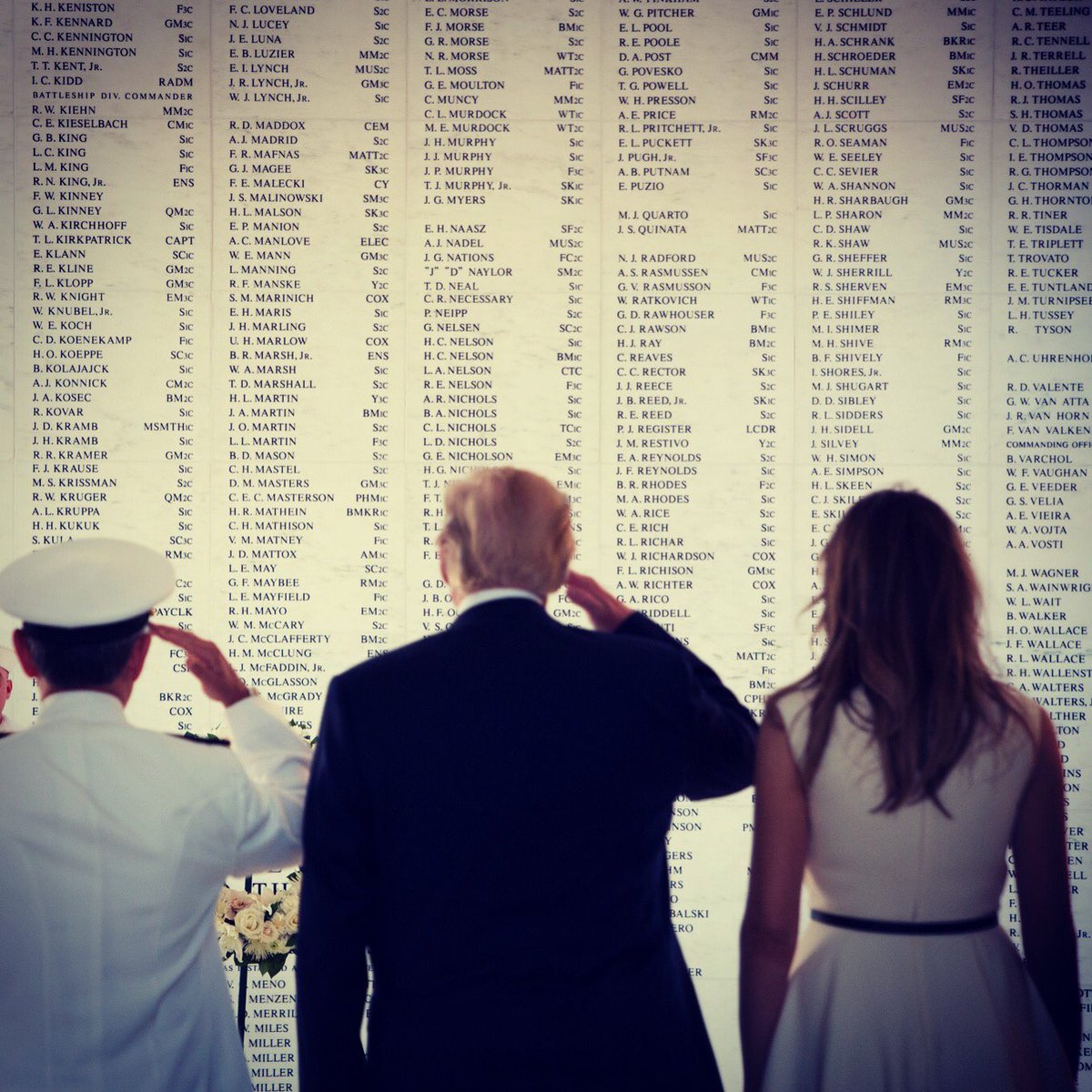 Here's the original version of the song: Remember Pearl Harbor by Sammy Kaye
ON PEARL HARBOR DAY Obama Would Post Photos of Himself — TRUMP Invites WWII Veterans to White House
In December 2013 Barack Obama honored the dead from Pearl Harbor by posting a photo of himself

THIS MAN IS A NATIONAL DISGRACE/
In December 2016, on the 75th anniversary of the Pearl Harbor attacks, Barack Obama honored the fallen heroes of Pearl Harbor with another photo of himself.

On December 7, 2017, President Trump honored the fallen of Pearl Harbor by inviting the survivors to the White House.

EVEN ON SUCH A SOLEMN OCCASION, THAT LITTLE PIMPLE FROM #FAKE NEWS STILL HAS TO BE A PAIN.
Flanked By Pearl Harbor Survivors Trump Stops And Drops A Nuke On CNN
Acosta shouted this question to Trump as he exited the room with the Pearl Harbor veterans: "Any comment on senator Al Franken? He made some comments about you earlier today."
Trump paused and with the strength of the Pearl Harbor veterans behind him, shut CNN down with five words: "I didn't hear it. Sorry.: Then Trump left the room, flanked by American heroes.
http://dailycaller.com/2017/12/07/flanked-by-pearl-harbor-survivors-trump-stops-and-drops-a-nuke-on-cnn/