It seems like every time the president allows access to the media whores, he knows they're going to make clowns of themselves. And every time, they oblige. They truly can't help themselves. Jim Acosta, the pathetic Walter Cronkite wannabe, once again showed himself to be the empty soul, trying desperately to be taken seriously. I think he'd have had his credential pulled long ago if not for the fact Trump likes to mess with him and Sarah Sanders is really good at pimp slapping this little turd.
Pres. Trump to CNN's Jim Acosta: 'Out'

The veteran reporter along with other members of the press, were allowed inside the Oval Office during a meeting between Pres. Trump and Nursultan Nazarbayev the president of Kazakhstan.
When White House press aides started asking the press to leave, Acosta, whose contentious relationship with the Trump White House has been well-documented, tried to get in a few final questions.
"Did you say you want more people to come into the country from Norway, Mr. President?" Acosta asked.
"Thank you very much, everyone," Trump responded.
Acosta asked the question again, to which Trump responded in a lower, softer voice, "I want people to come in from everywhere."
"Just Caucasian or white countries, sir? Or do you want people to come in from other parts of the world…people of color?" Acosta asked.
The president pointed at Acosta and said: "Out."
They need to look at revoking the White House press credentials of CNN's Jim Acosta.
Here's another installment of, 'hey everybody, Trump's a racist' from our friends at FAKE NEWS CNN.
Disgraceful. And Trump doesn't want any of it from Acosta
Acosta Suggests WH Doctor Could Be Withholding Information About Trump's Health
CNN's chief White House correspondent Jim Acosta asked Physician to the President Navy Rear Adm. Ronny Jackson if he was withholding negative information about the president's health from reporters during Tuesday's press briefing.
Jackson assured Acosta that there was no information about Trump's health being withheld, negative or otherwise.
"I can promise there is nothing that I am withholding from you. I can tell you, I've done the last four or five of these," Jackson replied. "I've been involved in probably the last six or seven of these and this is hands down more information that has been put forth by any other assessment to date."
http://dailycaller.com/2018/01/16/acosta-suggests-wh-doctor-could-be-withholding-information-about-trumps-health-video/
DHS Secretary Asks to Move on After Four Democrats Ask about Sh**hole Comments
Department of Homeland Security Secretary Kirstjen Nielsen expressed a desire to "move forward and discuss ways in which we can protect our country," during her testimony before the Judiciary Committee Tuesday after being asked for the fourth time about vulgar language reportedly used in an immigration meeting last week with President Trump.
"At any point in that conversation on Thursday did the President of the United States use a four-letter word beginning with s in combination with other words or alone that you heard?" Sen. Blumenthal asked.
"Sir, respectfully, I have answered this," she replied. "I've been very patient with this line of questioning. I'm here to tell you about the threats our country faces and the needs and authorities that are needed by the Department of Homeland Security. I have nothing further to say about a meeting that happened over a week ago. I'd like to move forward and discuss ways in which we can protect our country."
https://townhall.com/tipsheet/laurettabrown/2018/01/16/i-have-already-answered-this-five-democrats-ask-dhs-secretary-about-shhole-comments-n2435260
Democrats: Trump must capitulate on DACA "to prove you're not prejudiced or bigoted"
Trump denied using the term, and is backed up by Senators Tom Cotton and David Perdue, who were at the same meeting and dispute Durbin's account.
Department of Homeland Security Secretary Kirstjen Nielsen was at that meeting also. She testified today before a Senate committee which included Durbin.
Durbin fell flat on his face when Nielsen testified she did not remember Trump using the "s***hole" word during the meeting, and that Trump did not have a "specific categorization of countries in Africa."
NJ Senator Cory Booker then went ballistic, berating Nielsen and accusing her of lying, your "silence and amnesia is complicit."
The questioning of Nielsen, and Booker's theatrics, are part of a concerted Democrat effort to turn DACA into a racial issue if Democrats don't get their way.
It's all a charade that was laid bare by Chuck Schumer today, who demanded Trump get on board Democrat DACA demands or be labeled a racist:
"If you want to begin the long road back to prove you're not prejudiced or bigoted, support the bipartisan compromise … One that was aimed at meeting the concerns you voiced," Schumer said, noting it was negotiated by three Republicans and three Democrats. "This may be the last train leaving the station. President Trump needs to get on board."
HOW IS THIS NOT A THREAT?
This was a line of attack also used by Durbin:
Cory Booker 'seething with anger' as he yells at DHS chief Kirstjen Nielsen
"I had tears of rage," Booker bellowed at Secretary of Homeland Security Kirstjen Nielsen in reference to when he first heard of Trump's "shithole countries" remark last week.
"And for you not to feel that hurt and that pain and to dismiss the questions of my colleagues, with tens of millions Americans hurting right now because they're worried about what happened in the White House …"
http://www.washingtonexaminer.com/watch-cory-booker-seething-with-anger-as-he-yells-at-dhs-chief-kirstjen-nielsen/article/2646066
Cory Booker is the wokest 8 year old in Congress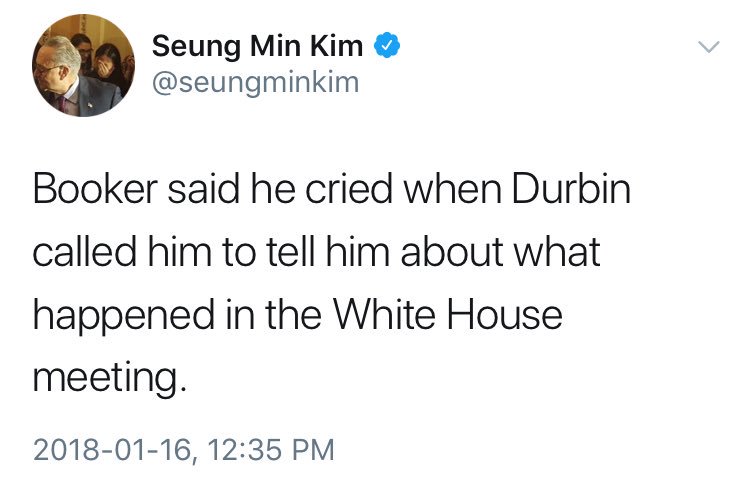 Cory Booker: Bangin' it out to the cheap seats


Journos Unable To Accept Results Of Trump's Physical Exam
Journalists have long questioned the president's mental health and fitness for office, but Dr. Jackson debunked any notion that Trump is unhealthy and called his mental health "excellent."
However, reporters are still unwilling to accept that nothing is wrong with the president and have taken to Twitter to express their displeasure with Dr. Jackson's assessment of Trump.
CNN's Brian Stelter, who routinely talks about Trump's fitness, wrote that Trump passing a cognitive exam has nothing to do with being "unfit."
"Someone could be sharp as a tack, but still unfit," Stelter claimed.
http://dailycaller.com/2018/01/16/trump-healthy-journalists/
AP Reporter Asks Trump Doctor "Do You Have a Life Expectancy Based On Your Results?"
Presidential Doctor Ronny Jackson took questions from the White House press corps after detailing President Trump's excellent health.
AP reporter Jill Colvin bizarrely asked Dr. Jackson "Do you have a life expectancy based on your results?"

Cristina Laila reported, Dr. Ronny Jackson conducted a physical exam on the President and declared Trump to have excellent cognitive health and attributed it to incredible genes "it's just the way God made him".

http://www.thegatewaypundit.com/2018/01/wow-ap-reporter-asks-trump-doctor-life-expectancy-based-results/
MSNBC's Mika Wants 'Small Crowd' For Trump's State Of The Union

MSNBC's Mika Brzezinski said that those who disagree with President Donald Trump should "give him a small crowd" at the upcoming State of the Union address.
"I really feel that Democrats and any Republicans with a spine who actually believe that this president is lying and perhaps acting in a way that is bad for this country should not show up for the State of the Union, and some are speaking about that. Give him a small crowd," retorted Brezinski.
[CtH: It should be remembered that, during his time in office, President Lincoln was reviled by the Democrats, half the Republicans, and a lot of the media.]
http://dailycaller.com/2018/01/16/msnbcs-mika-wants-small-crowd-for-trumps-state-of-the-union/
Squinty and Meat Puppet To Be Honored for Responsible Journalism. No, Really…

"Two of most wildly irresponsible members of liberal media, MSNBC anchors Joe Scarborough and Mika Brzezinski, are going to receive an award for being part of "a distinguished group of journalists and First Amendment leaders that exemplify responsible journalism and who practice their constitutionally guaranteed duty to seek and report the truth."
That's not a joke, the Radio Television Digital News Foundation (RTDNF) will actually be honoring the Morning Joe co-hosts during the organization's annual First Amendment Awards dinner on March 8 in Washington, D.C.The couple will specifically receive the Leonard Zeidenberg First Amendment Award for "a radio or television journalist or news executive who has made a major contribution to the protection of First Amendment freedoms."
http://www.diogenesmiddlefinger.com/2018/01/squinty-and-meat-puppet-to-be-awarded.html
DC Mayor Addresses How High School Grads All Got Diplomas Without Meeting Requirements

 An investigation by WAMU and NPR has found that Ballou High School's administration graduated dozens of students despite high rates of unexcused absences. We reviewed hundreds of pages of Ballou's attendance records, class rosters and emails after a district employee shared the private documents. Half of the graduates missed more than three months of school last year, unexcused. One in five students was absent more than present — missing more than 90 days of school.
To add insult to injury, the majority of Ballou's 2017 graduates missed more than six weeks of school. One teacher recalls seeing kids in the 12th grade that couldn't read and write.
Local viewers were skeptical and blasted the school system and D.C. leadership in the comment section.
"Dr. Reeves should be prosecuted," one commenter said.
"Revoke every diploma of every student who failed to meet grad requirements," another wrote. "Otherwise this is a cruel joke that will have a lasting impact on every DCPS graduate."
https://townhall.com/tipsheet/cortneyobrien/2018/01/16/dc-high-school-scandal-n2435228
THIS IS PART OF THE PROBLEM
40 Percent Of Kids Now Born To Single Moms—Up 700 Percent Since 1960
A recent report from the Social Capital Project reveals that the American family is disintegrating, fast. Fully 40 percent of mothers are currently unmarried.

This is partly due to the increasing acceptance in out-of-wedlock births. But, as the authors point out, this rise has a few more concrete explanations, such as: increased unwed promiscuity, fewer "shotgun marriages" to pregnant single women, and increasing delayed marriage/rising divorce.
https://nationaleconomicseditorial.com/2018/01/16/single-motherhood-rise/
West Virginia Legislators Propose Bill to Require the State's Schools to Offer Bible Elective

West Virginia state legislators introduced a bill that would require the state's schools to offer an elective course on Hebrew Scriptures, the Old Testament, or the New Testament in the Bible.
State Sens. Mike Azinger (R-Wood) and Sue Cline (R-Wyoming) submitted Senate Bill 252 to the West Virginia Senate Thursday for consideration, WOWK reported.
http://www.breitbart.com/big-government/2018/01/16/west-virginia-legislators-propose-bill-require-states-schools-offer-bible-elective/
Dems flip Wisconsin state Senate seat

IT SEEMS LIKE THE REPUBLICANS ARE TRYING TO LOSE THE MAJORITY…IT'S TOO HARD.
Democrats have expressed optimism heading into November's midterm elections in the wake of successful campaigns at the state and local level.
The Democratic Legislative Campaign Committee touted Schachtner's win as the 34th district to flip from Republican-held to Democrat-held since President Trump was inaugurated a year ago.
Democrats won governor races in New Jersey and Virginia, a special U.S. Senate election in Alabama and several other state races late last year.
https://www.msn.com/en-us/news/politics/dems-flip-wisconsin-state-senate-seat/ar-AAuNeMz?li=AA5a8k&ocid=spartanntp
AZ Sen candidate: Your "clean DACA bill" isn't happening

McSALLY IS A FORMER FIGHTER PILOT RUNNING FOR FLAKE'S SENATE SEAT
Major news outlets are already sounding the alarm about a possible government shutdown, assuming that a "clean" DACA bill is the hill that Chuck Schumer and Nancy Pelosi want to die on this week.
This seems particularly true of Arizona Congresswoman (and newly announced Senate candidate) Martha McSally. She was making the rounds on cable news this week, letting the minority party know that they need to pack the "clean" bill idea away because it's not gonna happen.
Fox News tweeted the video of that exchange for everyone yesterday.
This wasn't a particularly new position for McSally, who has been solid on immigration issues from the beginning. She was also out with a similar warning during an interview last week, when it might have actually done some good had the Democrats been listening.
https://hotair.com/archives/2018/01/16/az-sen-candidate-clean-daca-bill-isnt-happening-video/
Trump: Freedom Doesn't Come From Govt, It's a 'Sacred Right From Almighty God'

Today, President Donald Trump issued a proclamation declaring January 16, 2018 as Religious Freedom Day, wherein he noted that, "Our forefathers, seeking refuge from religious persecution, believed in the eternal truth that freedom is not a gift from the government, but a sacred right from Almighty God."
https://www.cnsnews.com/news/article/michael-w-chapman/trump-freedom-doesnt-come-govt-its-sacred-right-almighty-god