That was borrowed from one of the smartest women I know, Clarice Feldman, who writes for American Thinker and is a Facebook friend. Like they say, imitation is the sincerest form of flattery.
A COUPLE DAYS OLD, BUT STILL WORTH PONDERING
On Easter Sunday, here's why Christians are giving thanks that Obama's out of the White House

Lest we forget, here are the Obama administration's many assaults on Christianity during what felt like a never-ending eight years.
Forcing Christians to fund abortion-causing drugs
Supporting the nationwide adoption of gay marriage
Letting men into the girl's restroom
Corrupting the military
Attacking Biblical values
Obama's Justice Department defunded a Louisiana Young Marines chapter because their oath mentioned God
Slighting Christian leaders
Obama thrice nominated pro-abortion ambassadors to the Vatican. All were rejected by the Roman Catholic capital
A soft spot for Islam
The military burned unsolicited Bibles sent to Afghanistan, but Obama apologized to Afghanistan after the military burned copies of the Koran
The Obama administration ordered the purging of national security strategy documents to remove terms offensive to Muslims, including "jihad," "terrorists," and "radical Islamic."
THE MEDIA WHORES TWISTED THEMSELVES IN KNOTS TRYING TO CONVINCE US THIS ASSCLOWN WAS A CHRISTIAN.
https://www.bizpacreview.com/2018/03/31/on-easter-sunday-heres-why-christians-are-giving-thanks-that-obamas-out-of-the-white-house-619002
NEVER IN THEIR WILDEST DREAMS WOULD THEY HAVE SUBMITTED THEIR MESSIAH TO THE VILE ABUSE THEY HEAP ON PRESIDENT TRUMP ON A DAILY BASIS. CONSIDER NEW YORK MAGAZINE, IN THE MOST DISGUSTING DISPLAY OF OUTRIGHT CONTEMPT I'VE EVER WITNESSED.
New York magazine cover depicts Trump as a pig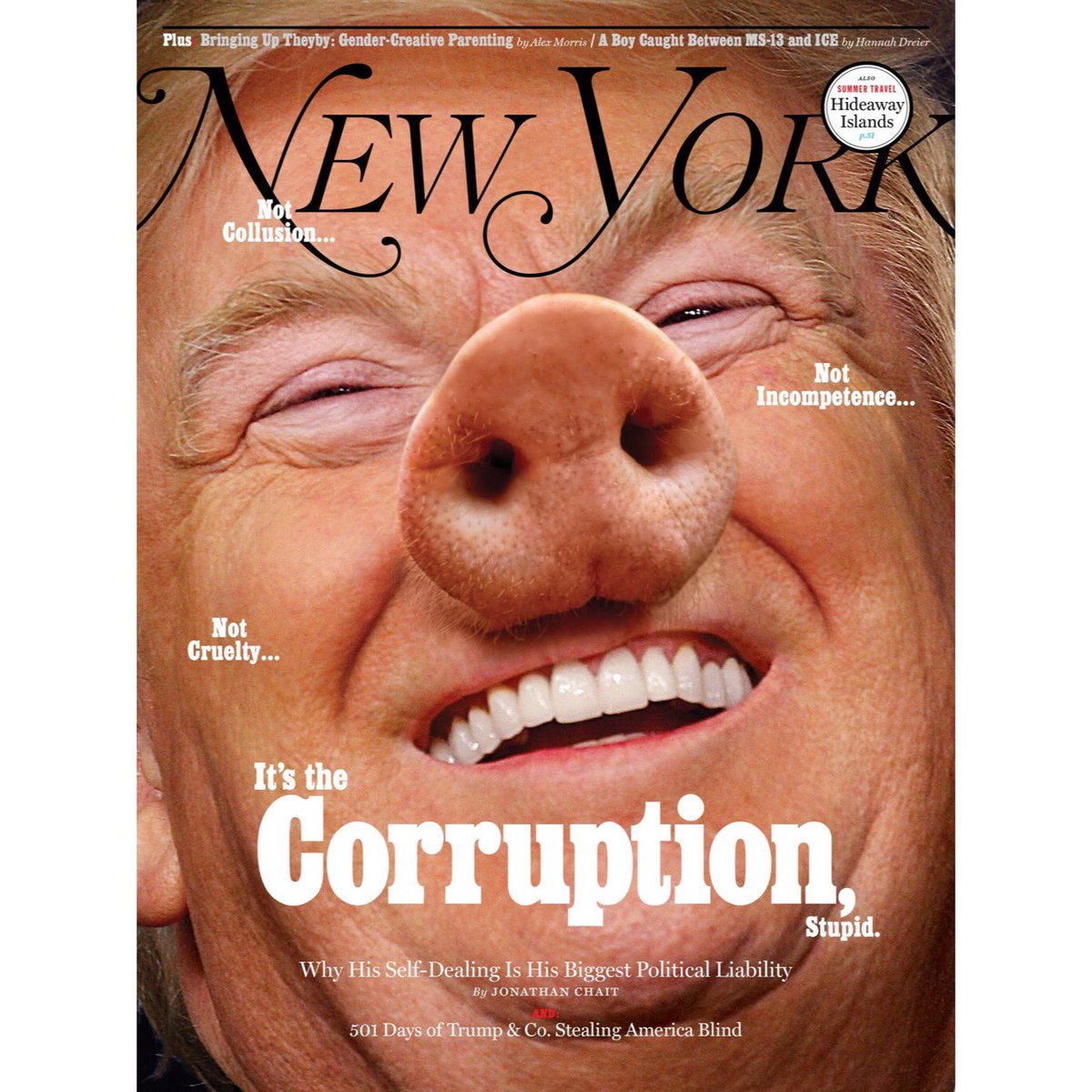 ANYBODY WHO HAD TREATED OBAMA THIS WAY WOULD BE DOING PRISON TIME.
THIS IS FROM THE HILL WEBSITE, CERTAINLY NO FRIEND OF THE PRESIDENT.
The cover story, "Corruption, Not Russia, Is Trump's Greatest Political Liability," hits Trump for what it claims is "corruption" and "greed" in nearly all aspects of his presidency, from his political appointees to his decision to let his sons take over his business after he took office.
http://thehill.com/homenews/media/381205-ny-magazine-cover-depicts-trump-as-a-pig
Jim Acosta Yelled At Trump While He Was Coloring With Children At White House Easter Egg Roll


While Trump sat at the table, CNN's White House correspondent Jim Acosta began yelling at him.
"What about the DACA kids?" he shouted at POUTS. "Should they worry about what's going to happen to them?"
Trump responded, saying "The Democrats have clearly let them down." Then Trump turned back to coloring at the table with his son, wife and other young children.
Acosta persisted, repeating "Didn't you kill DACA? Didn't you kill DACA?" at the president's back.
THEY SHOULD PULL THIS PATHETIC LITTLE TWERP'S CREDENTIAL. HE DOESN'T WANT TO REPORT THE STORY, HE WANTS TO BE THE STORY.
http://dailycaller.com/2018/04/02/acosta-yells-trump-white-house-easter-egg-roll-daca/
Mexican Immigration Authorities Say They Plan on Disbanding Caravan of Illegal Aliens by Wednesday After Trump Hammers Mexico on Twitter
Monday evening, embedded Buzzfeed reporter Adolfo Flores reported the Mexican immigration authorities said they are planning on disbanding the caravan of illegal aliens by Wednesday in Oaxaca.
Flores tweeted: Mexican immigration authorities said they plan on disbanding the Central American caravan by Wednesday in Oaxaca. The most vulnerable will get humanitarian visas

Update: Defiant caravan organizers plan to march ahead: Gina Garibo, an organizer with Pueblos Sin Fronteras, said the caravan was not over. They will continue to travel towards the US with asylum seekers.
THIS IS THE STATEMENT THAT WAS RELEASED.
ANY GUESSES WHO'S FINANCING THIS INVASION? WHY ARE THEY MENTIONING RELIGIONS AND GENDER EXPRESSIONS? REFUGEES IS REFUGEES… EXCEPT WHEN THEY'RE NOT.

http://www.thegatewaypundit.com/2018/04/mexican-immigration-authorities-say-they-plan-on-disbanding-caravan-of-illegal-aliens-by-wednesday-after-trump-hammers-mexico-on-twitter/
Politifact Aborts the Facts About Abortion Being the Leading Killer in Black Community


Abortion-induced deaths of the unborn in the black community are 69 times higher than HIV deaths, 31 times higher than (all other) homicides, 3.6 times higher than cancer-related deaths, and 3.5 times higher than deaths caused by heart disease.
Selby, preferring euphemisms over the literal meaning of words, explains: "But it's worth noting for starters that Isaac's characterization of abortions as killing babies is disputed."
Disputed by whom?
https://townhall.com/columnists/ryanbomberger/2018/04/02/politifact-aborts-the-facts-about-abortion-being-the-leading-killer-in-black-community-n2466958
Obama Is Reportedly 'Relieved' To Not Be President Anymore
THAT MAKES 63 MILLION AND ONE OF US.

"It's obvious to most people who are watching that he is relieved to no longer be bearing the burden of the presidency," former Obama press secretary Josh Earnest claimed, The Hill reported Monday.
http://dailycaller.com/2018/04/02/obama-relieved-not-be-president/
"Turn Back To The Revolution": Black DNC Official Calls For Dems To Use 'Black Panther' Tactics To Win 2018 Midterms
In a speech Saturday, the Democratic National Committee's Black Caucus chairwoman Virgie Rollins called on the Democrat Party to adopt tactics once used by the Black Panther Party to win the 2018 midterm elections.
"We've got to be out here in masses in the midterms," she continued. "It's all about changing the Congress now."
"They cannot win without black folks and women, so it's up to us."
"We're going to do grassroots organizing in this election," Rollins closed. "That is so important."
"We've got to turn back to the revolution, because it's important. They depend on us."

SOME PEOPLE SEEM TO BE ITCHING FOR WAR. THEY BETTER BE CAREFUL WHAT THEY WISH FOR.
http://www.thegatewaypundit.com/2018/04/black-dnc-official-calls-for-dems-to-use-black-panther-tactics-to-win-2018-midterms-video/
FROM THE BABYLON BEE:
Google Pays Respect To Jesus's Empty Tomb With Empty Homepage


MOUNTAIN VIEW, CA—While Christians have often complained of bias in the selection of which days Google honors with its "Google Doodles," believers around the country were reportedly ecstatic to find that the search and advertising giant chose to honor the empty tomb of Jesus on Easter morning with an empty homepage.
While many significant holidays like International Women's Day, Labor Day, and "Celebrating Pad Thai" are honored with a specially designed Google logo for the day, the celebration of Jesus's resurrection was given the highest honor, with a completely unaltered Google homepage.
http://babylonbee.com/news/google-pays-respect-to-jesuss-empty-tomb-with-empty-homepage/
High School proudly adopts 'Africentric Math' to draw in black students

ANY COMMENT I MAKE WOULD BE DELETED, SO I'LL JUST LEAVE IT ALONE
Nova Scotia's Auburn Drive High School math teachers are skipping their previous eurocentric approach to teaching mathematics so black students will gain more interest in the subject, the CBC reported. Teachers are adopting an Afrocentric lens to teach mathematics, based on incorporating African history and culture to make math classes resonate with their students.
https://www.bizpacreview.com/2018/03/31/high-school-proudly-adopts-africentric-math-to-draw-in-black-students-618913
NY Times Calls New Roseanne Show Dangerous Because It's "Normalizing Trump"
OH, NO… NOT THAT!