OK, the title's stupid. What do you want? Shakespeare?

I have to say that Franken is one of the slimiest mouth breathers that inhabit the sewers of D.C. Can't stand him, never could. He's done one successful thing in his miserable life and that was write a book, the first two words of which were 'Rush Limbaugh.'
It became public knowledge yesterday that he's a pig. In a 24-hour period there's been so much said about this jerk, I'll try to recap as succinctly as I can, even though brevity is not my strong suit.
Democrat Senator Al Franken latest to get hit with sexual abuse allegations
On Thursday, model and sports commentator Leeann Tweeden accused Democrat Minnesota Sen. Al Franken of groping her "without my consent" during a USO tour of Vietnam in Dec 2006, and she provided photo evidence of the assault.

"He repeated that actors really need to rehearse everything and that we must practice the kiss. I said 'OK' so he would stop badgering me. We did the line leading up to the kiss and then he came at me, put his hand on the back of my head, mashed his lips against mine and aggressively stuck his tongue in my mouth."
http://www.bizpacreview.com/2017/11/16/bombshell-dem-senator-al-franken-latest-get-hit-sexual-abuse-allegations-woman-steps-forward-563751
BUT WAIT!! THERE'S MORE!!!
A second female accuser is coming forward with accusation that Al Franken 'stalked and harassed' her
Former radio host Melanie Morgan stated that she will be coming forward with her own accusations against Franken soon.
"I didn't realize his creepy behavior after the show meant it would continue in the days to come.
"He approached Carol, the show's producer and demanded my home phone number, which was a clear violation of network protocol. I had thought that was the end of the story and was shocked when he started calling my home, badgering me repeatedly."
Morgan said Franken finally left her alone, but only after she pushed back and threatened "to call the police and make a report that he was harassing me."
To this day, she says she is haunted by it: "I never forgot that experience and it informed me of his lack of character and obsessive personality. I believe every word Leann wrote."
https://mediaequalizer.com/brian-maloney/2017/11/melanie-morgan-after-tv-appearance-al-franken-harassed-me-too
That Time Franken Joked About Raping a CBS Reporter

As a comedian and writer for "Saturday Night Live," Al Franken was quoted in a 1995 New York Magazine article discussing a joke for the show about raping CBS reporter Lesley Stahl.
"'I give the pills to Lesley Stahl. Then when Lesley is passed out, I take her to the closet and rape her.' Or 'That's why you never see Lesley until February.' Or, 'When she passes out. I put her in various positions and take pictures of her,'" Franken was quoted saying.
https://townhall.com/tipsheet/leahbarkoukis/2017/11/16/al-franken-joked-about-raping-lesley-stahl-n2410513
Al Franken Once Joked About Al-Qaeda Assassinating President Bush
In 2004, Al Franken told the sign-language interpreter working at the Republican convention that he should have communicated to Al-Qaeda how to sneak into the White House to assassinate President George Bush.
Hot Air's Ed Morrissey had this to say about the tasteless joke back in 2008:
"I can already hear the objections. Franken is a satirist! He was joking! He's paid to make people laugh! Er, yeah … but then Franken was also a political commentator, and now he wants to serve in the US Senate, so his judgment in this is fair game."
http://www.thegatewaypundit.com/2017/11/not-funny-al-franken-joked-al-qaeda-assassinating-president-bush-video/
Al Franken's Brother Was USO Tour Photographer When Groping Photo Taken
Tweeden recounted that it wasn't until the end of the tour and she was back in the U.S. that she received "the CD of photos we were given by the photographer" and found the photo of Franken reaching his hands for her chest while she was asleep.
"I couldn't believe it. He groped me, without my consent, while I was asleep," wrote Tweeden. "I felt violated all over again. Embarrassed. Belittled. Humiliated. How dare anyone grab my breasts like this and think it's funny?"
http://www.breitbart.com/big-government/2017/11/16/report-al-frankens-brother-was-uso-tour-photographer-when-groping-photo-taken/
Footage of Al Franken Making BABY RAPE Joke Resurfaces Amid Sexual Assault Allegations
Amid sexual harassment allegations made by model and actress Leeann Tweeden against Al Franken, footage of the Democrat Senator cracking a vile baby rape joke at Rob Reiner's Comedy Central Roast in 2000 has resurfaced.
"On a typical night, Carl [Reiner] would slip into Rob's bed, roll him over, swab him down and say something like, 'I'm thinking about hiring Morey Amsterdam to play Buddy Sorrell, what do you think?'" Franken said as Reiner blurted out, "Oh, Jesus."
"Well, the success of The Dick Van Dyke Show changed things dramatically, Carl started inviting many of his famous friends to fuck his son," Franken continued.
"That list includes some of the greats in comedy: Paul Lynde, Dom DeLuise, Rip Taylor, Danny Kaye."
http://thegatewaypundit.com/2017/11/footage-al-franken-making-baby-rape-joke-resurfaces-amid-sexual-assault-allegations-video/
Democrat Al Franken Grabbed Joy Behar's Breasts Too


THAT DOES IT!! THIS BASTARD DOESN'T KNOW THE DIFFERENCE BETWEEN A WOMAN AND A BRAYING JACKASS!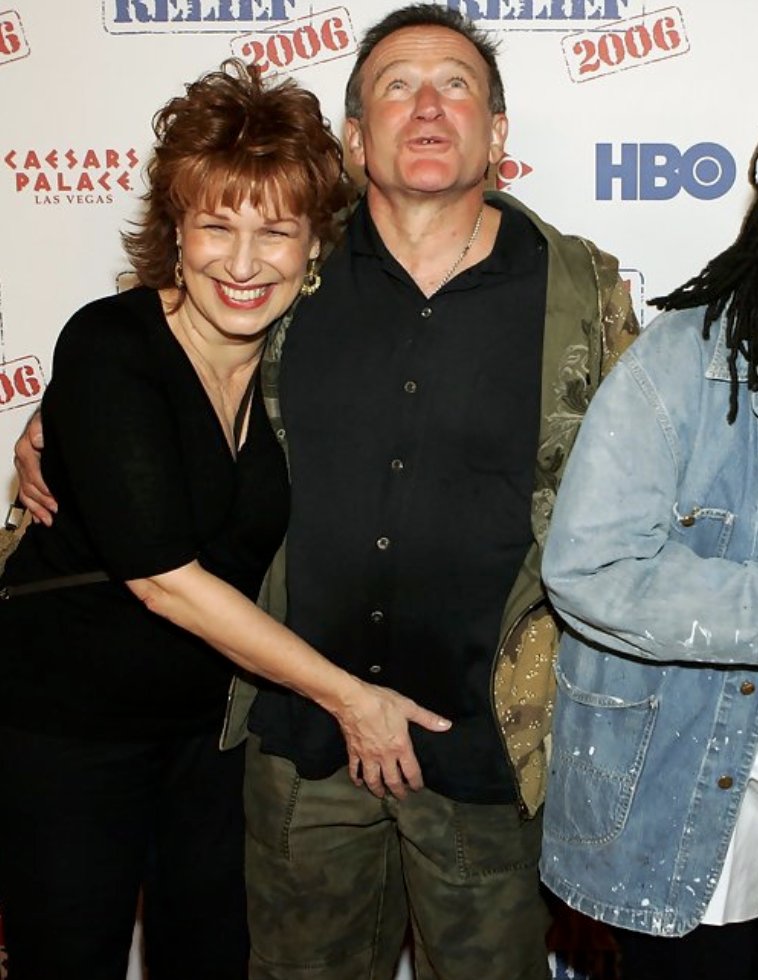 [CtH: Joy is clearly enjoying the grabbing jokes. She's got a helluva nerve getting all moral about any Republican's behavior.  Ditto: Whoopi "rape rape" Goldberg.]
'The View' Pivots To Trump While Discussing Allegations Against Franken

The women of "The View" gave Franken credit for apologizing and then Joy Behar tried to switch the conversation to talk about Trump.
"What about Trump, his people are saying that those women who accused him are liars!" Behar exclaimed.
Conservative panelist Meghan McCain responded, "Oh my god, this isn't about Trump right now though," clearly fed up with Behar's insistence on making every conversation about the president.
http://dailycaller.com/2017/11/16/the-view-pivots-to-trump-while-discussing-allegations-against-franken-video/
Valerie Jarrett Blasts Al Franken over Sexual Assault Allegations

"Just imagine your mom, spouse, sister or daughter in this photo. Not so funny now, is it?" Jarrett tweeted alongside an image capturing Franken's groping of journalist Leeann Tweeden on a two-week USO tour.
"I don't know what was in my head when I took that picture, and it doesn't matter," he wrote on Facebook. "There's no excuse. I look at it now and I feel disgusted with myself. It isn't funny."
Democrats and Republicans condemned Franken's actions, and Franken himself joined calls for an investigation by the Senate Ethics Committee.
YEAH, I FEEL SO ASHAMED ABOUT WHAT I DID. NOW TRY TO DO SOMETHING ABOUT IT. I'M A DEMOCRAT. WE'RE ALLOWED.
http://www.breitbart.com/big-government/2017/11/16/valerie-jarrett-blasts-al-franken-over-sexual-assault-allegations/
Two prominent Minnesota Democrats call on Al Franken to resign

Although many other Democrats have called the former comedian's actions disturbing, state auditor Rebecca Otto and Megan Thomas, president of the party's official Feminist Caucus, say he should leave office.
The allegations were made Thursday morning by radio host Leeann Tweeden, who said Franken harassed her during a 2006 USO trip to the Middle East, before he was elected to the Senate in 2008.
http://www.washingtonexaminer.com/two-prominent-minnesota-democrats-call-on-al-franken-to-resign/article/2640991
Al Franken will seek third term in 2020


GIANT SPHINCTER OF THE SENATE, MAYBE
While he lampoons President Donald Trump, congressional Republicans and the rest of the Washington establishment, he writes that being a senator is the greatest — if not most fun — job he's ever had. And he figuratively gives lots of big, sloppy kisses to the Minnesota folks back home.
[CtH: I heard the two women in the top stories on the radio yesterday.  The sophomoric boob grab photo didn't bother me all that much when I finally got to see it, but the abusive, obsessive, stalking behaviors he has exhibited bothered me a lot.  The man has got a serious screw loose and any Minnesotan who votes for him should have his head examined … by a proctologist.]
http://www.twincities.com/2017/05/30/al-franken-will-seek-third-term-in-2020/
Mulhauser: Franken 'Did The Right Thing' By Apologizing

Scott Mulhauser, former chief of staff to Ambassador Max Baucus, said on CNN Thursday that Sen. Al Franken is better than Roy Moore because Franken apologized for his actions.
[CtH: Is Moore supposed to apologize for stuff he probably never did?]
http://dailycaller.com/2017/11/16/mulhauser-franken-did-the-right-thing-by-apologizing-video/
Victim Shaming? MSNBC's Hunt: Franken's Action 'Not Actually Groping'
Yet, MSNBC's Kasie Hunt described the now-Senator's predatory behavior this way:
"[Franken] took a picture, which his office now says was of a joke, that showed him potentially — not actually groping — but mock-groping her while she was asleep."


So it's not really RAPE rape, is it, Whoopi?
[CtH: What was done with the photo without the woman's consent might constitute abuse, but the fake boob grab itself was just sophomoric.]
https://www.newsbusters.org/blogs/nb/scott-whitlock/2017/11/16/not-believing-victim-kasie-hunt-frankens-action-not-actually
CNN Panel Brushes Aside Franken Allegations to Knock Moore; 'He Was Just a Comedian'

A Thursday afternoon CNN Newsroom panel showcased political tribalism as three liberal journalists downplayed the disturbing sexual misconduct allegations against Democratic Senator Al Franken (Minn.) by harping on the fact that Franken was "just a comedian" while those against Roy Moore and President Trump were far more serious.
"But just out of the gate, the fact that you have Gloria, you know, Mitch McConnell and Chuck Schumer, right, from the left and right, both saying there needs to be an ethics investigation. I realize that this was years and years ago, this story, and he was a private citizen at the time, but can he survive this," host Brooke Baldwin wondered to chief political analyst Gloria Borger.
https://www.newsbusters.org/blogs/nb/curtis-houck/2017/11/16/cnn-panel-brushes-aside-franken-allegations-knock-moore-he-was-just
THE ONLY WAY THIS PRICK COULD COP A FEEL FROM A BEAUTIFUL WOMAN IS WHEN SHE'S ASLEEP.
[CtH: Or when he tricks her into letting him get close enough to grab her by the neck and shove his tongue in her mouth.]
FLASHBACK: Franken references 'beautiful' Leeann Tweeden during Senate floor speech in 2010
I'M HERE ALL DAY, EVERY DAY. LITTLE GETS BY ME.
THE MEMES CAME FAST AND FURIOUS YESTERDAY.
THE DONALD WEIGHS IN: