My original intent was to do a post with a lot of different news items. I didn't realize I had so much Roy Moore stuff bookmarked. I try to be as concise as possible, but concise is something that's never been in my job description. My hunch is that most people don't bother to check any of the links (except CtH) and it's a shame to hide a lot of good stuff in a reply section most people don't bother with.
Still paying for Bill Clinton
Sex is private.
Everybody lies about sex.
And the classic but far from classy quip from James Carville, "Drag a hundred-dollar bill through a trailer park, you never know what you'll find."
Democrats were so clever that they thought they got away with it when they protected Bill Clinton in 1998. But they still pay today.

Al Gore would have won in 2000 if he were president. Democrats would have taken the high road, outing a president who sexually harassed a clerk, Paula Jones.
Instead, Clinton survived and parents had to explain what oral sex is to children far too young for such conversations, a discomfort many still resent.
Bill also cost Hillary her shot at the presidency. Twice.
http://donsurber.blogspot.com/2017/12/still-paying-for-bill-clinton.html
Minneapolis police brace for backlash on decision over officer in Justine Damond shooting— whatever it is
Police chief expects heated reaction whether or not officer Mohamed Noor is charged in her fatal shooting.

The death of Damond, an Australia native who was shot in the alley behind her home after she called 911 to report a possible assault, reverberated across the city and around the world. It led to the firing of Minneapolis' first female police chief, Janeé Harteau, and raised new questions about police training and the use of force.
For those who knew Damond, the wait for answers has been too long.
http://www.startribune.com/police-brace-for-backlash-on-noor-decision-whatever-s-decided/463073423/
Hillary Clinton Portrait Alerts Security Dogs, Causes Road Closures at Miami Art Festival

Two security dogs, alarmed by what appeared to be a suspicious crate at an art festival in Miami, Florida, Saturday morning, caused police to shut down the area to investigate the potential threat.
THE DOGS ARE TRAINED TO DETECT CRIMINALS


Both pieces of artwork sold for $4,000 each to a single collector.  Gallery owner Ken Hashimoto said he was not sure why the dogs reacted that way to the paintings, and he jokingly said that the bomb-sniffing dog must be "a Republican."
http://www.breitbart.com/big-government/2017/12/10/hillary-clinton-portrait-alerts-security-dogs-causes-road-closures-miami-art-festival/


Fox News host snaps off at David Clarke; segment turns ugly after he insults John Lewis
Former Sheriff David Clarke shut down Fox News' liberal host Eboni Williams while discussing Congressman John Lewis' move to boycott the opening of a civil rights museum because President Trump was there.
"No one cares what John Lewis is doing," Clarke told Fox News. "He's been reduced to being a caricature in that he has to pull a political stunt like this. He can't even honor a civil rights museum opening!"

EBONI? YEAH, LISTEN, NOT EVERY AFRICAN AMERICAN WHO DOESN'T KISS THE WHITE MASTERS' ASSES ARE UNCLE TOMS. SOME CAN ACTUALLY THINK FOR THEMSELVES.
"John Lewis has become one of the most irrelevant members of Congress," Clarke said, pointing to the record poverty and crime rates in the black community with Democrats at the helm.
Lewis and his supporters have since used his participation in the 1960s civil rights movement to inoculate himself against attacks on his dismal record of public service on behalf of African-Americans.

THE RACE CARD…DON'T RUN FOR OFFICE WITHOUT IT.
http://www.bizpacreview.com/2017/12/10/fox-news-host-snaps-off-david-clarke-segment-turns-ugly-insults-john-lewis-573681
Former Federal Prosecutor: Mueller Looking To Get Trump on a Process Crime
Andy McCarthy says there is still no evidence of any conspiracy between Russia and the Trump campaign, and he said special counsel Robert Mueller is effectively on a "fishing expedition" to find criminal behavior of some kind.
McCarthy said that Mueller's task was the opposite of how prosecutions normally function.
"The usual thing in the United States is that there's a crime, so we assign a prosecutor. Here, there's no crime. We assign a prosecutor. We tell him to go find a crime."
Gov. Scott Walker: We're Gonna Drug Test Those Applying For Food Stamps
Sounds like a common sense approach. But we all know how this will play out. Gov. Scott Walker will be called a heartless SOB who is standing in the way of low income people in need. He will also be called a racist.
http://www.hapblog.com/2017/12/gov-scott-walker-were-gonna-drug-test.html
Did the DOJ Misuse the Steele Dossier — to Spy on the Trump Campaign?
Even before controversy arose over the Steele dossier, many of us were prepared to believe that there was more evidence that the Obama Justice Department and intelligence agencies had been put in the service of the Clinton campaign than that the Trump campaign had colluded in a Russian espionage operation against the 2016 election. Now, the Trump administration's most effective advocates on Capitol Hill and in the media have made a plausible circumstantial case that the Obama administration colluded with the Clinton campaign to conduct court-authorized spying on the Trump campaign.
http://www.nationalreview.com/article/454493/steele-dossier-fbi-trump-should-disclose-warrant-applications
SNL didn't spare ex-cast member Al Franken, but it trotted out children to do the real sick damage
In an opening sketch that featured Kenan Thompson as the would-be Santa and Kate McKinnon as his elfin assistant, we learn that Franken is on Santa's "naughty list."
Of course, SNL was not about to let Alabama Republican Senate candidate Roy Moore and President Donald Trump off the hook, including both in the skit.
Again, SNL could not let the skit close without throwing Moore under the bus with Al Franken.
People lie. Who wants to admit to supporting Roy Moore to a stranger calling them on the phone?" she said."Who me? Yeah, I'm going to support a pedophile who likes slavery. Come on."
She then dissed the state of Alabama.
"He's going to win in a landslide and they will pretend like it just happened overnight, they had nothing to do with it. Like crop circles or a clogged toilet," Strong said.
http://www.bizpacreview.com/2017/12/10/snl-didnt-spare-ex-cast-member-al-franken-trotted-children-real-sick-damage-574041
Explosion At Port Authority, 1 Person In Custody — UPDATE: Bomber Is 27 Year Old Akayed Ullah From Bangladesh
NYPD and FDNY officials confirmed to Fox News they were investigating reports of an explosion "of an unknown origin" near 42nd Street and Eighth Avenue. Police tweeted the A, C, E subways lines were being evacuated. The terminal is "temporarily closed by authorities" at this time.
ISIS PROMISED BLOODSHED FOR CHRISTMAS
http://www.foxnews.com/us/2017/12/11/port-authority-explosion-reports-prompt-police-response-in-new-york-city.html
CNN, MSNBC Cover Trump's TV Habits During NYC Explosion 

Authorities apprehended a terrorist suspect Monday after he orchestrated an explosion in downtown Manhattan, but CNN and MSNBC decided to pivot from the breaking news to cover a much more pressing story: President Donald Trump's TV habits and love of Diet Coke.
http://dailycaller.com/2017/12/11/cnn-msnbc-cover-trumps-tv-habits-during-nyc-explosion-video/
ISIS Threatened Christmas Massacre in New York City Two Weeks Ago


ISIS has published several threats of Christmas attacks in the past two weeks.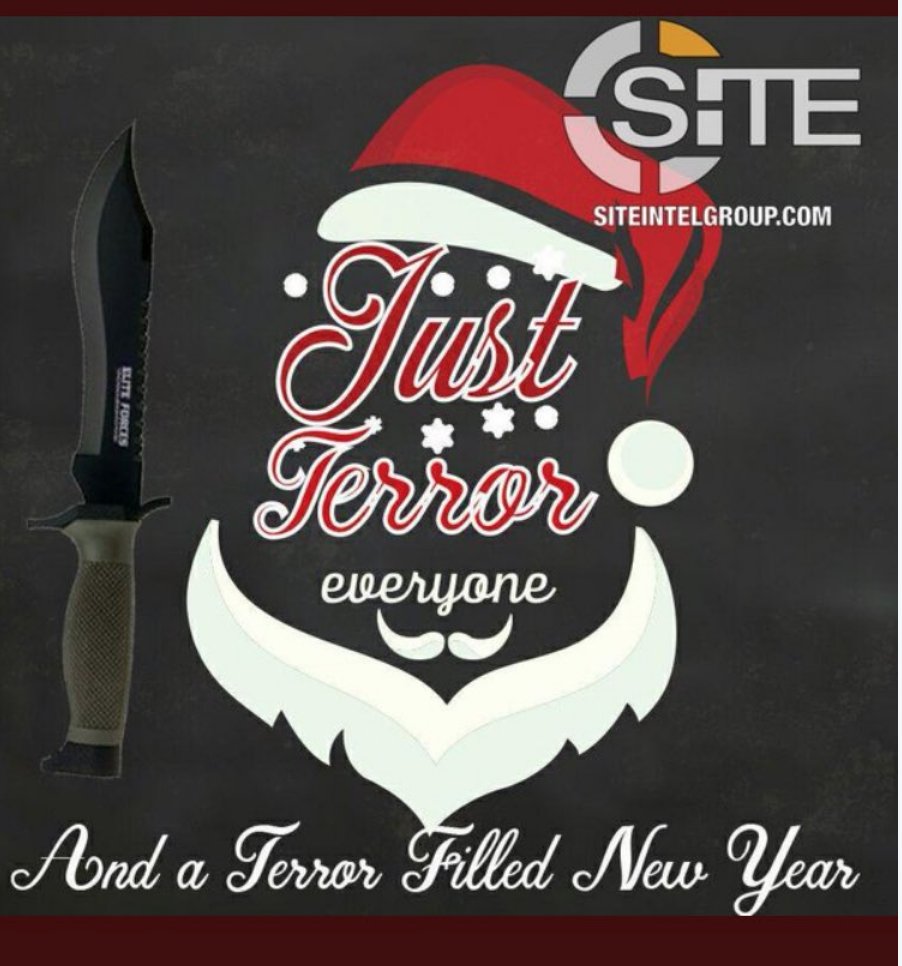 http://www.thegatewaypundit.com/2017/12/flashback-isis-threatened-christmas-massacre-new-york-city-two-weeks-ago/