Donald Trump held an unprecedented meeting with leaders from both parties yesterday, had it televised, and invited the press. Had he gone on stage during the campaign and said "As far as amnesty, whatever the two parties come up with I'll gladly sign," he'd never have been elected. Maybe he has an ulterior motive that I'm too stupid to see but it seems that since Kelly and McMaster got rid of all his conservative advisers he's started drifting left on many things. Stopping the immigation tsunami was one of the main reasons he was elected.
Trump Wants a "Bill of Love" on DACA
"We are here today to advance bipartisan immigration reform that serves the needs of the American families, workers and taxpayers. It's DACA," Trump said a meeting on DACA at the White House. "Maybe we can do something. We have a lot of good people in this room, a lot of people that have a great spirit for taking care of people we represent."
"I have great confidence . . . if they come to me with things I'm not in love with, I'm going to do it because I respect them," he said.
He does? Why?

Oh, I'm sorry, this is Trump.

http://www.whitehousedossier.com/2018/01/09/trump-bill-love-daca/
Trump suggests 2-phase immigration deal for 'Dreamers'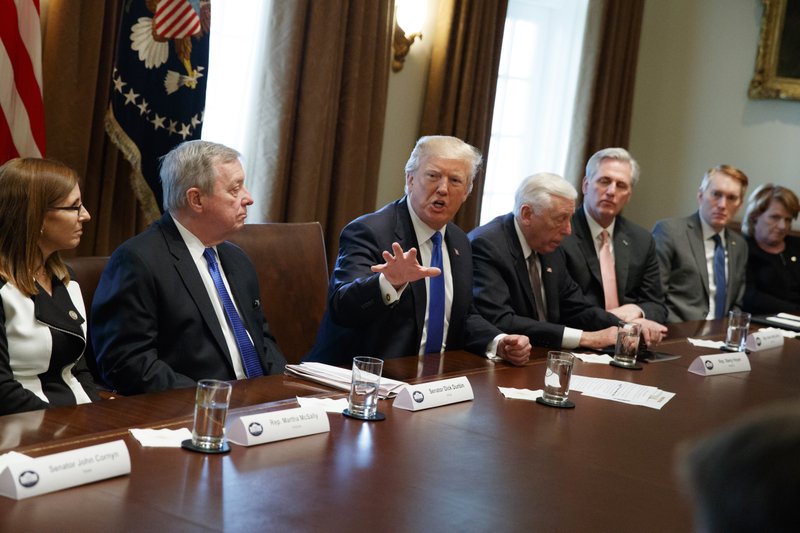 President Donald Trump suggested Tuesday that an immigration agreement could be reached in two phases — first by addressing young immigrants and border security with what he called a "bill of love," then by making comprehensive changes that have long eluded Congress.
My head is spinning from all the things that were said by the president and others in that room in the course of an hour and a half," said Sen. Dick Durbin, D-Ill. "But the sense of urgency, the commitment to DACA, the fact that the president said to me privately as well as publicly, 'I want to get this done,' I'm going to take him as his word."
https://apnews.com/63df959272f94f908b7a27ba55553df9
After Trump on-air immigration meeting, I hear that Amnesty Train a-comin'
Trump meeting with congressional leaders was both political genius and worrisome.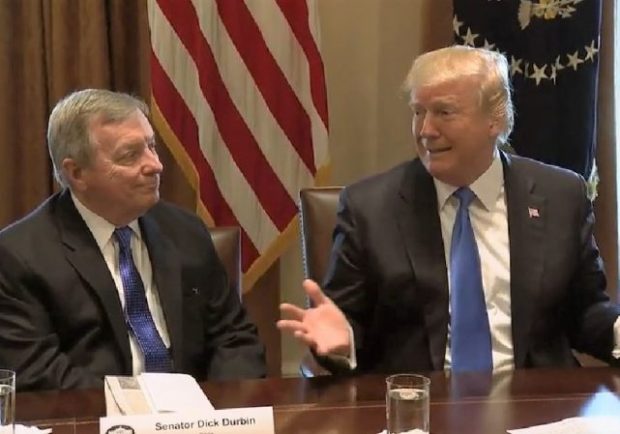 People got to watch him in action running a meeting and in control, the master of ceremonies presiding over the congressional leadership from both parties.
It must have killed CNN to have to admit Trump was in control:

So at many levels, it was a genius political move.
BUT, BUT, BUT
As I was watching it, all I could keep thinking was, "here comes amnesty."
The code words were all there, particularly "comprehensive immigration reform."

The political dividing line is "pathway to citizenship." If that's in either a DACA bill or ultimate comprehensive reform, it's amnesty. And it's what the old Gang of 8 members still want.

Trump said he'll "take the heat."

The "worst" view is that the Amnesty Train is rolling down the tracks, and to use a metaphor from the campaign, Trump will shoot his core campaign promise on immigration in the middle of 5th Avenue, figuring his base will stick with him anyway.
https://legalinsurrection.com/2018/01/after-trump-on-air-immigration-meeting-i-hear-that-amnesty-train-a-comin/
Report: DACA Amnesty 'Would Increase' Number of Anchor Babies on Welfare

As Breitbart News previously reported, there are an estimated 4.5 million United States-born children who were given birthright citizenship despite at least one of their parents being an illegal alien. These children are commonly known as "anchor babies," as they are able to eventually bring their foreign relatives to the U.S. legally through the process known as "chain migration."
This estimate does not include anchor babies over the age of 18 or those who are living abroad with their deported parents.
A CBO report, estimating the impact of giving amnesty to the nearly 800,000 to 3.5 million illegal aliens who are enrolled or eligible for the President Obama-created Deferred Action for Childhood Arrivals (DACA) program, finds that such a plan would end up increasing the number of anchor babies who participate in federal benefit programs every year:
http://www.breitbart.com/big-government/2018/01/08/report-daca-amnesty-would-increase-number-of-anchor-babies-on-welfare/
After DACA Comments, Tucker Asks Trump: 'What Was The Point Of Running For President?'

The Daily Caller co-founder said, "Congress is full of people from both parties who believe that the point of our immigration policy is to provide cheap labor to their donors and to atone for America's imaginary sins against the world. They couldn't care less about immigration's effect on you or your family–these are the same people the president now says he trusts to write the immigration bill, the one he will sign no matter what it says. So what was the point of running for president?"
Carlson continued, "The Democrats' goal is to import more Democratic voters, and by any means necessary. Once they retake the Congress and the presidency, and if Trump betrays his base on immigration–that'll definitely happen–it is over. Say goodbye to borders, they are done.
http://dailycaller.com/2018/01/09/tucker-rips-trump-on-immigration-what-was-the-point-of-running-for-president-video/
'In Command': Trump Shocks Media With Access To Immigration Meeting With Democrats

Laying out conditions that many Democrats view as nonstarters, Mr. Trump said the legislation must fortify the nation's borders; end "chain migration," a term used by immigration critics to refer to immigrants' ability to bring members of their extended family to the United States after gaining their own legal status; and cancel the diversity visa lottery program.
Even CNN praised the extended pool spray, with Dana Bash saying that this meeting probably wouldn't have gone any different if the cameras weren't there, citing two Republicans at the meeting who told her they had no idea the cameras would stick around that long. She added that this is what people who voted for Trump hoped his presidency would look like, The Donald "in command."
https://townhall.com/tipsheet/mattvespa/2018/01/09/trump-shocks-media-with-access-to-immigration-meeting-with-democrats-n2432135
'Lucky You Guys': Sarah Sanders Pokes Fun At Reporters Over Sitting In On DACA Meeting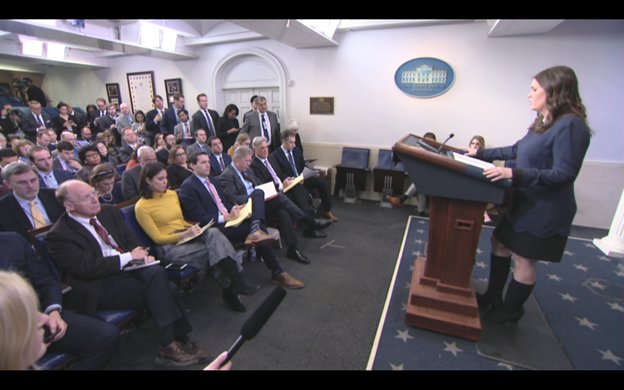 White House press secretary Sarah Sanders poked fun at the media Tuesday over the White House allowing reporters to observe a bipartisan immigration talk.
Fabian asked, "Whose decision was it to allow the press in to witness that entire negotiation, and what was the goal of having us sit there and watch?"
Sanders said, "Just to be clear you weren't there for the entire negotiation, because the deal didn't take place until after you guys left.
http://dailycaller.com/2018/01/09/lucky-you-guys-sarah-sanders-pokes-fun-at-reporters-over-sitting-in-on-daca-meeting-video/
Rep. Dave Brat on DACA: I Don't Think Dems Want to Shut Down the Gov't 'In Exchange for Giving Illegals Citizenship'

Brat explained, "It comes down to leverage. Hopefully, our side says, 'Look we won the House, the Senate, and the White House, based on not doing a DACA deal.' It's not in the Republican platform. What's in the platform is balancing the budget, building a strong defense, having strong borders, having legal hiring through E-Verify, controlling chain migration, so that way immigration policy favors American workers. Most of it is common sense, but the special interests get in the way.
http://www.breitbart.com/big-government/2018/01/08/exclusive-rep-dave-brat-on-daca-i-dont-think-dems-want-to-shut-down-the-govt-in-exchange-for-giving-illegals-citizenship/
"BARKING SHE ASS"…LOVE IT