Hallelujah! Trump Will Recognize Jerusalem as Capital of Israel Wednesday, Begin Moving Embassy

President Donald Trump will announce Wednesday that the United States recognizes Jerusalem as the capital of Israel, and that the State Department will begin a process to move the U.S. embassy in Israel to Jerusalem.
The officials conveyed that the change is a recognition of "reality" — both the historic reality that Jerusalem has been the capital of the Jewish people and the Jewish faith since ancient times; and the modern reality that the city is the seat of government for Israel, housing its legislature, supreme court, prime minister, and executive agencies.
http://www.breitbart.com/jerusalem/2017/12/05/hallelujah-president-donald-trump-will-recognize-jerusalem-as-capitol-of-israel-begin-moving-embassy/
Presidents have long hesitated to recognize Jerusalem as the capital of Israel because,they claimed,it would impede a "two state solution." The reality is, there are NOT TWO STATES! There is the state of Israel and a bunch of displaced sand lizards that Jordan didn't want to feed, so they told them "Go squat on the West Bank — the Jews will take care of you while you hide behind schools and hospitals and fire hundreds of rockets at them and bomb school buses and restaurants."
The lead singer of the Muslim rock band known as "The Hamas Terrorists," a dude named Meathead Grabass or something like that, took time from his quest for true love in a barnyard to whine that this will inhibit the "peace process." Their idea of a peace process is the extermination of the Jewish state. Then they will be at peace… until they find somebody else to kill.
Feinstein Urges Trump Not to Move U.S. Embassy to Jerusalem, Despite Voting to Move Embassy to Jerusalem

Democratic Sen. Dianne Feinstein (Calif.) on Tuesday castigated the idea of moving the U.S. embassy in Israel from Tel Aviv to Jerusalem, saying it would be a "terrible decision" despite previously voting for the embassy move to take place.
"Reports indicate the president will move the U.S. embassy in Israel from Tel Aviv to Jerusalem," the California senator tweeted. "I wrote him last week to explain why that would be a terrible decision."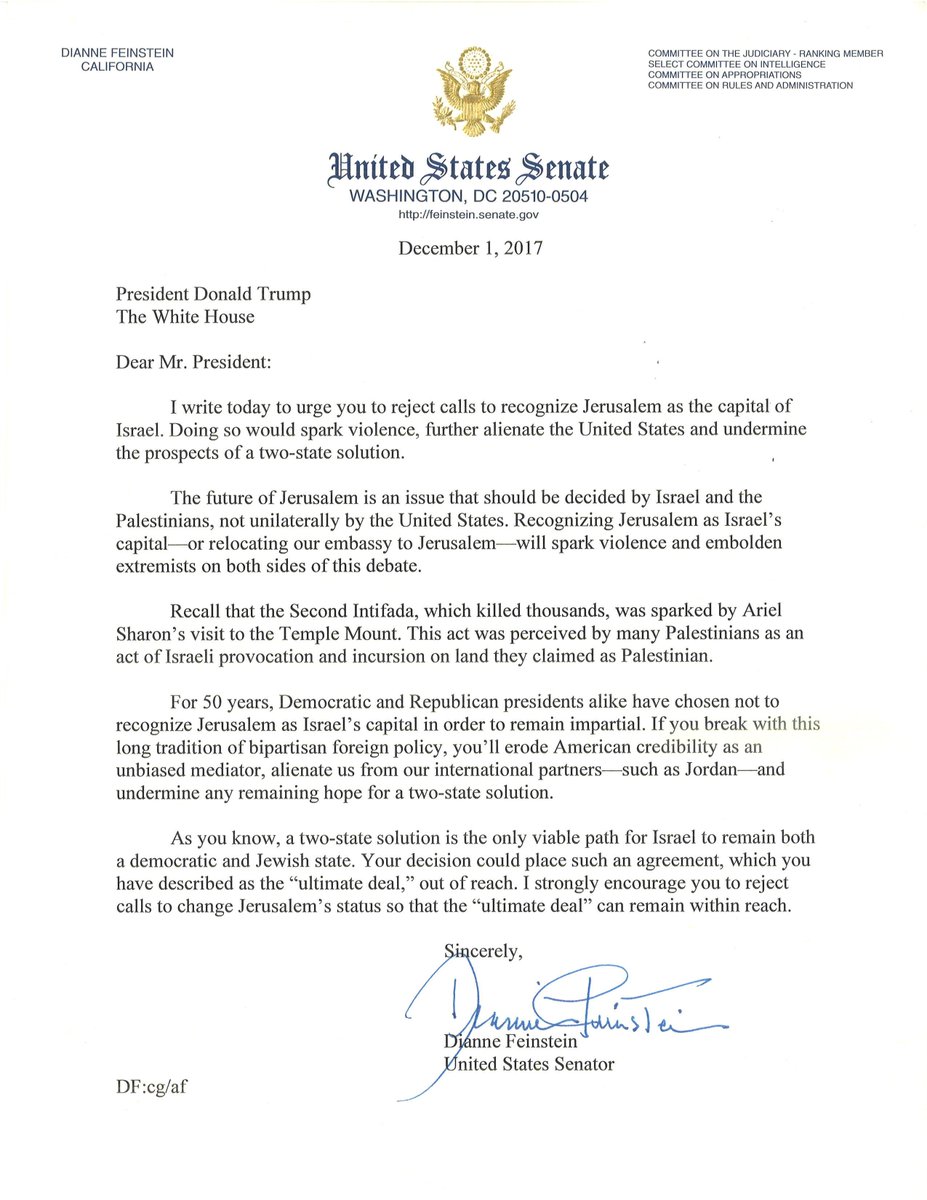 http://freebeacon.com/issues/feinstein-urges-trump-not-move-u-s-embassy-jerusalem-despite-voting-move-embassy/
Hamas plans 'day of rage' in response to Trump's Jerusalem decision

Terror group Hamas is calling for a "day of rage" Friday, urging Palestinians to protest President Donald Trump's plan to recognize Jerusalem as Israel's capital and move the U.S. Embassy there from Tel Aviv.
The group, designated a terrorist organization by the U.S., encouraged Palestinians in an official Arabic statement to send a message "with all available means" to Israel after the upcoming Friday prayers.
It added that making Jerusalem the Israeli capital was crossing a "red line."
[CtH: Yeah, let's not cross any "red lines" … the way Obama did over and over and over.]
http://www.foxnews.com/politics/2017/12/06/hamas-plans-day-rage-in-response-to-trumps-jerusalem-decision.html
There's so much happening at such speed that I could have listed a lot more different items here. I'll put them on another post to try to maintain some semblance of order.