I don't know much about him, but what I've seen so far leads to mixed emotions. As the CEO of the largest corporation in the world, Exxon Mobil, he's dealt with all the oil-producing countries and has a relationship with Russian strongman Vlad Putin. His confirmation is sure to be a pier 6 brawl, although Trump will get what he wants in the end.
Rex Tillerson, Exxon C.E.O., Chosen as Secretary of State

A statement from Mr. Trump's transition office early Tuesday brought to an end his public and chaotic deliberations over the nation's top diplomat — a process that at times veered from rewarding Rudolph W. Giuliani, one of his most loyal supporters, to musing about whether Mitt Romney, one of his most vicious critics, might be forgiven.
Instead, Mr. Trump has decided to risk what looks to be a bruising confirmation fight in the Senate.


Exxon's Rex Tillerson: 5 Things to Know About Trump's Likely Secretary of State
Here are five thing about the 64-year-old man who is likely to be America's top diplomat.
1. Tillerson has close ties with Vladimir Putin.
2. Tillerson spoke against sanctions on Russia.
Speaking about sanctions imposed over Russia's annexation of Crimea, Tillerson said he generally opposes sanctions as imprecise and ineffective, and added he had discussed his view with U.S. officials, according to The Associated Press.
3. Tillerson supported global emissions-cutting agreement forged in 2015 Paris climate summit.
Tiller acknowledged the threat of climate change and the company he heads endorsed a carbon tax and stated its support for the Paris climate agreement.
4. Tillerson supported the Boy Scouts admitting gay youths.
After the Boy Scouts of America voted to allow openly gay youths to join their troops and earn their merit badges, Eagle Scout Tillerson said at the organization's national meeting in 2014: "So we've made the decision we're going to change. Now what? No winners or losers. After we make the decision to change, it's the mission," according to The Dallas Morning News.
5. TIllerson has contributed to several Republican campaigns.
According to the Federal Election Commission records, Tillerson has given $442,284 as direct contributions since 2003, $72,200 as "joint fundraising contributions" and $5000 to a Super PAC. While he has contributed to George W. Bush, Mitt Romney, Mitch McConnell and Jeb Bush, he is not known to have given any money to Trump's campaign.
McConnell, Warning of 'Dangerous' Debt, Wants Tax Cut Offsets
Senate leader also opposes $1 trillion infrastructure stimulus
Deficit hawks have warned Trump's proposals would add to debt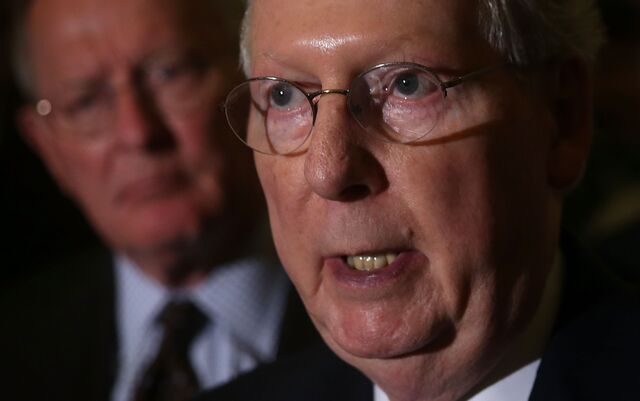 THIS IS AS EXPECTED AS IT IS APPALLING. JUST WHERE THE HELL WERE THESE "DEFICIT HAWKS" WHILE OBAMA WAS RUNNING UP 9 TRILLION IN DEBT??
THE BOTTOM LINE IS THAT THE MACK DADDIES, McCONNELL AND McCAIN AND THEIR LITTLE STOOGE PAUL RYAN RESENT A BILLIONAIRE OUTSIDER CRASHING THEIR LITTLE CLIQUE IN D.C. THEY'RE GOING TO FIGHT HIM EVERY INCH OF THE WAY, PUBLIC GOOD BE DAMNED.
President-elect Donald Trump's race to enact the biggest tax cuts since the 1980s went under a caution flag Monday as Senate Majority Leader Mitch McConnell warned he considers current levels of U.S. debt "dangerous" and said he wants any tax overhaul to avoid adding to the deficit.
Senior Republicans Mitch McConnell and Paul Ryan say they will back the intelligence agencies after Trump slammed the CIA's claim that Russia's hacking helped him win the election
Senate Majority Leader Mitch McConnell and House Speaker Paul Ryan both had supportive words for the intelligence agencies
Comes after the CIA concluded that Russia wanted Trump to win the election
McConnell said he had the 'highest confidence' in the CIA's findings
Ryan threw his support behind a further probe and said intelligent agencies were 'working diligently' to protect the country from foreign cyberattacks

Obama to Trump: Executive Action Is Good for Me, Bad for Thee

"I have not changed Washington the way I wanted to change it," Obama said in an interview last week with VICE. "And what I worry about in our politics is people getting impatient with the slowness of democracy, and the less effective Congress works, the more likely people are to start giving up on the core values and basic institutions that have helped us to weather a lot of storms."
Trump packs trade team with veterans of steel wars with China

President-elect Donald Trump is stacking his trade transition team with veterans of the U.S. steel industry's battles with China, signaling a potentially more aggressive approach to U.S. complaints of unfair Chinese subsidies for its exports and barriers to imports.
Led by Wilbur Ross, a billionaire steel investor and Trump's nominee for commerce secretary, Dan DiMicco, the former CEO of steelmaker Nucor Corp, and three veteran steel trade lawyers, the team is expected to help shift the U.S. trade focus more heavily toward enforcement actions aimed at bringing down a chronic U.S. trade deficit, Washington trade experts said.
Inauguration blues: Why pop stars won't play for Trump

Reports from the US suggest Donald Trump is struggling to find A-list stars to perform at his inauguration. We asked the stars of the BBC Music Awards what it would take to get them to play.
When President Barack Obama was inaugurated in 2009, he was serenaded by Beyonce and Aretha Franklin.
During his stay in the White House, he's had audiences with the likes of Rihanna, James Taylor and Kendrick Lamar.
Donald Trump might not be so lucky.
KEEP IN MIND, MOST OF THESE PEOPLE NEVER FINISHED HIGH SCHOOL, HAVE MARGINAL TALENT, AND HAVE MINIONS HANGING ON TO INFLATE THEIR EGOS. I DOUBT THE DONALD MUCH CARES ABOUT WHAT THESE JADED ASSCLOWNS THINK.

UNCLE TED, KID ROCK, BILLY RAY, MY PERSONAL FAVORITE WOULD BE CHARLIE DANIELS. I COULD LIVE WITH THAT.
Judge says electors must vote for statewide winner

BUMMER, DUDE! JUDGE SAYS YOU HAVE TO OBEY THE LAW!
U.S. District Judge Wiley Daniel denied a request by two Colorado electors who contended that the law binding their vote to Colorado vote winner Hillary Clinton violated their First Amendment rights and the intents of the Constitution's framers. The electors had sought the right to vote for someone other than Clinton in order to unite behind a consensus Republican other than Trump when the Electoral College convenes on Dec. 19.


FROM MFNS:
Breaking: CNN Releases Evidence of Russian Election Tampering!!

Former Dem Rep. Chaka Fattah Sentenced To 10 Years In Prison On Corruption Charges

JUST DOIN' WHAT DEMOCRATS DO.
Former Democratic Rep. Chaka Fattah was sentenced Monday to 10 years in prison on federal corruption charges, including fraud, racketeering, and money laundering.
Obama on Comedy Central: America 'by No Means' Has Overcome 'Legacies of Slavery, Jim Crow, Colonialism, Racism'

I HAD A RATHER HEATED ARGUMENT WITH MY FRIEND WILLIE TODAY ABOUT AFFIRMATIVE ACTION. HE SWEARS THERE IS NO SUCH THING AND EVERYTHING OBAMA GOT HE ACCOMPLISHED STRICTLY ON HIS OWN MERITS. IT'S A FOOL'S ERRAND TRYING TO REASON WITH SOME PEOPLE.
'We have, by no means overcome the legacies of slavery and Jim Crow and colonialism and racism'
"You know, my general theory is that, if I was clear in my own mind about who I was, comfortable in my own skin, and had clarity about the way in which race continues to be this powerful factor in so many elements of our lives," Obama said. "But that it is not the only factor in so many aspects of our lives, that we have, by no means overcome the legacies of slavery and Jim Crow and colonialism and racism, but that the progress we've made has been real and extraordinary, if I'm communicating my genuine belief that those who are not subject to racism can sometimes have blind spots or lack of appreciation of what it feels to be on the receiving end of that, but that doesn't mean that they're not open to learning and caring about equality and justice and that I can win them over because there is goodness in the majority of people."
Gingrich: Hack claim is perfect example of propaganda media