No one would deliberately provoke a world power and risk total annihilation unless they were completely detached from reality. Such seems to be the case with Kim Jong Un, who must think that Donald Trump is the same kind of gutless blowhard that Obama, Clinton, and Carter were. He has stated he plans to launch missiles to land in the waters near Guam as early as mid-month. Maybe he considers China as his bodyguard from American might, or else his "advisers" tell him what he wants to hear, rather than the truth, at the very real risk of being shot.
North Korea details Guam strike plan and calls Trump warning 'nonsense'
Pyongyang says it will launch four missiles into waters '30-40km' off US territory in clear attempt to goad the US president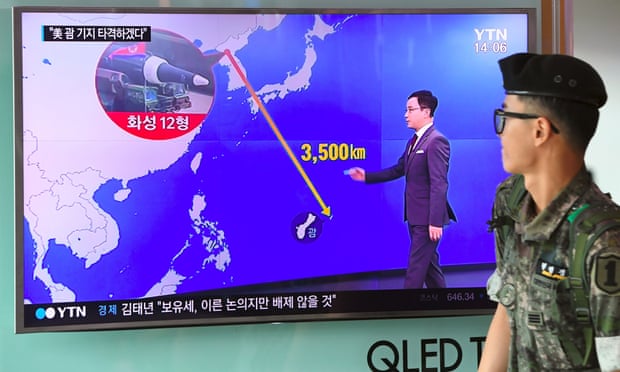 North Korea has defied threats of "fire and fury" from Donald Trump, deriding his warning as a "load of nonsense" and announcing a detailed plan to launch missiles aimed at the waters off the coast of the US Pacific territory of Guam.
General Kim Rak Gyom, the head of the country's strategic forces, declared: "Sound dialogue is not possible with such a guy bereft of reason and only absolute force can work on him".
APPARENTLY THEY'VE BEEN LISTENING TO CNN.
[CtH: Or maybe he's trying to tell POTUS how to deal with the murderous dictator he's forced to work under.]
https://www.theguardian.com/world/2017/aug/10/north-korea-details-guam-strike-trump-load-of-nonsense
NBC Slam: Trump and N.K. Sound Like 'a School Yard Squabble'


If the stakes weren't so potentially grave, it might otherwise sound like a school yard squabble," quipped Anchor Lester Holt as he came on the air. "The war of words escalating tonight between the United States and North Korea over nothing less than nuclear weapons."
Earlier in the day, Secretary of Defense James Mattis told North Korea to cease any actions that would endanger the U.S. or its allies or face "the end of its regime and the destruction of its people."
https://www.newsbusters.org/blogs/nb/nicholas-fondacaro/2017/08/09/
Mattis Warns North Korea of 'The End of Its Regime and the Destruction of Its People'
Wednesday, Defense Secretary James Mattis used dramatic language when warning North Korea, insisting that they face utter devastation if they do not end their pursuit of nuclear weaponry.
http://www.thegatewaypundit.com/2017/08/mattis-warns-north-korea-end-regime-destruction-people/
NoKo BETTER REALIZE THEY'RE NOT DEALING WITH DEMOCRAT BULLSHIT FLINGERS NOW.  THESE PEOPLE KILL AS PART OF THEIR JOB.
Clinton deal in 1994 with North Korea was supposed to freeze Pyongyang's nuclear program in return for fuel and efforts towards normalized political and economic relations. Here's Clinton getting taken to the cleaners by Kim Jong-Il, who later violated the framework and started developing nuclear weapons at secret sites.
Before I take your questions, I'd like to say just a word about the framework with North Korea that Ambassador Gallucci signed this morning. This is a good deal for the United States," Clinton said at the press conference.
"North Korea will freeze and then dismantle its nuclear program. South Korea and our other allies will be better protected. The entire world will be safer as we slow the spread of nuclear weapons"
Obama administration knew about North Korea's miniaturized nukes
Obama officials tried to downplay the DIA assessment to prevent it from being used to force the president to employ a more assertive North Korea policy.
It was clear what Obama officials were doing in 2013. The DIA report represented inconvenient facts that threatened President Obama's North Korea "strategic patience" policy — a policy to do nothing about North Korea and kick this problem down the road to the next president.
http://www.foxnews.com/opinion/2017/08/09/obama-administration-knew-about-north-koreas-miniaturized-nukes.html
Tillerson: Trump Spoke to North Korea 'in a Language That Kim Jong Un Can Understand'

"North Korea's rhetoric has just ratcheted up louder and louder and more threatening, so I think the president – what the president is doing is sending a strong message to North Korea in language that Kim Jong-Un can understand, because he doesn't seem to understand diplomatic language," he said.
"I think the president just wanted to be clear to the North Korean regime on the U.S. unquestionable ability to defend itself, will defend itself and its allies, and I think it was important that he deliver that message to avoid any miscalculation on their part," Tillerson added.
http://www.cnsnews.com/news/article/melanie-arter/tillerson-trump-spoke-north-korea-language-kim-jong-un-can-understand
Architect of North Korea And Iran Deals Says NK Deal Worked… Seconds Later Admits It Failed…
Wendy Sherman helped craft the North Korean deal when she was in the Clinton administration, she then became the chief negotiator on the Iran deal for Obama.
Guam Governor: 'I Want' A President Who Will Retaliate
As far as I'm concerned, as an American citizen, I want a president that says that if any nation such as North Korea attacks Guam … that they will be met with hell and fury," Calvo declared.  This is American sovereign soil. … There are over 200,000 American citizens," Calvo said, noting his island's geographic proximity to North Korea.
http://dailycaller.com/2017/08/09/guam-governor-i-want-a-president-who-will-retaliate-video/
CNN Broadcasts from Hawaiian Bunker, Prepares People for Nuclear War