Just a whole bunch of different stuff. Buckle up.
Melania Trump cuts bloated first lady payroll from Michelle Obama days.
During then-President Barack Obama's first year in office, 16 people were listed working for Michelle Obama, earning a combined $1.24 million a year.  This year, just four people were listed working for Melania Trump as of June. Their salaries totaled $486,700.
http://www.foxnews.com/politics/2017/10/20/melania-trump-cuts-bloated-first-lady-payroll-from-michelle-obama-days.html
Harvey claims he's cured!
Harvey Weinstein has completed a one-week sex addiction rehab in Arizona.  Psychologist says he is 'dealing with his anger' and starting to 'work on empathy.'
This despite reports that Weinstein was boorish in group therapy session.  The disgraced producer was pulled from group after one session, psychologist says.  The psychologist downplayed previous reports that the 65-year-old film producer had fallen asleep in group sessions and ranted about conspiracy theories.
I'M CURED! I'M CURED! OK,WHERE THE WOMEN AT?
http://www.dailymail.co.uk/news/article-5002946/Weinstein-completes-sex-addict-rehab-just-ONE-WEEK.html#ixzz4wLGaGC8r
Pelosi Denies There's a Fracture in the Democratic Party on the View
Pelosi makes face when told some Democrats want her out as leader
Nothing is Sacred or Off-Limits When Opposing Trump

He said, "We've seen our discourse degraded by casual cruelty." Ahhh, casual cruelty. The ol' combination of noun with unlikely adjective spoken in coy alliteration. Like "compassionate conservative." A one hit wonder returning to the rhyme scheme that carried him to the top of the charts.
Most Trump supporters voted on economic issues and would not harm a flea. There are a small few who think the IRS is microwaving their brains, sure, but every successful political coalition has its whacks. Trump's opposition seems to be dominated by whacks who think he disagrees with them to be mean. Two former presidents and a former aspirant to that office have now climbed under the tinfoil hat.
https://townhall.com/columnists/thomasjfarnan/2017/10/23/nothing-is-sacred-or-offlimits-when-opposing-trump-n2398775
One America Appeal: Five Former Presidents Gather In Support Of Hurricane Relief, Donald Trump Praises Efforts

I'D KEEP CLINTON AWAY FROM IT…THEY MADE BILLIONS IN HAITI RELIEF DISAPPEAR
The concert, which was streamed live on the One America Appeal website, featured performances by country band Alabama, Grammy-winning "Soul Man" singer Sam Moore, gospel legend Yolanda Adams as well as Texas musicians Lyle Lovett and Robert Earl Keen. College Station is the home to George W. Bush's presidential library.
In a video recorded earlier today, Donald Trump showed support of One America Appeal, calling the quintet of former Presidents, "some of America's finest public servants." He and Melania Trump expressed gratitude for their "tremendous assistance."
https://www.yahoo.com/entertainment/one-american-appeal-five-former-023253451.html
Gold Star widow Myeshia Johnson has 'nothing to say' to Trump after controversial condolence call

THE GRIEVING WIDOW HAS BECOME A CONVENIENT, ALMOST UNASSAILABLE TOOL FOR THE LEFT TO BLUDGEON TRUMP WITH
[CtH: They'll ignore her once she isn't useful, just like they did to Cindy Sheehan after Obama got in office and suddenly the Left didn't give a toot about how many wars he involved us in or how many troops were being injured or killed on his watch.]
Nineteen days after her husband's death and two days after his wrenching burial, the widow of Sgt. La David Johnson said she has "nothing to say" to President Trump, whose condolence call pulled the grieving widow into the center of a national controversy.
"Very upset and hurt; it made me cry even worse," Myeshia Johnson told "Good Morning America" about her conversation with the president.
BEING A CYNIC, I'D CHECK HER BANK ACCOUNT
http://www.msn.com/en-us/news/us/%E2%80%98it-made-me-cry%E2%80%99-gold-star-widow-myeshia-johnson-breaks-silence-over-trump%E2%80%99s-condolence-call/ar-AAtW46k?ocid=UE12DHP
Donald Trump Punches Back At Widow Of La David Johnson After Her 'GMA' Interview
TRUMP DOESN'T QUIETLY ALLOW THE SAVAGES TO RUN ALL OVER HIM LIKE BUSH DID.
President Donald Trump punched back at the widow of a soldier killed in Niger on Twitter this morning.
"I had a very respectful conversation with the widow of Sgt. La David Johnson, and spoke his name from the beginning, without hesitation!" Trump tweeted this morning, less than an hour after Johnson said otherwise in an interview with Good Morning America.
[CtH: This is exactly how the Sheehan thing went down.  Bush met with the parents and the Sheehans told the press afterwards that they had had a good talk.  Only later did the "bereaved" mother become the anti-Bush darling of Democrats with her highly publicized squat by his ranch, her demands to meet with him, and her faux hunger strike.  She didn't eat BETWEEN MEALS, though she was photographed sucking on a can of soda while she had her hair done!  Meanwhile, her now-estranged husband and the deaad soldier's sibs were very opposed to what she was doing.  She made a big deal about the boy's grave stone, forcing the family to have no marker for months.  Finally, on the day it was placed, Cindy was too busy doing anti-war crap in Europe to attend.]
https://www.yahoo.com/entertainment/donald-trump-punches-back-widow-130702795.html
Trump Signs EO Permitting Recall of 1K Retired USAF Pilots; Leftist heads explode.
It's the draft! We're going to war! The sky, it's fallllling!
[CtH: Morons.  There is a period of time following retirement when the military has every right to recall a soldier.  My two Marines were on recall for four YEARS after they left active duty.]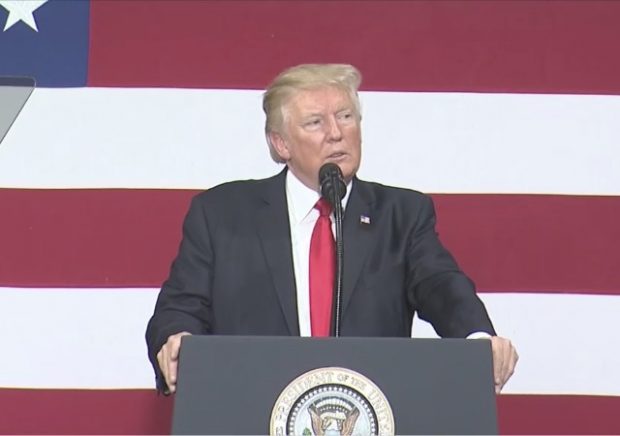 President Trump campaigned on rebuilding our military and refocusing its mission on military matters rather than on political correctness and voracious down-sizing. He also campaigned on destroying ISIS and radical Islamic terrorism.
In aid of these twin campaign promises and goals, Trump signed an Executive Order (EO) permitting the United States Air Force to recall up to one thousand retired pilots. The cap lift applies to all branches of the military.
The left's response was an epic meltdown.
https://legalinsurrection.com/2017/10/trump-signs-eo-permitting-recall-of-1k-retired-usaf-pilots-leftist-heads-explode/
Bush Took a Knee When Obama Fundamentally Transformed America
FOR EIGHT YEARS HE SAID NOTHING, DID NOTHING.
[CtH: I was proud of him for keeping his nose out of Obama's business, unlike Carter who even visited foreign leaders after he was not president.  But this?!  Now I'm disgusted.  And sad.  It reminds me of when Barbara Bush, who I have always admired, reportedly said she wished Sarah Palin would go back to Alaska and stay there.  The Bush family is really hard core establishment Republicans, aren't they.  Sigh.]
President Bush is facing fierce backlash from conservatives after he delivered a speech that has been interpreted as a direct attack on President Trump.
"Bigotry seems emboldened," Bush said. "Our politics seems more vulnerable to conspiracy theories and outright fabrication."
https://townhall.com/columnists/toddstarnes/2017/10/20/bush-took-a-knee-when-obama-fundamentally-transformed-america-n2398205
Planned Parenthood Defends Rep. Wilson: Trump Administration Has 'Pattern of Attacking Black Women'

Planned Parenthood, however, was founded by eugenicist Margaret Sanger, whose bust an organization of black pastors has tried to have removed from the Smithsonian Institution's National Portrait Gallery. The abortion giant also presents its highest honor – the Margaret Sanger Award – to individuals who promote abortion rights, such as House Minority Leader Nancy Pelosi and failed 2016 Democratic presidential nominee Hillary Clinton, who said unborn babies have no constitutional rights.
http://www.breitbart.com/big-government/2017/10/20/planned-parenthood-defends-rep-wilson-trump-administration-has-pattern-of-attacking-black-women/
Hillary Clinton Really Tried To Avoid Going to the Inauguration
WELL THIS POST VEERED OFF THE RAILS IN A HURRY, DIDN'T IT?