Trump broke the internet…
Ever the provocateur, the president yesterday released his much-anticipated list of "Fake News Award" winners. They were posted on GOP.com and the site summarily crashed from the surge of traffic. The media's reaction was, as always, predictable. Rather than keep you in suspense, here's the list and the ensuing fallout:
2017 Fake News Awards – The full list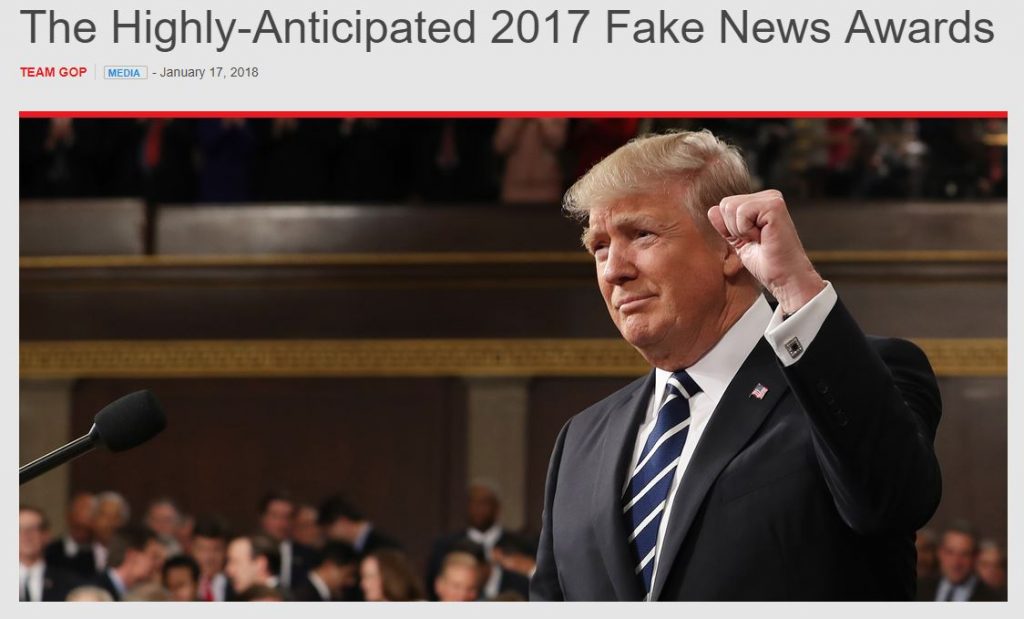 1. The New York Times' Paul Krugman claimed on the day of President Trump's historic, landslide victory that the economy would never recover.
2. ABC News' Brian Ross CHOKES and sends markets in a downward spiral with false report.
3. CNN FALSELY reported that candidate Donald Trump and his son Donald J. Trump, Jr. had access to hacked documents from WikiLeaks.
4. TIME FALSELY reported that President Trump removed a bust of Martin Luther King, Jr. from the Oval Office.
5. Washington Post FALSELY reported the President's massive sold-out rally in Pensacola, Florida was empty. Dishonest reporter showed picture of empty arena HOURS before crowd started pouring in.
6. CNN FALSELY edited a video to make it appear President Trump defiantly overfed fish during a visit with the Japanese prime minister. Japanese prime minister actually led the way with the feeding.
7. CNN FALSELY reported about Anthony Scaramucci's meeting with a Russian, but retracted it due to a "significant breakdown in process."
8. Newsweek FALSELY reported that Polish First Lady Agata Kornhauser-Duda did not shake President Trump's hand.
9. CNN FALSELY reported that former FBI Director James Comey would dispute President Trump's claim that he was told he is not under investigation.
10. The New York Times FALSELY claimed on the front page that the Trump administration had hidden a climate report.
11. And last, but not least: "RUSSIA COLLUSION!" Russian collusion is perhaps the greatest hoax perpetrated on the American people. THERE IS NO COLLUSION!
https://legalinsurrection.com/2018/01/2017-fake-news-awards-the-full-list/
Jim Acosta Fires Back At POTUS Trump After CNN Wins FOUR FAKE NEWS AWARDS
Chief White House Correspondent Jim Acosta was far from pleased after President Trump bestowed CNN with four "Fake News" awards Wednesday evening. Acosta, who was speaking on a panel organized by Freedom of Press, responded to the news, stating "I would say having been called fake news myself, the president is the king of fake news."
Earlier in the discussion, Acosta defended against criticism for asking the President if he was a racist in relation to his "sh*thole" remarks.
"God damn it, I'll say it out loud … it is our right to ask if the president is a racist," Acosta blurted out.
http://www.thegatewaypundit.com/2018/01/bitter-jim-acosta-fires-back-potus-trump-cnn-wins-four-fake-news-awards/
Congratulations NY Times Hack Paul Krugman Winner of the 2017 #FakeNewsAwards! – You Finally Won an Award You Deserve
On November 9, 2016, New York Times economy "guru" Paul Krugman predicted  that the economy would never recover from a Trump election victory.
On Wednesday January 17, 2018, the Trump Economy officially broke EVERY SINGLE DOW MARKET record.
Congratulations Mr. Krugman.  You finally won an award you deserve!
http://www.thegatewaypundit.com/2018/01/congratulations-ny-times-hack-paul-krugman-winner-2017-fakenewsawards-finally-won-award-deserve/
2017: The Year the News Media Went to War Against a President


■ The Trump presidency was the biggest story of the year, accounting for one out of every three minutes of evening news airtime — nearly 100 hours in total.
■ The tone of coverage has been incessantly hostile, especially for a new President in his honeymoon year: 90% negative, vs. just 10% positive (These percentages do not include neutral statements).
■ More than two-fifths of evening news coverage of the President (43%) focused on controversies, not policies, with the Russia investigation alone accounting for one-fifth of all Trump coverage (1,234 minutes).
■ Despite their massive coverage of Russia, the networks had almost no airtime for questions about how the investigation began, or whether special counsel Robert Mueller's current investigation is biased.
https://www.newsbusters.org/blogs/nb/rich-noyes/2018/01/16/2017-year-news-media-went-war-against-president
Report: Highest-ever political bias in media, most can't name 'objective news source'

Americans see more political bias in news than ever, and nearly seven-in-10 blame media owners for influencing the ways stories are reported, according to the latest failing report card on the nation's news business.
According to "American Views: Trust, Media and Democracy," a new report from Gallup and the Knight Foundation, the percentage of Americans who see a great deal of political bias in stories has nearly doubled since 1989.

http://www.washingtonexaminer.com/report-highest-ever-political-bias-in-media-most-cant-name-objective-news-source/article/2646170
Sarah Sanders speaks for America on S**tholegate: 'We've wasted five days fighting over one word'

Since that ill-fated remark, it's been six straight days of high-horse moralizing, virtue signalling, hand-wringing, and bed-wetting from politicians, celebrities, and talking heads eager for America to know just how "morally superior" they are compared to that dastardly man in the White House who dared to say something out loud that everyone knows deep down is true, even if they refuse to admit it.
http://www.bizpacreview.com/2018/01/17/sarah-sanders-speaks-america-stholegate-weve-wasted-five-days-fighting-one-word-589448
10 of the Dumbest Questions Reporters Asked During Trump's Health Press Conference

White House physician Dr. Ronny Jackson told reporters on Tuesday that President Trump is in "excellent" health and has "no cognitive or mental issues whatsoever." But that didn't stop the press corps from asking a lot of really stupid questions. Here's a sampling.
1. One reporter asked the White House physician how Trump can become as fit as Obama — who struggled to kick a smoking habit. He then proceeded to whine that the press office doesn't keep a tally of how much time Trump spends on the golf course and asked if Jackson could help them with that.
http://thefederalist.com/2018/01/17/10-dumbest-questions-reporters-asked-trumps-health-press-conference/
Leftist Toilet Mouths Condemn Trump as They Corrupt Nation
Let's be clear: Leftists certainly object to the substance of Trump's comments, that we shouldn't continually absorb poor, unskilled, often functionally illiterate and unassimilable people from Third World nations. But they also object to his alleged style, labeling as obscene the use of s***hole (toilet) to describe such places. So to show us how bad such language is, the Crude News Network (CNN), for example, used it at least 36 times on Thursday. It's sort of like inveighing against animal abuse and then bludgeoning dozens of dogs to death on air to prove your point.
[CtH: This reminds me of something I've noticed often in movie and t.v. outtakes. On Christian movie sets, there are no bleeped out (or non-bleeped out) cuss words when people mess up a line. On mainstream movie and t.v. sets, almost everybody seems to punctuate a goof with "f***" or "sh**."]
https://www.thenewamerican.com/culture/faith-and-morals/item/28043-leftist-toilet-mouths-condemn-trump-as-they-corrupt-nation
Dems Think 800,000 Illegal Immigrants Are Worth Forcing Active Military To Go Without Pay
Congress has three days to strike a deal to keep the government funded through October. If members fail to come to an agreement by Jan. 19, all "non-essential" government employees and active U.S. Military personnel will be working with out pay (including troops currently deployed). Funding for agencies like federal museums or national parks will also be cut off.
Congressional Democrats are apparently content with allowing military and law enforcement personnel to go without pay to secure protections and benefits for illegal immigrants and members of their extended families.
http://dailycaller.com/2018/01/16/dems-shutdown-government-dreamers/
Red-State Democrats Gamble

Importantly, three Democratic officials in states that went heavily for Trump in 2016 — Indiana Sen. Joe Donnelly, West Virginia Sen. Joe Manchin and Missouri Sen. Claire McCaskill — were all absent. Sens. McCaskill and Manchin said they were not invited to the White House event.
Normally, the lawmakers who represent states that voted for the other party's presidential nominee are the most bipartisan — even if it's just to listen. Early on, Sen. Heidi Heitkamp of North Dakota and Sen. Donnelly hopped on a plane with Trump. But now that they're in the heat of fundraising, they do not want any part of it.
https://townhall.com/columnists/salenazito/2018/01/17/redstate-democrats-gamble-n2435432
Democrats Block 2018 Budget, Gain Another Month to Push Amnesty

Late Tuesday, the GOP gave up on 2018 budget talks and drafted a new temporary budget plan, dubbed a Continuing Resolution, which would keep the government open for another month until February 16. That date will mark almost five months after the 2018 budget was slated to begin October 1.
If the CR passes the House and Senate, the GOP and the Democrats will get another month to develop a 2018 budget while Democrats gain another month to wear down GOP and Trump opposition to their amnesty-plus plan.
http://www.breitbart.com/big-government/2018/01/17/democrats-block-2018-budget-gain-month-push-amnesty/
Don't fall for Operation Demoralize 2018
The key to Democrat victory in November 2018 is to keep Republican voters home.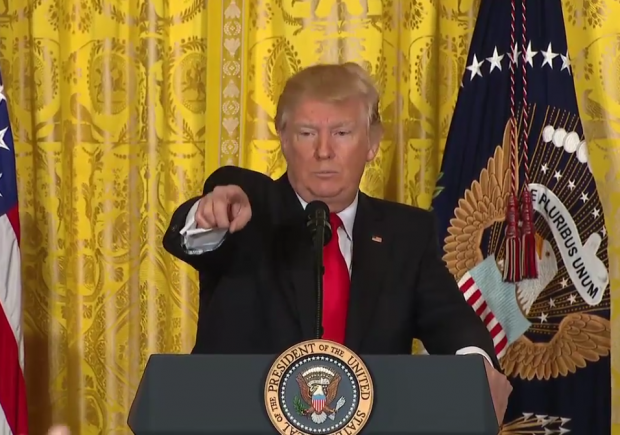 WHEN THE DEMOCRATS FLIPPED A REPUBLICAN SEAT IN WISCONSIN LAST WEEK. THE DEMOCRAT TURNOUT WAS 35%… THE REPUBLICAN TURNOUT WAS 12%.
I would not be surprised to see that strategy used more generally against Trump supporting Republicans in the House. And it could be effective. Someone who normally would vote Republican but stays home is as good as a vote for Democrats.
So expect there to be a sustained effort to demoralize Republican voters, Trump supporters, and independents who are willing to vote Republican. That's part of the reason Democrats and the media have shifted to round-the-clock accusations of racism against Trump.  I have written about this phenomenon in the past. I call it Operation Demoralize.
https://legalinsurrection.com/2018/01/dont-fall-for-operation-demoralize-2018/
Trump schools GOP Congress to play hardball
Instead of rolling over for Democrats and virtuously claiming they've "reached across the aisle," as they always have done, Republicans are now playing hardball. They've maneuvered to put entitlements and swing state-sensitive tax cuts on the line as bargaining chips to avoid a government shutdown. In doing this, they have just laid out a plan to beat the Democrats at their own game.
Do Democrats really want to face the 18 million parents whose nine million children use the CHIP program to explain that all that could come to an end because of the Democratic Party's higher priority of amnestying 800,000 DREAMers? Do they really want to face the New England voters in the medical device industry, which has been singled out for punitive Obamacare taxes, or explain themselves to all the union workers set to pay massive Obamacare "Cadillac" taxes just for the "privilege" of having good health care insurance?
http://www.americanthinker.com/blog/2018/01/trump_schools_gop_congress_to_play_hardball.html#ixzz54YCu9VSA
Voters don't actually want Oprah to run for president

"Oprah's strong standing among Democrats does not translate to a clear interest in her launching a presidential campaign," said Kyle Dropp, co-founder and chief research officer of Morning Consult. "While 77 percent of Democrats have a favorable opinion of Oprah, only 38 percent say she should run in 2020."
The "Oprah 2020" rumors were sparked earlier this month following her emotional speech at the Globes, in which she touched upon the Time's Up and #MeToo movements sweeping the nation recently.
https://nypost.com/2018/01/17/voters-dont-actually-want-oprah-to-run-for-president-poll/
Trump Honors Civil Rights Icon Barbara Jordan 'Who Called for End to Chain Migration'

"As Chairman of the U.S. Commission on Immigration Reform—now called the Jordan Commission in her honor—she stood up to special interests determined to profit politically and financially from our broken immigration system. She remained steadfast in promoting common-sense reforms that would better protect the rights and needs of Americans," the presidential message stated.
Trump also noted that Jordan "called for an end to chain migration, which has allowed millions upon millions of low-skilled foreign nationals to compete for opportunities and resources against our most vulnerable American citizens—many of whom come from African-American and Hispanic-American communities."
https://www.cnsnews.com/news/article/melanie-arter/trump-honors-civil-rights-icon-barbara-jordan-who-called-end-chain
94-Year-Old Bob Dole – Confined to a Wheelchair – Stands for National Anthem at White House
94 year-old war hero and former Senator Bob Dole was honored today at the White House.  Dole was awarded the Congressional Gold Medal for his World War II service and decades of work in the House and Senate.
http://www.thegatewaypundit.com/2018/01/94-year-old-bob-dole-confined-wheelchair-stands-national-anthem-white-house-video/
Grassley under fire for planning vote on 17 judicial nominees

Under Senate rules, nominees have to be approved by the full Senate in order to carry over into a new session of Congress.
But advocates are accusing Grassley of trying to avoid public scrutiny by slipping controversial candidates opposed by Democrats into an already stacked agenda.
http://thehill.com/homenews/senate/369425-grassley-under-fire-for-planning-vote-on-17-judicial-nominees
Liberals Furious NHL Picked Trump-Supporter Kid Rock to Perform at All-Star Game

But, as Bucholtz revealed, a list of folks on Twitter were incensed that Rock was chosen to perform at the game; because the Detroit-based singer is a well-known supporter of President Donald Trump and a Republican booster. Kid Rock even briefly contemplated running for the U.S. Senate from Michigan.
But, liberal members of the media attacked the NHL on Twitter calling Kid Rock a "racist" and slamming the league for "going political" with the choice:
http://www.breitbart.com/sports/2018/01/17/liberals-furious-nhl-picked-trump-supporter-kid-rock-star-game/
President Trump to Address March for Life

White House Press Secretary Sarah Sanders announced Wednesday afternoon President Trump will speak to the March for Life in Washington D.C. on Friday. He is the first sitting president to do so. He will address the crowd live through a video conference.
"Since his first day in office, President Trump has remained steadfast on his campaign promises to the pro-life cause and has actively worked to protect the unborn…We welcome our 45th President, Donald Trump, to the 45th annual March for Life," March for Life President Jeanne Mancini said in a statement.
https://townhall.com/tipsheet/katiepavlich/2018/01/17/breaking-trump-to-address-march-for-life-n2435790
Judge Upholds Alabama Voter ID Law In Win For Common Sense
A federal judge in Alabama has thrown out a lawsuit against the state's voter ID law, finding that the law doesn't prevent anyone from voting because "nearly the entire population of registered voters in Alabama already possess a photo ID that can be used for voting."
For those who don't, obtaining a qualifying ID can be done "with little to no effort and no cost."
http://dailysignal.com/2018/01/17/judge-upholds-alabama-voter-id-law-win-common-sense/amp/
I REALIZE THESE POSTS ARE EXCRUCIATINGLY LONG… I CAN'T DO COMMENTS SINCE THEY'VE SWITCHED THE FORMAT.
DON'T HATE THE PLAYER… HATE THE GAME.