The president hosted his first state dinner last evening, honoring President Macron of France and his wife. The event was arranged largely by our stunning First Lady. President Trump held a press opportunity before the gala and reminded everybody he was in charge.



A toast to 'unbreakable friendship': Trump and Melania pull out all the stops as they host President Macron, the French first lady and 120 guests at the White House for glittering state dinner
President Donald Trump and wife Melania welcomed French President Emmanuel Macron and wife Brigitte to the White House Tuesday night for their first state dinner
The Trumps held hands on the steps of the White House before they each exchanged kisses with the Macrons
Melania stole the show in a Chanel haute couture silver gown embroidered with crystals and sequins
In a toast before Tuesday's dinner honoring France, Trump described his wife as 'America's absolutely incredible first lady'
He went on to raise a glass to President Macron saying: 'May our friendship grow even deeper'
Ivanka Trump and her husband Jared Kushner were among the first to arrive with the first daughter wearing a $12,000 pink Rodarte gown
All eyes were on Melania as she stole the show in a Chanel black Chantilly lace haute couture gown that had been hand-painted with silver and embroidered with crystal and sequins.
The First Lady paired her gown with a pair of gunmetal stilettos.
Brigitte Macron opted for a Louis Vuitton cream full-length gown with long sleeves and gold brocade detail.

http://www.dailymail.co.uk/news/article-5653611/Trump-state-dinner-President-Melania-host-French-leader-Macron-White-House.html#ixzz5Dh61nuM1
Melania meticulously plans first State Dinner
In a departure from past State Dinners, the president is not inviting any Democrat lawmakers or members of the press to the shindig that will celebrate the historical ties between the two countries and mark the 100th anniversary of the end of World War I.
But then, given the shameful way Democrats have treated President Trump, who can blame him?

The menu for Tuesday dinner will include three courses featuring American dishes with French influences, according to The Hill. The main course will consist of a rack of spring lamb with Carolina gold rice jambalaya, cooked New Orleans' style.
Wines made from French plants harvested in Oregon will also be served.
CBS News White House Correspondent Mark Knoller tweeted specific details of the menu: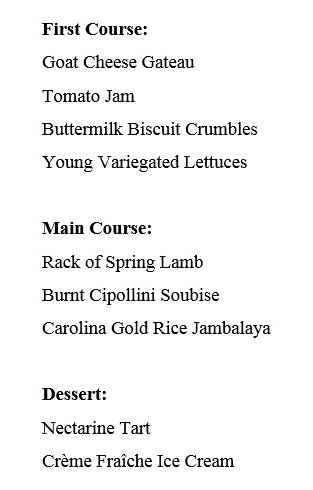 https://www.bizpacreview.com/2018/04/23/melania-meticulously-plans-first-state-dinner-menu-and-other-special-details-revealed-in-video-627403
Macron Rests Hand On Trump's Arm After Trump Mentions Hero French Policeman

"This righteous calling, this sacred heritage, is what moved a young Frenchman to risk death for American liberty at Yorktown. It is what spurred the Americans to storm the cliffs of Omaha Beach," he continued. "Just weeks ago, we added a new name to this chronicle of our great heroes, a brave French policeman named Arnaud Beltrame. He stared down evil and did not flinch."
Beltrame willingly traded places with a hostage during a standoff in March. He died of injuries sustained in the incident and was later awarded with a French national honor.
http://dailycaller.com/2018/04/24/macron-trump-solidarity-beltrame/
"Stupid, Stupid Question" – Trump Slaps Down Liberal Hack Jonathan Karl
Karl asked Trump whether he was considering a pardon for his attorney Michael Cohen — who has not been charged with any crimes by the Mueller special counsel.
Trump responded, "Stupid, stupid question."

http://dailycaller.com/2018/04/24/trump-reporter-stupid-question-michael-cohen/
Andrea Mitchell Incorrectly Claims Macron Is Serving A Four-Year Term
Andrea Mitchell, NBC's chief foreign affairs correspondent, stated on MSNBC Tuesday that French President Emmanuel Macron is serving a "four-year term," which is not true.
France passed a constitutional amendment in 2001 that reduced the presidential term from seven to five years.

http://dailycaller.com/2018/04/24/andrea-mitchell-macron-four-year-term-wrong/
Trump Warns: If Iran Threatens Us, They Will Pay "A Price Like Few Countries Have Ever Paid"
TRUMP LEFT NO DOUBT HE MEANS BUSINESS

At a White House press conference with the French President, U.S. President Donald Trump issued a stern warning to Iran to never threaten the U.S. with nuclear weapons, or pay "a price like few countries have ever paid."
He also warned the Arab States that they are going to have to pay if the U.S. is going to protect them from Iran, saying "the United States is embarrassingly into the Middle East." Trump said states like Qatar, Kuwait, the U.A.E., and Saudi Arabia are "immensely wealthy" and "would not be there if it were not for the United States (and to a lesser extent, France)."
The United States will not continue to pay, and [the Gulf States] will also put soldiers on the ground, which they are not doing. We will, in fact, bring lots of people home, and we will have a strong blockage to the Mediterranean, which to me is very important. Because if we don't you have Iran going right to the Mediterranean and we will not have that.
https://www.realclearpolitics.com/video/2018/04/24/trump_warns_if_iran_threatens_us_in_any_way_they_will_pay_a_price_like_few_countries_have_ever_paid.html
Trump: 'Wherever There's Trouble' in Middle East, 'Iran Is Behind It'

Trump: Denuclearization of North Korea 'Means They Get Rid of Their Nukes'

Merkel Headed for a 'Cold Reception' in Washington, German Press Fears
'Fanfare for Macron, Cold Shoulder for Merkel,' laments the leading German daily ahead of the Friday visit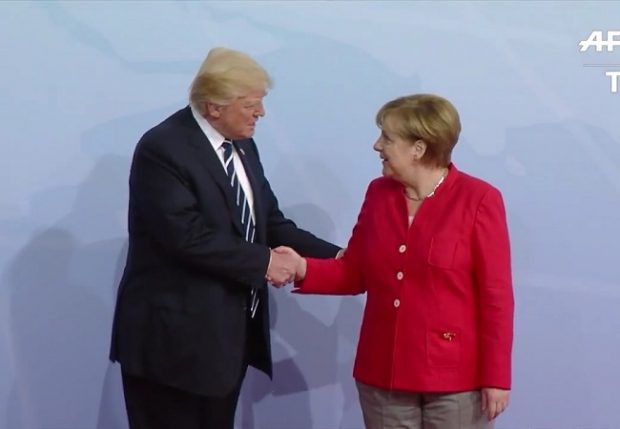 SHE COMMITTED GENOCIDE ON THE GERMAN PEOPLE BY WELCOMING IN HUNDREDS OF THOUSANDS OF MURDERING RAPING MUSLIMS. I DOUBT TRUMP HAS ANY RESPECT FOR HER.
"Merkel wants to save Multilateralism: the existence of global economic order. Germany, an export nation, is especially worried at the prospect of trade agreements and duty-free [market access] losing their validity" HUFFPOST wrote, alluding to the recent measures taken by the US government to raise tariffs on foreign steel and aluminum imports.
"Furthermore, it will be about the international trouble spots–primarily Syria. The US has lost trust globally, but recently France and Great Britain supported military strike against the Assad regime," the left-wing news outlet added. Germany did not take part in that mission.
https://legalinsurrection.com/2018/04/merkel-headed-for-a-cold-reception-in-washington-german-press-fears/