…until it's all over. What a great time it was. The greatest country in the history of the world, predicated on the notion that people have a God-given right to self-determination, freedom to live and worship as you choose, will soon be completely given over to a brand of socialism that has failed everywhere it's been implemented. This is a nation that twice has stopped enemies with visions of worldwide tyranny, a nation no country dare invade militarily has been brought down from within by people whose avarice and greed for wealth and power have caused an economic and moral decay that will ultimately finish off everything good we once had. And there's nothing we can do to stop it.
Firebombing 'an attack on democracy'
IT'S CALLED TERRORISM IN THE NAME OF IDEOLOGY… AND IS PERMITTED IF YOU'RE A DEMOCRAT.
Gov. Pat McCrory Sunday called the weekend firebombing of a North Carolina Republican headquarters "an attack on our democracy," while one GOP official called it an act of "political terrorism."
In a tweet, Republican presidential candidate Donald Trump blamed "Animals representing Hillary Clinton and Dems in North Carolina."

UNHINGED CNN CRANK Blames Trump After Hillary Supporters Firebomb GOP Headquarters
On Sunday the Orange County Republican headquarters in North Carolina was firebombed and vandalized.
Thugs wrote "Nazi Republicans get out of town or else" in spray paint on the side of the building.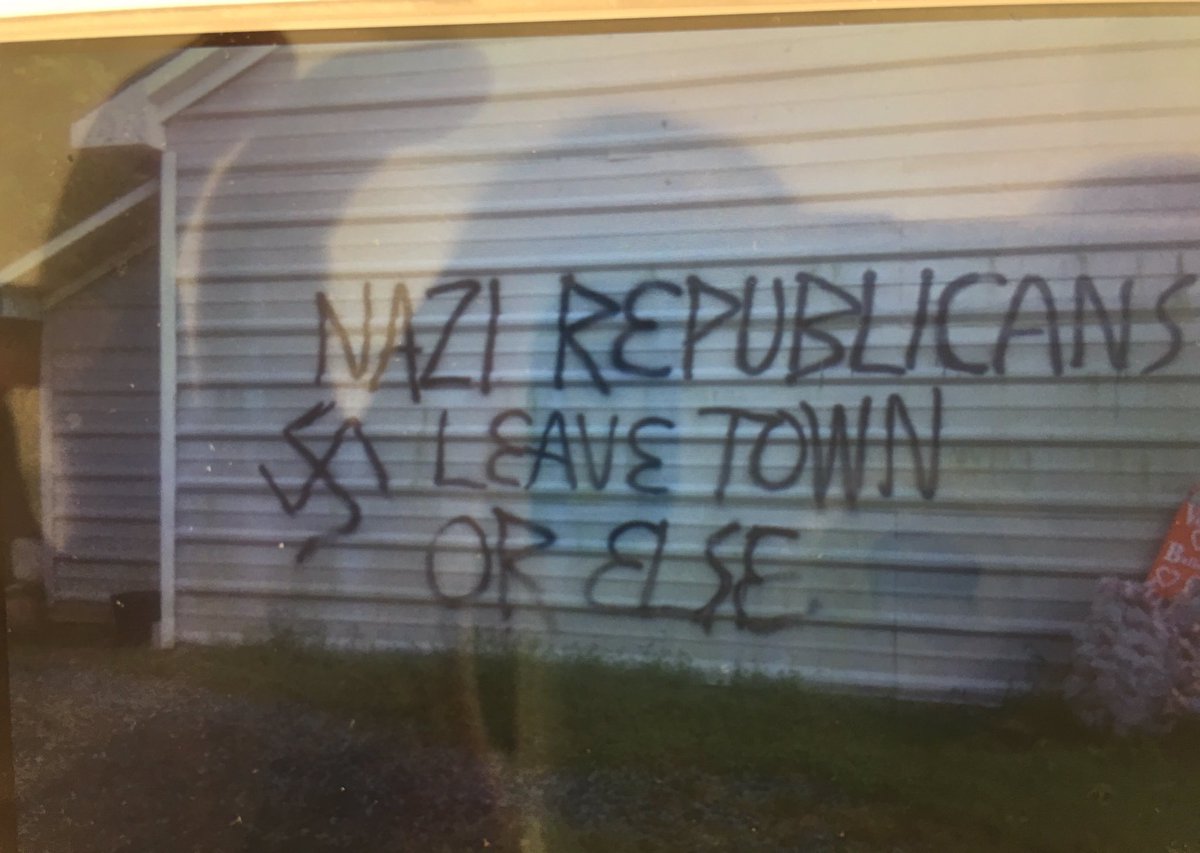 "But that kind of action is unacceptable," Stelter stated before setting his sights on Trump. "And we need to have the temperature come down on all sides right now," he opined, "Unfortunately, Donald Trump is the lead in terms of raising the temperature at this moment in time."
The Elites Have NO IDEA How Angry People Really Are
Over the last eight years, elite political insiders ruined the American healthcare system, did nothing to fix our broken economy and allowed our military to be decimated.

It is Alt Left, and its media lapdog sites, that is heavily into censorship of ideas that diverge from their approved ideology. It is Alt Left that champions regime change and ratcheting up the rhetoric against Russia. It is Alt Left that believes it has an inherent right, even an obligation, to lie and obfuscate if it serves their greater purpose.
Perhaps most significant is that it is Alt Left who so quickly resorts to violence and vandalism when confronted with people and ideas with which it takes exception. Never has that been as clear as in this election cycle.
Kaine: No Apology Necessary For Campaign Emails Mocking Catholics
In the email, Halpin writes that 21st Century Fox Chairman Rupert Murdoch and NewsCorp Chairman Robert Thomson, who are both Catholic, are attracted to the faith because of "systemic thought and severely backward gender relations."
Palmieri responded: "I imagine they think it is the most socially acceptable, politically conservative religion — their rich friends wouldn't understand if they became evangelical."

Hillary Clinton's Crisis Response: Ask Friendly Media To Laugh At Email Revelations

THIS IS THE MOST BIASED, ONE-SIDED NEWS CYCLE IN HISTORY
I don't think the jokes are working – a little too close to the bone without a punchline that really works at taking the seriousness out of it. Wonder if we could have think of a few funny "private" emails to reporters that she could read…. Obviously they would have to be both self-deprecating but could poke a little fun at them…
An August 2015 script for Clinton suggested she should accept a little blame for the home-built email network, and then try to soften the expect public reaction with a few jokes:
Biden: Trump words are 'sexual assault,' Bill Clinton's past 'shouldn't matter'
Vice President Joe Biden says Donald Trump's 2005 comments about groping women is "sexual assault" and an "abuse of power" and argues that allegations of sexual misconduct by former President Bill Clinton, the wife of Democratic presidential nominee Hillary Clinton, "shouldn't matter" in the 2016 White House race.

"What (Trump) said is textbook definition of sexual assault," Biden said in an interview aired Sunday on NBC's "Meet the Press." "This is not a guy that should be representing the United States."
College students offered counseling for offensive Halloween costumes
WE'VE GONE FROM PICKING UP A GUN TO DEFEND OUR HOMES TO THIS

No safe space: A 'Paris Heist' costume that mimicked Kim Kardashian being robbed was pulled from Costumeish.com

Although groups were offended at Caitlyn Jenner costumes, Caitlyn herself said she was fine with them. 'I don't think they're offensive at all' she told Today

Mexican costumes are a general no no

Indian costumes are said to be offensive to Native Americans
Take The Money!!: Emails Show How Clinton Campaign Manages Lobbyist Donations

Finally, Robby Mook, campaign manager for Clinton, writes, "Marc made a convincing case to me this am that these sorts of restrictions don't really get you anything…that Obama actually got judged MORE harshly as a result. He convinced me. So…in a complete U-turn, I'm ok just taking the money and dealing with any attacks. Are you guys ok with that?"
Jennifer Palmieri, director of communications for Clinton's campaign, responds to that email, "Take the money!!"
Glenn Beck: Michelle Obama gave 'most effective political speech' since Reagan

On his TV program Friday, Beck said his viewers should watch Obama's speech to see its "devastating effects. And I don't mean on Donald Trump. I mean on the conservative movement."
"We had been talking about, 'there is no war on women.' You just handed them a war on women," Beck said.
"And if you listen to her words carefully, oh my gosh, oh my gosh, they are coopting women and it will work."
CNN Really Loved Michelle Obama's Speech
First Lady Michelle Obama gave a speech Thursday castigating Donald Trump's treatment of women amid the sexual abuse accusations against him, and CNN's personalities were rather vociferous in their praise.

CNN president: Airing so many full Trump rallies was a 'mistake'

YOU AIRED THEM BECAUSE IT GOT YOU RATINGS, YOU CONTEMPTIBLE TURD
If we made any mistake last year, it's that we probably did put too many of his campaign rallies in those early months and let them run," Jeff Zucker said at Harvard Kennedy School, according to BuzzFeed. "Listen, because you never knew what he would say, there was an attraction to put those on the air."
Gingrich: 20 Media Executives Are Launching A "Coup D'Etat" Against Millions Of Trump Voters

"This is about last Friday when the networks spent 23 minutes on the Trump tape," he said. "And less than one minute — all three networks combined — less than one minute on the Hillary Clinton's secret speeches that were being revealed on WikiLeaks."

"I think it's amazing that Trump is as close as he is right now, considering the one-sidedness of the news media barrage," Gingrich said.
Transgender Advocates 'Aim to Destroy' Common Sense, Says Analysis

To pretend, therefore, that we do not know what we immediately and urgently perceive is to do violence at once to human nature, language, the possibility of a shared life, and the intellect's capacity to apprehend reality. If I cannot say, "There is a man walking down the street," then it is hard to see how I can make any reliable judgment about anything at all that bears on human existence. If I cannot say, "Joey is going to grow up to be a fine man someday," then what in life is left to talk about?
NAACP Set To Denounce Charter Schools, Although Blacks Love Them

IT'S NOT ABOUT EDUCATION; IT'S ABOUT FEDERAL MONEY GOING OUT, DEMOCRAT UNION DONATIONS COMING IN, AND LETTING STUDENTS REMAIN IGNORANT, JUST SO THE TEACHERS KEEP THEIR JOBS.
But there has been a backlash against charter schools among progressives, who view them as an effort to undermine traditional public schools by depriving them of students and resources. Charters are particularly unpopular with teachers unions (many charter schools, though not all, lack unions or follow different contracts), who have pushed hard to realign the Democratic Party against charters.
MILO Schools Black Feminist NAACP President

IF YOU HAVE 4 MINUTES, MILO LIGHTS THIS IGNORANT TROLL UP
EMAIL: Clinton Pitched As 'Kind Of Funny, Slightly B*tchy Person' To Broaden Appeal To Youth Voters

COLD, YES; CORRUPT, YES; LIAR, YES; FUNNY, NOT A CHANCE
Tanden goes on to say, "Maybe she could do Funny or Die w/ Meyl Streep w/ the Galyfinakis (can't spell his name for he life of me) w it her. That would be Hilarious! And I still think she should do Season Opening of SNL. She hates this shit, but at the end of the day, nothing will move her personal numbers more."
Donald Trump vs. Hillary Clinton Town Hall Debate Cold Open – SNL