As some of you may be aware, your intrepid reporter has been battery-operated since 3/2013 when a pacemaker was installed to keep the 'ol ticker ticking. Lately I've been suffering occasional bouts of intense pain, like electric shocks in my chest. After consulting with my cardiologist today it was decided I needed another angiogram to make sure there wasn't a problem with the bypasses I had in 2005. It's scheduled for Tuesday. If a stent is needed I'll have to stay overnight. There is a possibility my Thanksgiving meal will come from the hospital cafeteria. It is what it is.
I've seen the Cubs win a World Series and a republican get elected president. There's not much left to look forward to. When you spend most of your life abusing your body with cigarettes and junk food there's a price to be paid. This is just another installment.
Trump Announces National Security Team: Lt. Gen. Mike Flynn-NSA, Sen. Sessions as AG, Rep. Pompeo to Head CIA
Last night the Trump campaign announced Lt. Gen. Mike Flynn as National Security Advisor.
This morning Donald Trump announced two more members of his security team.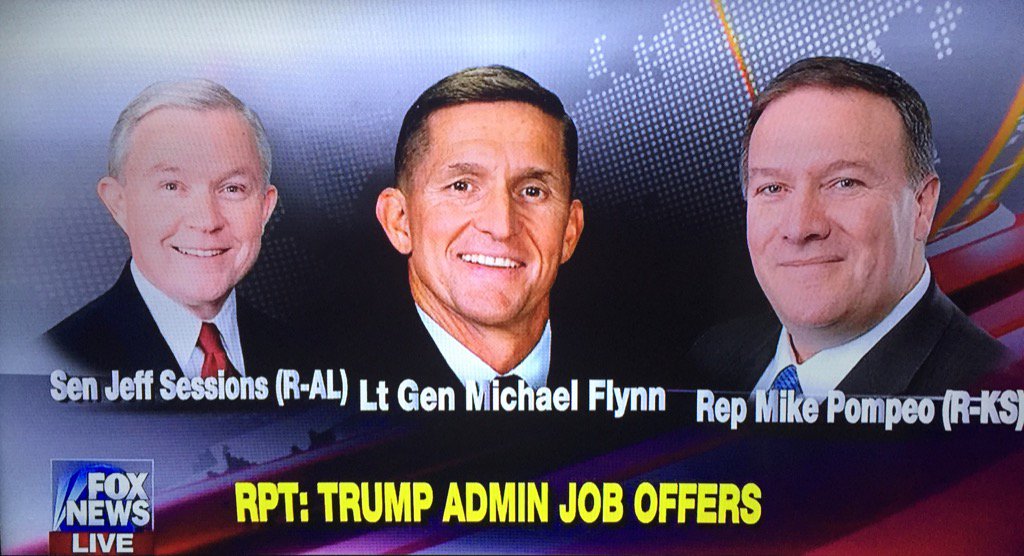 Senator Jeff Sessions (R-AL) was the first US senator to endorse Donald Trump for president last year.


Incoming CIA Director Has Reputation for Confronting Iran
Pompeo pick garners high praise from congressional sources, policy experts

IN CASE YOU'RE NOT FAMILIAR WITH POMPEO:
Pompeo, a member of the House Intelligence Committee, earned a reputation among his Republican colleagues for his aggressive investigations into Obama administration secrecy surrounding last year's nuclear agreement with Iran, multiple sources confirmed.
Multiple investigations by the lawmaker unearthed documents showing that senior U.S. officials engaged in secret talks with Iran that led to the payment of nearly $2 billion to Tehran by the United States.
Dem lawmaker says Sessions would drag the country back to dark times

TRUMP MUST BE DOING A GOOD JOB… ALL THE DEMOCRATS ARE PISSED OFF
In a blistering statement about a fellow lawmaker, Illinois Rep. Luis Gutierrez seemed to use the Republican's full name — Jefferson Beauregard Sessions III — in an attempt to invoke Confederacy imagery.
"If you have nostalgia for the days when blacks kept quiet, gays were in the closet, immigrants were invisible and women stayed in the kitchen, Sen. Jefferson Beauregard Sessions is your man," Gutierrez said.
Howard Dean Compares Trump Election to Kent State Shootings, Selma AL's 'Bloody Sunday'

THE LEADERSHIP OF THE DNC COMES DOWN TO EITHER A SCREAMING LUNATIC OR A JEW-HATING MUSLIM. SOME CHOICE.
Wednesday on SiriusXM radio's Urban View channel with host Joe Madison, former Vermont Governor and DNC Chair Howard Dean compared the outrage of young protestors over President-elect Donald Trump's victory to the Kent State shootings in 1970 when the Ohio National Guard killed four students or the Edmund Pettus Bridge, which was the site of Bloody Sunday in 1965, when policemen beat civil rights demonstrators.
NRCC Endorses Pelosi For Minority Leader

The group credited the California Democrat for squandering their majority — losing 63 seats to Republicans in 2010 — by promoting unpopular policies like Obamacare.
"Former Speaker Pelosi has also established herself as the world's worst election prognosticator," the NRCC wrote in its endorsement. "Since her relegation to the minority, Pelosi has repeatedly assured reporters, cycle after cycle, that a Democrat majority is right around the corner, only to be soundly defeated each time."
Ryan Suggests House Will Defund Planned Parenthood– Cites Bill That Would've Done It For 1 Year

Ryan responded: "We've already shown what we believe with respect to funding Planned Parenthood. We put a bill on President Obama's desk in reconciliation. Our position has not changed."
Ryan was referring to the "Restoring Americans' Healthcare Freedom Reconciliation Act, or H.R. 3762.
The House bill, was vetoed by President Barack Obama
"This afternoon's vote is a victory for taxpayers and a victory for life," Pence said after the vote. "By banning federal funding to Planned Parenthood, Congress has taken a stand for millions of Americans who believe their tax dollars should not be used to subsidize the largest abortion provider in America."
Obama Tears Up Drilling Permits to Stop Gigantic Energy Boom in Colorado

PRETTY SURE INTERIOR SECRETARY PALIN CAN FIX THAT
Jewell's Bureau of Land Management claimed that the 25 "Mancos" energy drilling leases now being cancelled were just a non-performing portion of 65 leases on "lands managed by the White River National Forest" and "amount to less than ½ of 1 percent of the active leases on public lands in the state of Colorado."
But the 25 properties were "non-performing" only because they have been tangled in red-tape since President Barack Obama took office in 2009, even though they were leased in 2005 during George W. Bush's administration.
The BLM manages nearly 700 million acres of federal lands in the United States. Because of tight restrictions, the "onshore" oil and gas wells on BLM lands accounts for just 11 percent of the natural gas supply and five percent of the oil supply in the United States.
No Saudi Oil Says Trump; Saudi Arabia Fires Back
Imagine making the world's largest oil exporter sweat it out That's exactly what Donald Trump is doing.

Despite the U.S. shale oil boom, which has made it the third largest global crude oil producer, the country still relies heavily on Saudi crude imports. Saudi Arabia is the largest Middle Eastern oil supplier to the U.S. with an 11% market share and has also invested heavily in U.S. downstream assets (refineries) to help lock in that supply. Around 31% of all U.S. oil imports are from OPEC members, while Canadian oil imports have a 41% share.
Anti-Trump Protesters Release Personal Info of Electoral College Members

THEY'LL STOP AT NOTHING TO INTIMIDATE ELECTORS
A national anti-Donald Trump group called the #NotMyPresident Alliance distributed the personal information of dozens of Electoral College members to its supporters on Wednesday through a Google doc spreadsheet.
The Electoral College members targeted were those who represented states that voted Republican, BuzzFeed reported.
Pence Tells House GOP to Get Ready to Pass Sweeping Legislation

Vice President-elect Mike Pence told House Republicans in a closed-door meeting Thursday to be ready to move a lot of legislation next year, Ways and Means Chairman Kevin Brady said.
"Donald Trump is a man of action and we're counting on you " Pence said, according to Brady. The California Republican said that Pence mentioned a tax overhaul and Obamacare, but didn't get into specifics.
Pence, a former House member himself, returned to the U.S. Capitol Thursday to visit with House Republicans, and he plans to meet later with top Democratic leaders in the House and Senate.
"YOUR WHITENESS SCARES ME!" Leftist Mob Threatens Radio Host Vicki McKenna at UW Madison


Far left race protesters stood up and screamed, "Safety! Safety! Safety," interrupting Shapiro's address. The safe word apparently was an expression that the university is a safe space, where hate-filled rhetoric isn't welcome….
…Campus police watched but did nothing to stop the interruptions. At one point, they looked on as the protesters stormed the stage and continued their chants. Shapiro was told by police that they were instructed not to stop the demonstrators, who made their intentions to disrupt clear on Facebook days before the speech.
Anti-Bullying Activist Arrested for Assaulting 74 Year-Old Trump Supporter
23 year-old Black Lives Matter activist Shacara McLaurin was charged with felony and misdemeanor assault after she attacked a 74 year-old Trump supporter at a protest outside of Trump Tower.
THESE LEFTIES ARE SO COURAGEOUS

Oddsmakers Say Michelle Obama Is Democrats' Best Bet For 2020

SHE PROBABLY ALREADY MISSES THE WORLD TOURS, THE GOURMET MEALS, AND THE 35 SERVANTS… POOR BABY
Bovada, an online gambling site, says the odds of Mrs. Obama winning are 12-to-1. The next-best Democrats, Sen. Tim Kaine and Elizabeth Warren, get odds of 14-to-1.
By contrast three Republicans have higher odds: President-elect Donald Trump is a 2-to-1 bet to repeat, while Vice President-elect Mike Pence and House Speaker Paul D. Ryan are each given 10-to-1 odds.
Obama won't call off anti-Trump protesters

WHAT AN ASSHOLE
"I would not advise people who feel strongly or are concerned about some of the issues that have been raised over the course of the campaign, I would not advise them to be silent," Obama said during a joint news conference with German Chancellor Angela Merkel.
Obama said protests are just something Trump would have to get used to as the leader of the free world.
TRUMP EFFECT: Ford Calls Donald Trump – Says Plant Will Not Move to Mexico, Will Remain in Kentucky

IMAGINE HOW THE PEOPLE WHO WERE GOING TO SEE THEIR JOBS SENT TO MEXICO FEEL LIKE
Bill Ford, the Chairman of Ford Motors, called Donald Trump tonight and said he will be keeing the Lincoln plant in Kentucky- Not Mexico.
Two months ago Donald Trump said Ford moving its plants to Mexico was a disgrace.