Let's make something perfectly clear: Obamacare is a disaster. It was designed to be. When for-profit healthcare providers are forced to compete with the government juggernaut the outcome is predetermined. All the democrats cared about was getting something in place because they knew full well that once a government program is instituted it never, ever goes away. They did not anticipate the republicans taking over all three branches of government as soon as they did, but they were only too happy to hand this convoluted mess over and let the GOP worry about doing something with it while they sit back, obstruct, and criticize every move that the republicans make to try to fulfill their promise to their voters.

MILLIONS OF AMERICANS FELL ASLEEP CHRISTMAS EVE 2010, DREAMING OF A VISIT FROM SANTA CLAUS, ATTENDING CHURCH SERVICES, AND ANTICIPATING FAMILY GET-TOGETHERS. WHAT THEY FOUND WHEN THEY WOKE UP WAS THAT THEIR HEALTH CARE PLANS, MANY THAT COVERED THE MEDICATION AND TREATMENT THEY NEEDED TO STAY ALIVE, HAD BEEN RIPPED AWAY FROM THEM AND GOVERNMENT CARE HAD BEEN SHOVED DOWN THEIR THROATS, BECAUSE IT SUITED ONE MISERABLE BASTARD'S DREAM OF CONTROLLING EVERYONE'S LIVES.
Cory Booker: Republicans Cannot Just Force GOP Healthcare Bill Down Our Throats
THIS RACE-BAITING MORON IS BEING TOUTED AS THE DEMS' CANDIDATE FOR 2020

I don't know everything about the competing versions of the American Health Care Act, as it's being called, But there are two competing versions being considered. One is the brainchild of Paul Ryan. I've stated before and likely will again that his district is just north of me and is heavily democratic. Once he's gone that district will never elect another republican. His family has been there for many, many years so he's like the neighborhood kid everybody knows. His only risk is becoming too conservative, so never be fooled into thinking he's anything but a moderate democrat posing as a republican.
Obamacare Creators Tell GOP: We Told You So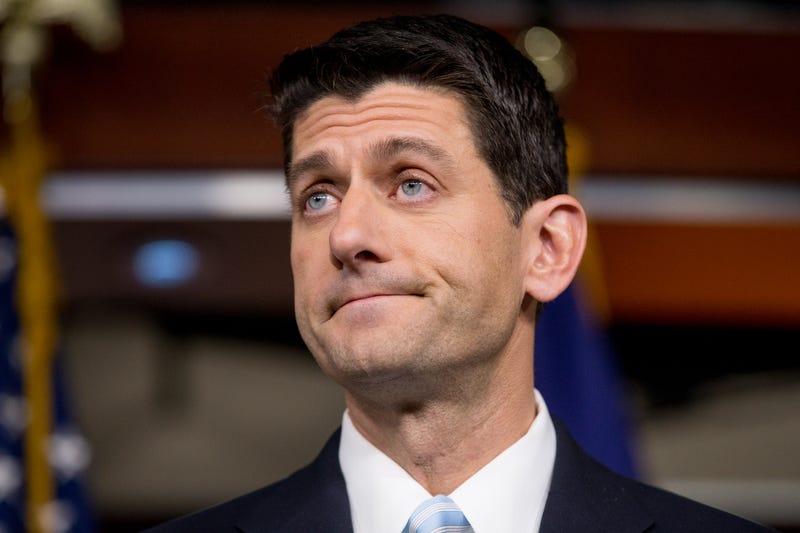 "Maybe I should just say karma is a serious thing," said Neera Tanden, who was a top health official in the Obama administration. "Health care is hard. Governing is hard. And Republicans are now living with the fruits of never putting forward a plan and making promises they can't keep."
It's a strange place to be for the Democratic operatives and elected officials who saw their party devastated in part by Obamacare. And some can't help but feel a bit of cosmic justice as they watch Republicans, who passed their plan Friday in the House Ways and Means Committee, stuck in a policy quagmire they know all too well.
Jonathan Gruber, an MIT economist who helped design the Affordable Care Act, said health care policy is both extremely complicated and extraordinarily personal.
"It's healthcare, it should be easy. Everyone goes to the doctor. But it's super hard," Gruber said. "As a result, it's easy to demonize everything."
Ryan Warns: If We Don't Pass My Bill, 'The System Is Going to Collapse'
Look, when you are a governing party getting consensus among your wide, big-tent party, not — everybody doesn't get what they want, but we are getting much better policy here," the Speaker of the House said of his conservative critics. "Let me put it this way: Obamacare is collapsing. If we just did nothing, washed our hands of the situation, we would see a further collapse of the health insurance markets. So we feel an obligation to step in front of that collapse and replace this law with one that works, that has more freedom."
Sen. Tom Cotton (R-Ark.) is another Republican critic of Ryan's handling of ObamaCare's repeal. He says Ryan's bill makes the current problems in ObamaCare even worse, and is calling to slow down the process.
Cotton: AHCA will end the GOP House majority, cannot pass in Senate

UNDERSTAND, ANY ACTION THAT REQUIRES AS MUCH AS A SINGLE DEMOCRAT VOTE HAS NO CHANCE OF PASSING. THEY WILL GIVE TRUMP NOTHING. NOT AN INCH. NO HEARING, NO COMPROMISE, JUST ATTACK, ATTACK, ATTACK.
"I would say to my friends in the House of Representatives with whom I serve, 'Do not walk the plank and vote for a bill that cannot pass the Senate and then have to face the consequences of that vote," Cotton told ABC News chief anchor George Stephanopoulos. …
On "This Week," Cotton said, "I just do not think that this bill can pass the Senate, and therefore I think the House should take a pause and try to get as close as we can to a good result before we send it to the Senate."
Paul Ryan Confronts Healthcare Bill Critics: "Everybody Doesn't Get What They Want"

Exclusive–Rep. Dave Brat: RyanCare a Perverse Economic System

Brat said the speaker is worried about the insurance companies, who backed the 2010 Patient Protection and Affordable Care Act, or Obamacare, because the system they created cannot be sustained because of its perverse incentives, regulations, and costs.
In addition to the flaws in the Obamacare legislation and buildout, the congressman said it is foolish to attempt a political solution to an economic problem that forces you to accommodate the needs and values of 300 million Americans — such as people in both California and Texas — at the same time.
http://www.breitbart.com/big-government/2017/03/11/exclusive-rep-dave-brat-ryancare-a-perverse-economic-system/
Obama admin spent $77M to hype ObamaCare in 2016

They show the federal government contracted with Democratic-leaning p.r. firm Weber Shandwick to spend $74.15 million on July 28, 2016, and another $3.69 million on Sept. 9, 2016, promoting the plan.
Of that, $64 million funded an advertising blitz — including TV, digital and radio — $4 million went to creative development and production, $5 million to direct response marketing, $2 million to campaign strategy, $1 million to branding and $1.5 million to encourage small business enrollment.
An official of the current White House dismissed the Obama administration's last-ditch efforts to try to swell enrollment numbers.
Tens of millions in hard-earned taxpayer funds spent on TV ads won't sell a fundamentally flawed approach to health care," the official told The Post.
Ted Cruz uses brilliant legal mind to help solve Obamacare 'repeal and replace' dilemma

Conservatives such as the Texas Republican believe that the House's three-tier approach to the bill doesn't go nearly far enough to address the concerns of Americans seeking an affordable choice for medical insurance.
And it all hinges on neither Congress nor even the White House — but rather Vice President Mike Pence, a person often overlooked.
House Republicans chose the three-tier approach, knowing that Senate rules dispense with filibuster on matters concerning taxation or the budget under a procedure called reconciliation.
It normally takes 60 votes in the Senate to override a filibuster; reconciliation requires a mere simple majority of 51. Republicans hold 52 seats in the Senate.
With that in mind, the first tier of the House bill deals only with financial matters and is silent on those issues popular with conservatives — including tort reform and the ability to purchase insurance across state lines.
Cruz argued that as president of the Senate, Pence has the authority to overrule the Senate parliamentarian and permit what are normally thought as non-budgetary issues to be addressed.