Just sitting here browsing various sources of information and suddenly I'm up to my ankles in links. Maybe I should call this a high colonic for my queue. Make of it what you will.
California School District Says Parents Can't Pull Kids Out Of New LGBT Sex Ed Class


IN CALIFORNIA THE STATE HAS TAKEN COMPLETE CONTROL OF ALL CHILDREN TO INDOCTRINATE THEM IN LIBERALISM.
California passed a law called the California Healthy Youth Act in 2015 to promote "healthy attitudes" about "gender [and] sexual orientation." The law is meant to teach students about the "effectiveness and safety of all FDA-approved contraceptive methods" and allow for "objective discussion" about "parenting, adoption, and abortion."
However, the Orange County Board of Education has decided that parents don't have a right to exclude their kids from the class, LifeSite News reports. A memo from the Orange County Department of Education general counsel Ronald Wenkart on March 29 stated that the opt-out provision "does not apply to instruction, materials, or programming that discusses gender, gender identity, gender expression, sexual orientation, discrimination, harassment, bullying, intimidation, relationships, or family and does not discuss human reproductive organs."
http://dailycaller.com/2018/04/20/california-school-district-parents-lgbt-sex-ed-mandatory/


Police chief dealt tough lesson after he apologizes to hip-hop crowd for '200 years' of police abuse
With the City of Baltimore setting a new record in 2017 for killings per capita, where 86 percent of the victims and 85 percent of the suspects had prior criminal records, what do you suppose the police commissioner busies himself with?
Baltimore Police Commissioner Darryl De Sousa, accompanied by Mayor Catherine Pugh, took to the stage Wednesday night at a hip-hop concert to apologize for "200 years" of bad police behavior.
"I want to take the time to apologize for what policing did and I promise you we're going to make a change in the future," he added.
And while there were a few cheers, not all concertgoers approved, as De Sousa was jeered, booed and flipped off, as seen in a video posted on Instagram.

IT IS A FOOL'S ERRAND TO GROVEL IN FRONT OF SAVAGES WHO LACK REASON OR EMOTIONAL CONTROL.
https://www.bizpacreview.com/2018/04/20/police-chief-dealt-tough-lesson-after-he-apologizes-to-hip-hop-crowd-for-200-years-of-police-abuse-626260
Diamond and Silk to Testify Before House Judiciary Committee over Facebook Censorship

THAT SHOULD BE INTERESTING
The duo, whose real names are Lynnette Hardaway and Rochelle Richardson, will attend a panel alongside Corynne McSherry of the Electronic Frontier Foundation and CEO of the News Media Alliance David Chavern to "examine social media filtering and policing practices."
Rep. Marsha Blackburn (R-TN), a leading voice on social media censorship who grilled Facebook CEO Mark Zuckerberg on the issue last week, will also testify before the committee. Rep. Blackburn recently received President Trump's endorsement in her bid to become Senator from Tennessee.
Representatives from companies such as Facebook, Google, and Twitter were also invited, although it is unclear whether they will attend.
http://www.breitbart.com/tech/2018/04/20/diamond-and-silk-to-testify-before-house-judiciary-committee-over-facebook-censorship/
Sessions told White House that Rosenstein's firing could prompt his departure, too


DON'T LET THE DOOR HIT YOU ON THE WAY OUT, BUDDY
Last summer, when it appeared Trump was going to fire Sessions or pressure him to resign, Republican lawmakers and conservative advocacy groups rallied to Sessions's side and warned the president not to move against him.
Trump had told senior officials last week that he was considering firing Rosenstein, who was confirmed by the Senate with overwhelming bipartisan support last year. Since then, alumni of the Justice Department have rallied to Rosenstein's defense.
http://www.msn.com/en-us/news/politics/sessions-told-white-house-that-rosenstein%e2%80%99s-firing-could-prompt-his-departure-too/ar-AAw7JZq?li=BBnb7Kz&ocid=UE12DHP
GOP faces rural rebellion over Trump trade agenda
President Donald Trump's trade policies are confounding Republicans as rural voters — his strongest supporters — stand to get the short end of the stick just months away from the midterms.

THIS IS FROM THAT SNIVELING LITTLE RAT BASTARD, JONATHAN ALLEN
Now Steffen, who didn't vote for Trump, is a vocal supporter of Jane Raybould, the Democrat running an improbable campaign against first-term Sen. Deb Fischer, R-Neb. — and says he's talked to a lot of fellow farmers and Republicans who have "buyer's remorse" about Trump and Fischer.
While it would take a political tsunami for Fischer to lose — Trump won the state by 25 percentage points — the president's trade agenda has boxed in congressional Republicans as they fight to hold their majorities in the House and Senate, potentially affecting competitive races in more than a dozen states.
They're reluctant to distance themselves from a president who is following through on campaign-trail trade promises, whose support they need to drive Republican turnout and who vows his strategy will yield better deals for the country in the long run.
https://www.nbcnews.com/politics/politics-news/gop-faces-rural-rebellion-over-trump-trade-agenda-n866456
NYT Reporter: I Cried Writing About How Donald Trump Totally Destroyed Clinton
I'm sure you all enjoyed the endless clips over at Clinton campaign headquarters in New York City on election night 2016. The scores of crying Democrats stunned, shocked, and totally devastated that Lady Macbeth would never become president—ever. Yet, members of the news media also exhibited those feelings of despair. Cortney wrote about The New York Times' Amy Chozick, whose new book about the 2016 election suggests that Hillary Clinton was fully aware that people thought she sucked. Chozick wrote that Clinton told a pollster, "Oh, what's the point? They're never going to like me," speaking about her image, along with not being happy at all about a potential presidential bid launched by then-Vice President Joe Biden. If Clinton was referring to the GOP voters, specifically those in the white working class, she should have tried to do something on this front.

https://townhall.com/tipsheet/mattvespa/2018/04/20/nyt-reporter-i-cried-writing-about-how-donald-trump-totally-destroyed-clinton-n2472931
Democrats Lawsuit Alleges Conspiracy Between Trump's Campaign, Russia, Wikileaks to Disrupt 2016 Election

DEMOCRATS' COMPLAINT ALLEGES THE TRUMP CAMPAIGN COLLUDED WITH THE RUSSKIES TO HACK INTO DNC SERVERS.
TROUBLE IS, THE COURT WOULD ALLOW THE TRUMP PEOPLE TO EXAMINE THE DEMOCRAT SERVERS, WHICH CONTAIN A LOT OF STUFF THEY DON'T WANT MADE PUBLIC.
The DNC wants "millions of dollars in compensation to offset damage it claims the party suffered from the hacks." Wikileaks published tons of emails from the DNC in the summer of 2016 right before the convention. The documents showed collusion WITHIN THE DEMOCRAT PARTY to prop up failed Democrat presidential candidate Hillary Clinton over Sen. Bernie Sanders (I-VT).
Democrats insist that Russia does not have the sovereign immunity many countries have "because the hack constituted a trespass on the party's private property. The lawsuit alleges that "Russia engaged in a 'brazen attack on U.S. soil."
https://legalinsurrection.com/2018/04/democrats-lawsuit-alleges-conspiracy-between-trumps-campaign-russia-wikileaks-to-disrupt-2016-election/
CNN Chief Political Analyst Mocks DNC Lawsuit "100% Stunt…Honestly, It's Just A Way To Raise Money

Dem Congresswoman Calls DNC Lawsuit 'Ill-Conceived'

Trump TORCHES Wasserman Schultz and 'Pakistani Mystery Man' in Response to DNC Lawsuit 'We Will Counter For DNC Server and Clinton Emails'

Trump tweeted: Just heard the Campaign was sued by the Obstructionist Democrats. This can be good news in that we will now counter for the DNC Server that they refused to give to the FBI, the Debbie Wasserman Schultz Servers and Documents held by the Pakistani mystery man and Clinton Emails.
http://www.thegatewaypundit.com/2018/04/trump-torches-wasserman-schultz-and-pakistani-mystery-man-in-response-to-dnc-lawsuit-we-will-counter-for-dnc-server-and-clinton-emails/
Illinois Senate considering bill to give kids access to medical pot at schools

SEE? ILLINOIS DEMOCRATS KNOW HOW TO DO SOMETHING BESIDES IMPOSE OBSCENE TAX AND FEE INCREASES ON THE CITIZEN VICTIMS TO FEED THEIR CROOKED MACHINE.
The bill was brought to the floor after the family of 11-year-old Ashley Surin filed a federal lawsuit against the state and Schaumburg School District 54 for failing to include public schools among the places people can possess medical cannabis. Surin has been prescribed medical cannabis to treat seizures related to a leukemia diagnosis.
After four years of trying out traditional medications, Surin's doctors prescribed medical cannabis. She wears a patch on her foot, which contains small amounts of THC. She also sometimes puts oil drops containing THC on her tongue or wrists to regulate her seizures.
A judge ultimately ruled in favor of the family later that month, allowing Surin to bring her medication to school.
https://chicago.suntimes.com/?post_type=cst_article&p=1048005
Laura Ingraham Removes Guest After He Mocks Her For Losing Advertisers
LIKE MOST DEMOCRATS, MORONES IS A CLASSLESS PIG
"Enrique, I just want to tell you, God bless you, I really, I wish the best for you. But you have been so incredibly rude and nasty since almost the first second of this appearance," Ingraham said.
"So to say 'who is he?' I'm sure he doesn't know who you are," Ingraham continued. "So who cares? If the conversation — which is why we actually invited you on the show, to have a conversation — about a topic that's really important—"
"Where's your sponsors?" Morones interjected. "David Hogg got rid of half of them. High school kids shut you down."
ACTUALLY, HER VIEWERSHIP IS UP 20%… BUT WHAT DOES THAT MATTER TO A LIBERAL?

http://www.hapblog.com/2018/04/laura-ingraham-removes-guest-after-he.html
Pelosi claims Democrats are not divided on whether to impeach Trump

NO, THEY'RE NOT. THEY ALL WANT TO CASH IN ON THE TRUMP HATE
Green-haired turtle that breathes through its genitals added to endangered list
With its punky green mohican, the striking Mary river turtle joins a new ZSL list of the world's most vulnerable reptiles.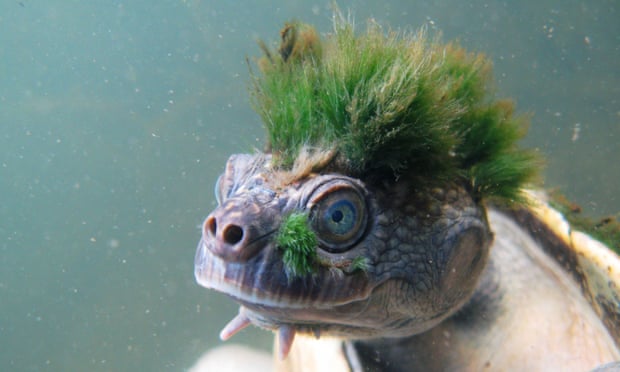 It sports a green mohican, fleshy finger-like growths under its chin and can breathe through its genitals.
The Mary river turtle is one of the most striking creatures on the planet, and it is also one of the most endangered.
The 40cm long turtle, which is only found on the Mary river in Queensland, features in a new list of the most vulnerable reptile species compiled by the Zoological Society of London (ZSL).
Despite the turtle's punk appearance – derived from vertical strands of algae that also grow on its body – its docile nature made it historically popular as a pet.
https://www.theguardian.com/environment/2018/apr/11/green-haired-turtle-that-breathes-through-its-genitals-added-to-endangered-list