I decided to do another post because I didn't feel like going through the contortions necessary to post images in the comment section.
Kris Kobach: Voter Fraud Commission 'Being Handed Off' to DHS, Will No Longer Be 'Stonewalled' by Dems
DON'T EXPECT MUCH TO COME OF THIS. FRAUD IS NEVER REVEALED UNTIL AFTER AN ELECTION WHEN NOTHING CAN BE DONE ABOUT IT. DEMOCRATS HAVE BEEN USING THIS FOR DECADES TO TIP ELECTIONS, GOING BACK AT LEAST AS FAR AS THE 1960 NIXON-KENNEDY CONTEST WHEN MAYOR DALEY HELD BACK THE VOTE TOTALS FROM CHICAGO. KENNEDY WAS GIVEN ENOUGH 'DEAD' VOTES TO WIN THE PRESIDENCY. THEY CAN'T WIN WITHOUT CHEATING AND THEY KNOW IT.

In an interview with Breitbart News, Kobach said the news that President Trump is dissolving the voter fraud commission should not be grounds for leftist organizations and Democrats — who sought to stop the investigations into double voting and ballots cast by non-citizens — to celebrate, as the investigations will continue under DHS.
"What's happening is a tactical shift where the mission of the commission is being handed off to Homeland Security without the stonewalling by Democrats," Kobach told Breitbart News.
http://www.breitbart.com/big-government/2018/01/03/exclusive-kris-kobach-voter-fraud-commission-being-handed-off-to-dhs-will-no-longer-be-stonewalled-by-dems/
New England wanted to use all renewable energy… then it got cold


'GREEN' ENERGY DON'T MEAN MUCH WHEN THE LANDSCAPE TURNS WHITE.

THIS IS VERMONT. WONDER WHAT BERNIE WARMS HIS MANSIONS WITH?
Rather than carping about Perry's energy plans, perhaps these critics should take a trip up to Vermont this weekend when the temperature is expected to hit negative 10 without the wind chill. Take a look at their power grid and then tell us how we need to all be converting to wind and solar. You're putting people at serious risk if we cripple the power grid and we need to come to grips with that reality.
https://hotair.com/archives/2018/01/04/new-england-wanted-use-renewable-energy-got-cold/
Book: Clinton took secret trips outside White House to visit girlfriends

A new book from one of his former Secret Service officers claims that Bill Clinton often snuck away from his wife and out of the White House to cozy up with "well-known and lesser-known mistresses," and that a Secret Service officer in the motorcade was nearly killed in a crash during one secret escape.
Gary J. Byrne, a former Uniform Division officer at the center of the Monica Lewinsky scandal, writes in his latest book, Secrets of the Secret Service: The History and Uncertain Future of the U.S. Secret Service, that Clinton demanded a tiny motorcade to secretly dash around Washington unnoticed, ordering that the cars try to obey laws like stopped lights.
http://www.washingtonexaminer.com/book-clinton-took-secret-trips-outside-white-house-to-visit-girlfriends/article/2645002

Weak Sessions Declares War on Legal Pot – But Allows Mueller's Witch Hunt to Destroy POTUS Trump to Continue

Jason Chaffetz: Some people suggested there be a second special counsel. How's that first one working out? I wouldn't do a second one. I really do believe that it's time for Attorney General Sessions to go. I don't think he's up for the job. Every time I see him he looks like he's some prisoner. And the only reason we have a special counsel is because we have an Attorney General who can't do his job.
http://thegatewaypundit.com/2018/01/wth-weak-sessions-declares-war-legal-pot-allows-muellers-witch-hunt-destroy-potus-trump-continue/
Obama will be first guest on David Letterman's new Netflix show

TALK ABOUT MUST-MISS TV
Talk show host David Letterman will launch his Netflix series this month with former President Barack Obama as his first guest.
Other guests set to appear on "My Next Guest Needs No Introduction with David Letterman" are George Clooney, Tina Fey, Howard Stern, Malala Yousafzai, and Jay-Z.
http://www.washingtonexaminer.com/obama-will-be-first-guest-on-david-lettermans-new-netflix-show/article/2645090
Maxine Waters wrote a poem about Robert Mueller sending Trump officials to jail

WHO WROTE THIS CRAP? A 9 YEAR OLD?
Rep. Maxine Waters, D-Calif., on Wednesday tweeted a poem about special counsel Robert Mueller jailing members of the Trump campaign.
"A message to Mueller: Stay strong and stand tall. Continue to investigate them all. You are indeed answering the people's call. The Kremlin Klan is going to fall. Around you the Democrats are building a wall. We look forward to the day, to prison they will all be hauled," the California Democrat said on Twitter Wednesday afternoon
http://www.washingtonexaminer.com/maxine-waters-wrote-a-poem-about-robert-mueller-sending-trump-officials-to-jail/article/2644874
Ellison Embraces Antifa Violence Against Trump
Muslim Brotherhood Congressman goes all-in against the administration

Ellison, an in-your-face Muslim sympathetic to jihad, implicitly expressed support for the use of violence against President Trump in a tweet as he posed for a selfie with the cover of Antifa: The Anti-Fascist Handbook, by Mark Bray.
Ellison's embrace of Antifa runs counter to statements House Minority Leader Nancy Pelosi (D-Calif.) made in August last year during a spate of Antifa violence in her home state.
"Our democracy has no room for inciting violence or endangering the public, no matter the ideology of those who commit such acts," Pelosi said. "The violent actions of people calling themselves Antifa in Berkeley this weekend deserve unequivocal condemnation, and the perpetrators should be arrested and prosecuted."
https://www.frontpagemag.com/fpm/268934/ellison-embraces-antifa-violence-against-trump-matthew-vadum
Pro-life Pregnancy Center Files HHS Complaint Over Illinois Law that Requires Them to Promote Abortion

In the complaint, the groups argue that the new requirements violate existing federal law including the Hyde-Weldon Amendment which forbids state and local governments from discriminating against healthcare providers based on their refusal to "provide, pay for, provide coverage of, or refer for" abortions.
They argue that the law also specifically targets pro-life healthcare providers and infringes on their First Amendment rights to free speech and free exercise of religion.
https://townhall.com/tipsheet/laurettabrown/2018/01/05/prolife-pregnancy-center-files-complaint-over-new-illinois-law-that-requires-them-to-promote-abortion-n2430178
JFK's Nephew Says Rahm Emanuel Plans To Kick Black People Out Of Chicago

Chris Kennedy, a Democratic Illinois gubernatorial candidate and nephew of former President John F. Kennedy, claimed on Thursday that Chicago Mayor Rahm Emanuel has a plan to kick African-Americans out of the city on Thursday.
"I believe that black people are being pushed out of Chicago intentionally by a strategy that involves disinvestment in communities being implemented by the city administration. I believe Rahm Emanuel is the head of the city administration and therefore needs to be held responsible for those outcomes,"
http://dailycaller.com/2018/01/04/jfks-nephew-says-rahm-emanuel-plans-to-kick-black-people-out-of-chicago/
Convicted felon announces campaign for governor in Democratic state – sounds about right

 Joe Ganim, 58, filed the necessary paperwork to run for governor at the State Elections Enforcement Commission office in Hartford, Conn., joining a number of other Democratic candidates who have expressed interest in running for current Democratic Gov. Dannel Malloy's spot, who said in April that he would not seek re-election.
Ganim was convicted of 16 federal corruption charges in 2003 while serving as mayor and was sentenced to nine years in prison. After serving almost seven years, Ganim was released.
http://www.bizpacreview.com/2018/01/04/convicted-felon-announces-campaign-governor-democratic-state-sounds-right-583879
NY's Cuomo Will File Lawsuit Against GOP Tax Bill, Says It Wages Economic Civil War Against Blue States
STATES LIKE NEW YORK, NEW JERSEY, AND CALIFORNIA HAVE BEEN SOAKING PEOPLE WITH ENORMOUS TAXES FOR DECADES. SINCE THEY GOT TO WRITE IT ALL OFF ON THEIR IRS RETURNS, THEY DIDN'T SQUAWK TOO MUCH. NOW THAT THE TAX CUT HAS PUT A CAP ON THE AMOUNT THEY CAN DEDUCT, PEOPLE ARE REALIZING HOW BADLY THEY'VE BEEN GETTING SCREWED.
New York Governor Andrew Cuomo is not a fan of the GOP's tax bill that was signed into law on December 22. He likened it to economic civil war. He pretty much said that it robs blue states to help finance tax cuts in red states. Oh, and it's the most partisan legislation he's ever seen. He also argued that it would make it harder to New York to attract businesses
Prior to the New Year, Cuomo went on CNN and told host Alisyn Camerota that this bill is nothing short of economic civil war against blue states

https://townhall.com/tipsheet/mattvespa/2018/01/04/nys-cuomo-will-file-lawsuit-against-gop-tax-bill-says-it-wages-economic-civil-w-n2429925
Unhinged Gasbag Joy Behar: "Trump Is Going to Kill All of Us… So That He and His Stupid Sons Don't Have to Go to Jail"
Joy Behar: He needs to be medicated and hospitalized at this point or he is going to just kill all of us. You know, and my feeling is that probably they are getting closer to him in the Mueller investigation. And that's what this is about, a lot of it. He's going to blow the whole world up so that he and his stupid sons don't have to go to jail.

http://www.thegatewaypundit.com/2018/01/unhinged-gasbag-joy-behar-says-trump-going-kill-us/
Planned Parenthood enters transgender-hormone market as abortions decline, clinics close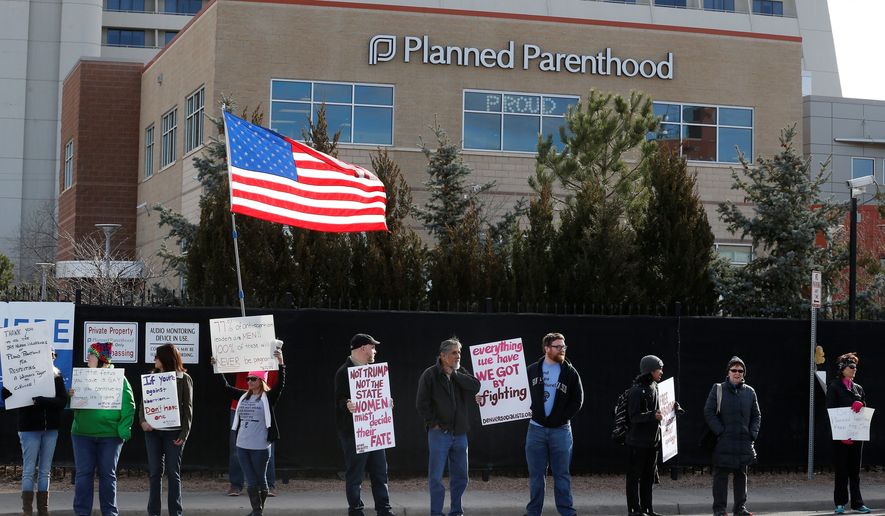 The 2016-17 Planned Parenthood annual report showed the nation's largest abortion provider struggling to keep its doors open as fewer women undergo abortions and patients seek health care services elsewhere.
In response, "We're expanding access to care — from pioneering research on self-injectable birth control to offering new services for our transgender patients," Planned Parenthood President Cecile Richards said in the report's introductory message.
"Planned Parenthood has focused on expanding services to people who are too often overlooked by the larger medical community — including trans patients," says the report, released Sunday. "17 states now have Planned Parenthood health centers that provide hormone therapy."
https://www.washingtontimes.com/news/2018/jan/3/planned-parenthood-enters-transgender-market/